East Challoch Farm
Property Address: East Challoch Farm, Dunragit, Stranraer, DG9 8PY
Property Type: B&B
Price Range: £25 - £30
Dumfries & Galloway
Property Description :
Owner: J Waugh
Tel: +44 (0)1581 400391
Situated seven miles from Stranraer with spectacular views over Luce Bay, our farmhouse offers a warm and friendly welcome with excellent spacious quality accommodation. All bedrooms are en-suite, colour television, tea/coffee making facilities and central heating. Dinner is available on request. Ideal location for walking, fishing, cycling. Golf and pony trekking one mile. Gardens nearby.

Double room will be charged at £26.00 when occupied by single person.
Things to see and do in Dumfries & Galloway :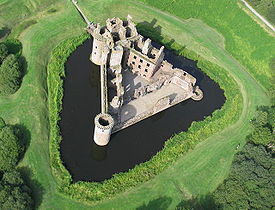 With its moat, twin towered gatehouse and imposing battlements, Caerlaverock Castle is the epitome of the medieval stronghold. The castle's turbulent history owes much to its proximity to England which brought it into border conflicts. Visitors can enjoy a siege warfare exhibition, a children's adventure park and a nature trail. The shop features a range of local products made in Dumfries and Galloway.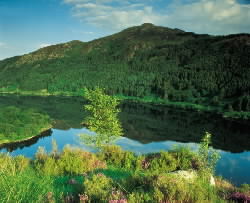 Enjoy a peaceful stroll on one of our woodland trails, or if you fancy something a little more strenuous, head out to the hills and climb the Merrick, south Scotland's highest peak.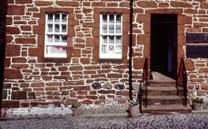 This award winning visitor centre tells the story of the connections between Robert Burns and the town of Dumfries. The well-researched exhibition is illuminated by many original documents and relics of the poet. There is a fascinating scale model of Dumfries in the 1790s and a haunting audio- visual presentation, as well as a bookshop, cafe-gallery with lively exhibition programme and facilities for disabled visitors.
You can see Burns' desk and chair in the study where he wrote some of his best known poems, the Kilmarnock and Edinburgh editions of his work, many original manuscripts and personal belongings of the poet and his family. Robert Burns House has attracted many famous visitors including the poets Wordsworth, Coleridge and Keats and is now a place of pilgrimage for Burns enthusiasts across the world.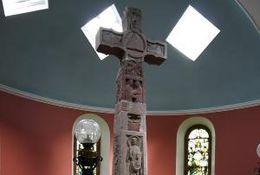 This Anglian Cross dates from the end of the 7th century AD and is considered one of the major monuments of early medieval Europe.
Opened in 1893, the museum has a collection of remarkable range and quality, reflecting the human and natural history of the Stewartry- the eastern half of Galloway. The social history collections of the eighteenth and nineteenth century are particularly important. Local and family history information services. Photographic and Archive collections, plus a shop.
Sweetheart Abbey was founded in 1273 by Lady Devorgilla of Galloway in memory of her husband John Balliol. On her death, she was laid to rest next to her husband's embalmed heart and the monks named their abbey in memory of her.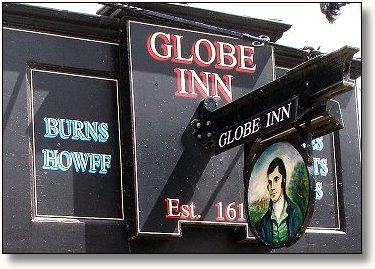 Are you a Robert Burns enthusiast or do you just need a drink to keep out the cold? Either way, here's a pub that's well worth the journey Established in 1610, The Globe Inn, Dumfries has long been associated with Robert Burns, Scotland's national poet. In 1796, Burns wrote: "... the Globe Tavern here, which these many years has been my Howff ...", and in 1819, the first of what was to become the annual tradition of Burns Suppers was held here at The Globe Inn in Dumfries, south west Scotland.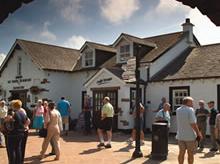 The World Famous Old Blacksmiths Shop
The World Famous Old Blacksmith's Shop is one of Scotland's earliest visitor attractions... Curiosity has attracted travellers to visit Gretna Green since the middle of the 19th Century, due to run-away couples having a romantic Gretna Green Wedding. The first visitors would peer through the windows trying to catch a glimpse of a run-away couple marrying over the anvil. In the year 1886, the owner, Hugh Mackie decided to open the cottage and workshop to visitors thus creating one of the first visitor attractions in Scotland.
Threave is a garden for all seasons. Best known for its spectacular springtime display of daffodils, there are also summer displays from the herbaceous beds and borders and stunning autumn colours from the trees and from the heather garden.