Elm Tree Farm B&B
Property Address: Elm Tree Farm, Cosgrove, Milton Keynes, MK 19 7BE
Property Type: B&B
Price Range: £35 - £80
Email: Click here
Email: 97 + 35 =
Email: info@elmtreefarmbandb.co.uk
Northamptonshire

Property Description :
Owner: Lucy Karklis
Tel: 01908 542437
Elm Tree Farm accommodation is situated on the Grand Union Canal approximately 60 miles north of London and 60 miles south of Birmingham.

We are within 10 minutes of Milton Keynes and 15mins to Northampton. We are a working farm and offer luxury accommodation whether working or visiting the area.

The accommodation comprises of 3 B&B rooms in the farm house, and 8 newly built apartments located in a courtyard arrangement of buildings across from the main farm house. There are 3 Short Stay Studios, 3 self catering Holiday Cottages and 2 Serviced Apartments. which offer a variety of facilities depending on your requirements and length of stay. All of the apartments are newly built, providing clean, modern accommodation, fully furnished and equipped with self catering facilities and wifi. There is a separate laundry room with washing machines and a tumble dryer. All apartments are strictly non smoking. We have a secure bike store, so feel free to bring a bike.

The farm is situated in the Tove Valley with the river running through our meadow fields. Day fishing permits can be arranged by prior arrangement. We are opposite the Navigation Inn Pub, which offers reasonably priced evening meals and live entertainment.

The canal provides good walks and cycling, linking up with the Milton Keynes "Red Ways". There are extensive bridle-ways in the area and we are located within a 15 minute hack to Milton Keynes Event Centre.

We pride ourselves in offering a warm and welcome stay in the farmhouse, which has been offering B&B for over 6yrs. All of the rooms are freshly decorated with en-suite shower rooms. We have a 'key code' entry system to allow guests flexible comings and goings.








Things to see and do in Northamptonshire :
Canons Ashby was first built by the Dryden family during the Elizabethan period, using stone from the Augustinian priory which previously occupied the site. The private church is all that remains of the priory. The interior is welcoming and atmospheric, with Jacobean wall paintings, plasterwork and tapestries. The house was updated in the 18th century with the south-facing rooms remodelled, and again in the 19th century, when Sir Henry Dryden's The Antiquarian recorded much of the history of the estate and the surrounding area. The gardens are currently being restored to their colourful designs from Sir Henry's records.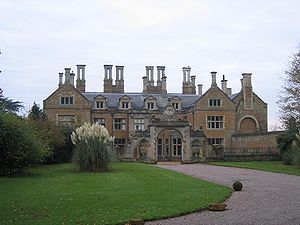 Holdenby House is a historic country house in Northamptonshire, traditionally pronounced and sometimes spelt Holmby. The house is situated in the parish of Holdenby, six miles northwest of Northampton and close to Althorp.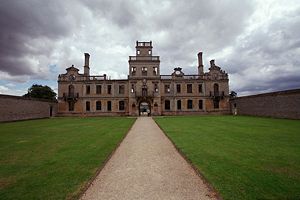 Kirby Hall is an Elizabethan country house, located near Gretton, Northamptonshire, England. Construction on the building began in 1570 based on the designs in French architectural pattern books and expanded in the classical style over the course of the decades.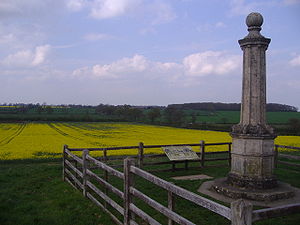 The Naseby Battlefield Project aims to enhance visitor facilities at Naseby battlefield. A staged programme of improvements is underway. The battle of Naseby was fought on the morning of the 14th June 1645. In the open fields of that small Northamptonshire village, parliament's New Model Army destroyed the main field army of King Charles I. After nearly three years of conflict, this was the decisive battle of the Civil War.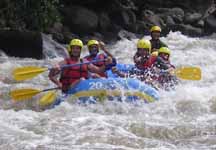 A Whitewater rafting session is an ideal opportunity for families and friends to get together and participate in a real adventure sport. Come and enjoy the thrills of our fabulous water rapids. You may book individually and join a group of up to 6 people, with a experienced guide to train and supervise your adventure.
Northampton and Lamport Railway
The Northampton & Lamport Railway is a standard gauge heritage railway in Northamptonshire, England.
Northampton Museum and Art Gallery reflects Northampton's proud standing as Britain's boot and shoe capital by housing a collection of boots and shoes which is now the largest in the world.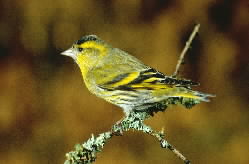 The Royal Forest of Rockingham, a medieval hunting forest, is a beautiful patchwork of ancient woodlands and open agricultural land with historic features and attractive stone-built forest villages. Today the Forest offers visitors plenty of routes for walking, cycling and riding. Rockingham Forest is at the very centre of the Forestry Commission's Ancient Woodland Project.
Rockingham Motor Speedway
Drive Ferraris, V8 supercars, Aston Martin, rally cars and even a genuine Formula 1™ car on one of our unforgettable driving days, or learn driving skills for road safety on the wet grip area with our DriveSafe course.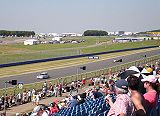 The Silverstone Circuit is a motor racing circuit. It is best known as the home of the British Grand Prix, which it first hosted in 1948 and which has been held on the circuit every year since 1987.