Shantron Farm
Property Address: Shemore Farm Cottage, Luss, Alexandria, G83 8RH
Property Type: B&B
Price Range: £27 - £60
Email: Click here
Email: 97 + 23 =
Email: anne@farmstay-lochlomond.co.uk
Dunbartonshire
Property Description :
Owner: Anne Lennox
Tel: +44 (0)7768 378400
Shantron Farm Bed and Breakfast is an ideal stop to break your journey to or from the Highlands and Islands of Scotland. It also makes an excellent base to explore from the B&B, the west Central Scotland as well as all that Loch Lomond has to offer. On this working farm you will be looked after by myself, Anne, whilst my husband Bobby will no doubt look out for you whilst around the house or out on the farm.

Whether on holiday in Scotland or just up for a weekend break you will certainly relish this change of scene. Loch Lomond is certainly one of the world's most stunning and internationally renowned locations. The country's largest fresh water loch is now part of Scotland's first National Park in an area where for centuries, visitors have travelled to, to take in spectacular scenery, sail, walk and climb - and simply breathe fresh air.

This is a modern house with 3 en suite bedrooms and is situated beside our farmhouse and is solely for you, our visitors.


--------------------------------------------------------------------------------

"Shantron Farm is possibly the most glorious five thousand acres in all of Scotland. Set among rolling hills that eventually turn green into mini-mountains, the farm offers panoramic views of Loch Lomond's shimmering blue water and the surrounding countryside. It is, in fact, so picturesque that it is used in the filming of Take the High Road, a popular Scottish television soap opera. "Aye, that's supposed to be the entrance to Kerr's Kreamery and the Farm Shop in the High Road", Anne said as we passed a sign on one of the farmhouse doors."

Extract from Alice Steinback's book and the chapter "Lassie Come Home" from the book "Educating Alice". Alice visited the the farm whilst on her travels gathering stories for her book. Alice is a Pulitzer Prize winning columnist for the Baltimore Sun and has been a freelance writer since 1999. Currently a Woodrow Wilson Visiting Fellow, she has taught journalism and writing at Princeton University, Washington and Lee University, and Loyola College. She lives in Baltimore.
Things to see and do in Dunbartonshire :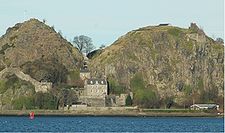 Dumbarton Castle has the longest recorded history of any stronghold in Great Britain. It overlooks the Scottish town of Dumbarton, and sits on a plug of volcanic basalt known as Dumbarton Rock which is 240 feet high.
The Erskine Bridge is a cable-stayed box girder bridge spanning the River Clyde in west central Scotland, connecting West Dunbartonshire with Renfrewshire.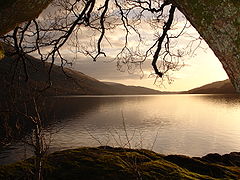 Loch Lomond is a freshwater Scottish loch, lying on the Highland Boundary Fault. It is the largest loch/lake in mainland Britain, by surface area, and contains many islands, including Inchmurrin, the largest fresh water island in the British Isles. It is a popular leisure destination and is featured in song.