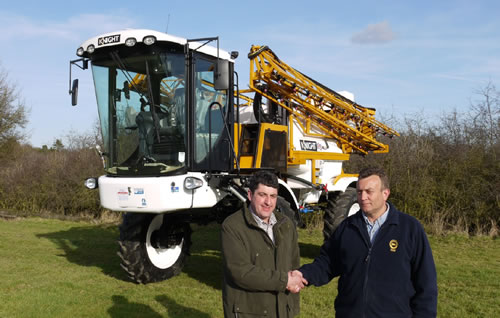 The 2000th crop sprayer built by Knight Farm Machinery has been delivered to Chapel Farm, Upton, Nottinghamshire, run by Charles Yates and his son Malcolm. The farm has 1400 acres of its own land, with another 3000 acres farmed on contract.
The new sprayer replaces a long-serving self-propelled machine and is a significant advance in specification and performance, including advanced computer-based control with GPS capability and Knight's patented MAXImiser plumbing system.
The landmark machine is an 1835 self-propelled model with 3500 litre main tank, 24-metre boom and 174hp Perkins engine providing power to the hydrostatic four-wheel drive system. A four-wheel steering system engages automatically to reduce crop damage while maintaining stability and also aligns automatically. Active air suspension increases driver comfort and reduces stress on the machine. A premium cab is fitted, which has digital climate control and carbon filters.
The 3500-litre main tank together with the MAXImiser plumbing system gives a high degree of productivity. The MAXImiser system reduces the amount of residual chemical in the machine when spraying finishes, and it also reduces the time and water needed to clean the system out.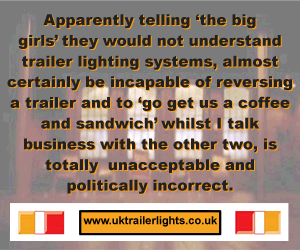 The operator controls the machine through a console integrated with a single convenient hand-grip that operates most of the functions used when spraying. A Müller Comfort terminal and GPS receiver are integrated with eight spray sections on the boom to give very precise control of applications. The system also gives automatic control of boom height and levelling.
Axle leg length has been increased by 50mm over standard in order to provide extra ground clearance and reduce crop damage. Wheel track on sprayer can be adjusted manually from 72in. to 84in.
The machine was supplied to Chapel Farm through Spraysure, a Knight dealership based in Lincoln run by Kerry Day. Explaining his choice of sprayer, Malcolm Yates said: 'We have had good service support from Kerry Day for a long time, and when we started looking for a new sprayer a Knight machine was obviously one of the options. We visited the factory and liked what we saw, particularly the build quality'.
Comments
No comments posted yet. Be the first to post a comment