40 000 pigs an hour will illegally enter UK says NPA
40,000 pigs an hour will illegally enter UK says NPA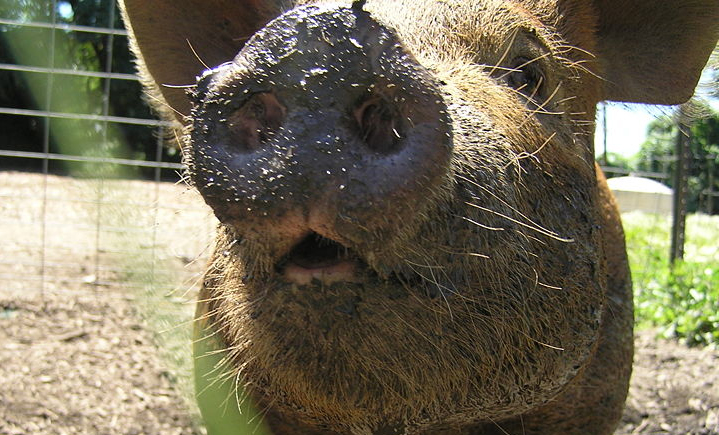 Around 40,000 illegal pigs an hour will be entering the European food chain in January and bacon, ham and pizzas containing their meat will be destined for Britain's supermarkets, according to the National Pig Association.

The pigs will come from European farms where sows are still confined in individual steel cages known as 'stalls' — a practice outlawed by European Union animal welfare legislation from 1 January 2013.

Stalls have not been used in the United Kingdom for many years, but figures released by Brussels this month show that with the continental ban only days away, 80% of European Union countries have not yet complied with the ban.

But the EU wide ban on gestation-sow stalls is making hog producers worried about pork prices and the cost of production.

Many are warning that they will go out of business with the industry facing high feed costs and a reduced output.

Even allowing for a last minute rush to remove sows from stalls and house them in new group pens, this indicates that nearly two million pigs a week from farms operating illegally will be delivered to Europe's processing plants.

"It makes a mockery of Europe's animal welfare legislation," says NPA chairman Richard Longthorp.

"As the United Kingdom imports around 60 percent of its pork — much of it as processed food such as ham and bacon — shoppers will need to be very careful about what they choose from supermarket shelves and when eating out in restaurants."

The association has urged British shoppers not to buy imported pork or processed pork products such as bacon, until all European Union member countries have complied with the ban.

"The major British supermarkets have promised they will not sell pork from continental farms operating illegally but our concern is that in many cases these farms will be difficult to identify and everybody admits that imported processed foods will be almost impossible to trace," said NPA general manager Dr Zoe Davies.

"Our advice to shoppers is always to look for the independent Red Tractor logo on the pack, which is an absolute guarantee that the product comes from a British pig farm where keeping sows in stalls has been banned for over a decade."

The data published by Brussels this month shows France is only 33 percent compliant with the European stalls ban, Germany only 48 percent and Ireland only 57 percent.

Other countries unable to hit the January 2013 deadline include Belgium, Italy, the Netherlands and Spain.

All main European pig-producing countries report shrinking sow herds.

Falling numbers in the 12 months to June 2012 have been reported this week by Denmark (-2.3), Germany (-1.3), Ireland (-6.6), Spain (-2.8), France (-3.2), Italy (-13), Hungary (-5), the Netherlands (-3.6), Austria (-2.8), Poland (-9.6) and Sweden (-7.2).

But the move to group-sow housing, following the January ban, doesn't have to mean a drop in herd productivity.

This was the message given to pig farmers attending the EuroTier livestock exhibition in Hannover, Germany, by pig-breeding company ACMC.

"Much depends upon the temperament of the sows. Sows with aggressive natures can cause problems, causing a reduction in numbers born and reared. But sows with a docile temperament tend to perform better in group situations," said ACMC's managing director Matthew Curtis.

"The importance of temperament is now being recognised by researchers across the world where the role of temperament is being investigated at several centres," he added.

In Canada, for instance, researchers are looking into selecting lines that are less aggressive and suited to group-housing systems.

Download

No comments posted yet. Be the first to post a comment
Display name

Please enter your name

Email
(optional)
Comment

Please enter your comment

Post Comment


Your comment submitted successfully.Please wait for admin approval.

Some error on your process.Please try one more time.