75 000 Welsh cattle slaughtered due to TB in last 10 years
75,000 Welsh cattle slaughtered due to TB in last 10 years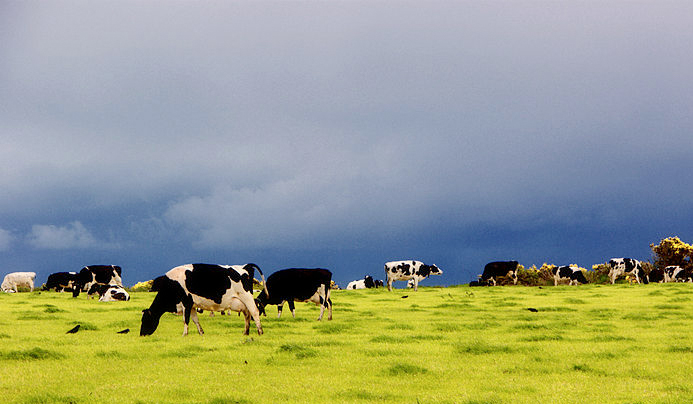 Over 75,000 cattle were slaughtered in Wales in the last decade (2002-2011) as a result of bovine TB, equivalent to more than the total number of adult dairy cattle in Carmarthenshire.

Nearly 5,000 cattle have already been slaughtered in the first six months of this year highlighting that the situation shows no sign of abating despite the efforts of the industry to get on top of this disease through adhering to the most stringent cattle control measures.

"The vast majority of these 75,000 cattle would have been dairy and beef cattle in the prime of their productive lives, losing them from the herd has huge impacts on farm efficiency" said Stephen James, NFU Cymru Deputy President.

"We are continually challenged by Welsh Government to prove our value to the economy of Wales and to drive efficiencies into our businesses but at the same time this Government has decided to follow a vaccination policy that offers little hope to us that this slaughter of cattle will come to an end.

"Vaccination undoubtedly has a role to play in eradicating this disease but it is not the appropriate intervention in an area of Wales where a significant proportion of badgers are already suffering from this disease.

"The Welsh Government has estimated the costs for the badger vaccination project in North Pembrokeshire over five years at approximately £5,760,000."

"As a rough guess it must be costing upwards of at least £500 per badger per year to vaccinate, given that vaccination will have no benefit to the significant proportion of badgers in the area already suffering from this disease the actual cost of protection for each healthy badger will be that much greater again.

"It is such a shame and source of disappointment and anger to us that this vaccination resource has not been spent more wisely to protect healthy badgers alongside the implementation of appropriate control measures to significantly reduce the infection levels in the wildlife population.

"The cattle slaughter that continues to take place every day on our farms in Wales because of this disease is a stark reminder to all of us within the industry that this is an issue that is not going away or becoming any less of a problem, the lead now shown by DEFRA in England is one that we closely follow in the hope that their TB eradication plan will highlight the folly of our own Governments decision to follow a vaccination only policy.

"There is a glimmer of hope and at our recent NFU Cymru Council meeting in response to questioning the First Minister, Carwyn Jones AM, did state that he was prepared to compare the approach taken in England with the Welsh Government policy, to see what works, that there was no easy answer to eradicating bovine TB and that if the English approach works he would never say never to the same approach being adopted in Wales."

Download
17-10-2012 13:14 PM | Posted by: M. Hughes
Yes, bovine TB is a massive problem now, just as it was pre-war and in the 40s,50s and 60s. It was almost wiped out then solely by the area-to-area eradication programme based on better testing, tougher controls over cattle movements etc. The country's top animal disease control scientists are unequivocal:culling badgers isn't the answer: the solution lies mainly with farmers and farming. An unpalatable message but one the industry must grasp if it is to win lasting public support. And as for the number of cattle slaughtered over 10 years how does that figure compare with the numbers lost to mastitis, infertility and lameness? It's dwarfed, isn't it? And how did the TB reactors become infected? Mostly by cattle-to-cattle infection?
18-10-2012 01:45 AM | Posted by: R. Mount
M.Hughes is being a little disingenuous in his comment to this article. The UK achieved b Tb free status by the late 1960s through a combination of cattle Tb testing and effective culling of badgers in and around all cattle Tb outbreaks. No country has been able to eradicate b Tb without controlling both farmed livestock and the main wildlife vector. The science is "unequivocal" on this fact.
Bovine Tb only became a problem again in the early 1980s when cattle in three small areas of the South West were diagnosed with the disease. These outbreaks were probably caused by imported cattle that hadn't been properly tested prior to export. However, the badgers surrounding these areas were not effectively eradicated (as gassing of setts was campaigned against by we'll meaning but, naive activists). This left a growing and spreading wildlife vector reservoir and, we are now in the current catastrophic and virtually uncontrollable mess. Incidentally, made vastly worse after the Foot and Mouth disaster, following which Defra allowed mass movements of cattle for re-stocking. Unfortunately, b Tb testing had been put on the back burner as all staff were otherwise fully occupied with burning cattle, with the consequence of spreading b Tb into areas where it had never been a problem. Our current dilemma is mainly a result of continuous political negligence, caused by the belief that there are more votes to be lost by doing what was, and still is, necessary to eradicate this disease.
Perhaps, our only course out of this is to vaccinate all susceptible livestock? None of the tests are foolproof and, as they are all immune response tests, we have almost certainly been culling animals that are actually immune to the disease as well as those that have the disease. We should ask why there has been so little money put into finding a test that actually detects the bacteria rather than an immune response to it. After all, the damage to farming has cost £ billions and the compensation bill alone comes to around £100 million a year.
Display name

Please enter your name

Email
(optional)
Comment

Please enter your comment

Post Comment


Your comment submitted successfully.Please wait for admin approval.

Some error on your process.Please try one more time.