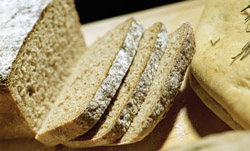 A Northumberland farm which is the centre for organic cereal research in the North of England has created a unique new Ciabatta flour, claimed as an ideal base for Italian breads and pizzas.
Gilchesters Organic Farm, situated two miles north of Hadrian's Wall, will introduce the new product at the Edinburgh Speciality and Fine Food Fair being held at The Edinburgh Corn Exchange on Sunday, May 13 and Monday, May 14.
Husband-and-wife Andrew and Sybille Wilkinson, who run the farm and its associated business, Gilchesters Organics, have persuaded Andrew Whitley, author of "Bread Matters," to create an exclusive recipe using the new stoneground flour which is milled at North East England's first organic flourmill, and the first mill to be constructed in Northumberland for over a century. His recipe for olive and pesto Ciabatta is printed on the flour bags and "sounds definitely mouth-watering", according to Sybille.
Credit for the new product goes to Colin Graham, first miller at Gilchesters, who is richly experienced in the art of flour making.
When the Wilkinsons took over the farm, north of Corbridge, in 1992 they set about getting rid of an inheritance of many years of industrialised farming. "The neglect had reduced the farm to a factory floor," said Andrew.
Today, the fields of wheat at Gilchesters are free of pesticides, herbicides and fungicides, and traditional English and Scottish cattle raised on the farm graze ancient water meadows and pastures, eating nothing other than grass and clover.
But such has been the demand for the farm's organic stoneground flour from its own fields of wheat that the Wilkinsons have had to change their priorities. "We have been almost overwhelmed by the demand," said Andrew,"and producing flour for an ever-expanding market takes up most of our time now."
Comments
No comments posted yet. Be the first to post a comment