Agricultural sector confidence significantly down
Agricultural sector confidence 'significantly down'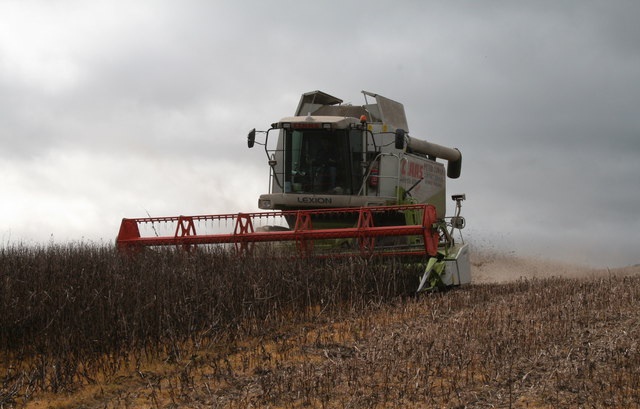 Confidence in the agricultural sector is 'significantly down' on the start of the year according to a new report.

Country, Land and Business Association President Harry Cotterell said adverse weather conditions were to blame.

The effect of adverse weather conditions combined with concerns over feed bills have dented farmer confidence to invest.

This, combined with a relatively lethargic world economy, has weighed on prices across the globe.

Some 42 per cent of farmers told the NFU that their farm businesses were in for a tougher year, up from 30 per cent in 2011.

"The drop in short term confidence is repeated across the sectors" said the NFU chief economist Phil Bicknell.

"For arable and horticulture, declines in crop output and quality, alongside difficult autumn planting conditions, have undoubtedly shaped farmer attitudes. The lowest levels of confidence, however, are seen in the livestock sector."

Rising animal feed costs have been well-documented in recent months, and the confidence of pork, dairy and red meat producers has tumbled as costs have risen.

But the latest results from the CLA/Smiths Gore Rural Economy Index (REI) show that sales, profits, investment and employment in non-agricultural rural businesses are expected to rise in 2013.

"The outlook from the latest REI is positive for non-agricultural businesses" said CLA President Harry Cotterell.

However, 55 percent of rural businesses that use lending, report that borrowing rates have worsened, which could slow their economic recovery.

"In contrast, confidence and sales in the agricultural sector are significantly down on the start of this year due to adverse weather conditions" he said.

Rupert Clark of Smiths Gore said: "There has been a shift in the market with a fall in sales and profitability for many farming businesses because dreadful weather during 2012 affected the harvest and caused difficulties for next year's crops."

"If the weather in 2013 improves, we expect to see an increase in agricultural confidence as the underlying market fundamentals, of price and demand, are strong."

Looking at rural businesses excluding agriculture in Quarter 3, 45 percent reported higher sales over the past six months – up from 31 percent in the previous quarter; 56 percent reported higher business optimism for the next 12 months – up from just 20 percent in the previous quarter, and 48 percent predicted higher profitability over the next 12 months – up from 26 percent in the previous quarter.

Despite the rural economy showing signs of recovery, the impact of this year's bad weather on agriculture was plain to see in the figures from Quarter 3, with 47 percent of agricultural business predicting a drop in profitability over the next 12 months – up from 28 percent in the previous quarter; 21 percent reported lower sales over the past six months – up from 12 percent in the previous quarter; and 31 percent expected to make a lower investment in their business over the next 12 months – up from 20 percent in the previous quarter.

Download

No comments posted yet. Be the first to post a comment
Display name

Please enter your name

Email
(optional)
Comment

Please enter your comment

Post Comment


Your comment submitted successfully.Please wait for admin approval.

Some error on your process.Please try one more time.