Anti GM campaigner backs GM at recent lecture
Anti-GM campaigner backs GM at recent lecture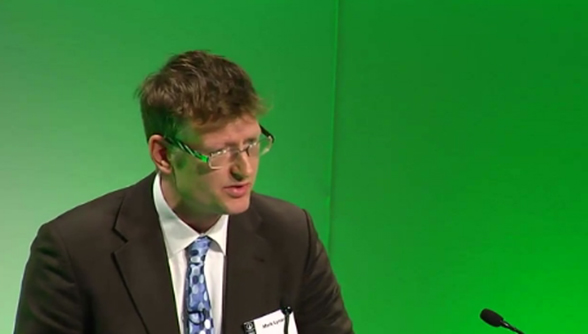 Co-founder of the anti-GM movement Mark Lynas said GM technology could in fact deliver safe food with less impact on the planets' resources at a recent lecture.
He gave the 4th Chris Lamb lecture at the John Innes Centre and made an appeal to apply 'scientific scepticism' to environmental campaigning, while at the same time ridding debate of jargon.
One of founders of anti-GM movement, he helped develop the anti-GM narrative still in use today.
Trawling scientific journals while researching a book about climate change, he started to think he should apply scientific evidence to other campaign issues.
"I still strongly hold to the environmentalist label and the essential values that make environmentalism such an important philosophy," he said.
Supporters argue GM would increase yields and reduce pesticide usage. Supporters include the Environment Secretary Owen Paterson who gave his support to genetically modified food production in December.
But critics have highlighted the problems of herbicide intolerance, superbugs and wildlife threats. Those against the introduction of GM production say pesticide use in the US is higher than before GM.
"I realised genetic engineering technology could be a powerful tool to address planetary boundaries, such as issues with the nitrogen cycle," said Lynas.
He said food production was limited by nitrogent availability, 'but we had overcome this by synthesising around 120bn tonnes of atmospheric nitrogen a year into fertilisers'.
"This is a good thing because it keeps more than half of humanity alive, but it has doubled the nitrogen cycle on land."
"Environmental impacts include eutrophication and the release of nitrous oxide, a powerful greenhouse gas, into the atmosphere."
"Not using GM technology is risky in itself," said Lynas.
"It is regulated out of existence in most of Africa."
"It is effectively illegal to use this technology in any environmentally beneficial way in most of the world except in very specific applications."
He outlined the major challenge of how to feed a growing world population on limited land, with limited
water
and within the context of a very rapidly changing climate.
"Back in 1995 we didn't know everything that we know today. Now after two trillion GM meals have been served and eaten, I don't think we need to discuss the safety of GM. We need to begin roll back a decade and a half of pointless regulation which is strangling an important new technology."
"My fellow environmentalists say they respect scientific consensus on all issues and certainly they do with climate change. I think it is time to move on and to start focusing on the real problems the world faces."
Download

09-01-2013 17:40 PM | Posted by: Plasingli
Lynas should have applied a little scientific scepticism to most of what he said in this lecture. It's actually a thinly disguised GM industry puff -- heard it all before. There's plenty of real science out there, which Lynas has probably never read. Look at this please:
The Lynas School of pseudo-scientific environmentalism
Twenty-two pieces of junk science from the Lynas Manifesto
http://www.gmfreecymru.org/pivotal_papers/lynas_school.html