BFREPA push for producer increase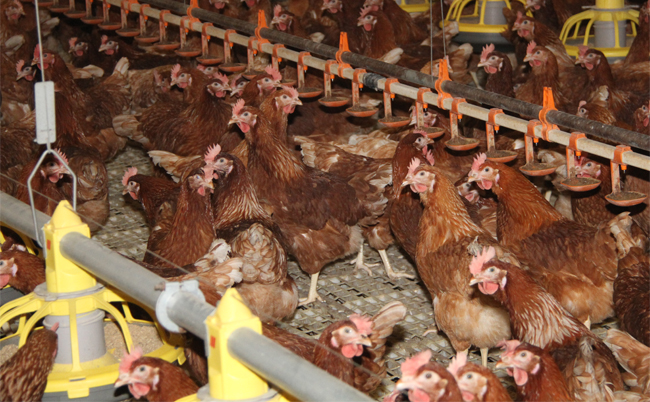 The British Free Range Egg Producers' Association is pressing supermarkets for a better deal for loss-making egg producers.
Latest BFREPA figures show that free range egg producers are losing more than a pound a bird on their layer units. Losses for organic egg producers are even higher - costings for August indicate that organic units are losing £3.50 on every bird. With cereal prices sending the cost of feed soaring, losses are likely to get even worse - threatening to put many vulnerable producers out of business.
BFREPA is now appealing to supermarkets to increase the price they pay for their
eggs
to compensate for the cost of feed. "The escalating price of feed is a great concern at the moment," said BFREPA vice chairman Roger Gent. "It really is unprecedented. It is causing turmoil and we do need some support from supermarkets to get through this."
At one point it seemed that feed costs may begin to ease, but a combination of wet weather at home and unusually hot weather in America has hit potential harvests and sent prices sky high. BFREPA chairman John Retson has been lobbying supermarkets for some time for a better return for free range egg producers, and the National Farmers' Union (NFU), British Egg Industry Council (BEIC) and British Poultry Council (BPC) have now written to retailers to highlight the problems affecting the whole of the poultry sector.
"On behalf of our poultry meat and egg producers we wanted to bring to your attention the effect the latest rise in feed prices have had on the cost of poultry production," they said in a letter sent to the country's leading retailers.
"In the UK the poultry industry uses in excess of 5.5 million tonnes of compound feed in laying hen, broiler, turkey and breeder farming systems every year. Feed is the largest single cost item for poultry production, accounting for approximately 60 per cent of total costs. Of this feed typically 60 per cent is wheat and 20 per cent soya. Clearly, therefore, the cost of feed rations and the total cost of poultry production are highly sensitive to changes in the raw material prices of these commodities on the world market."
The letter said that prices for wheat and soya had risen rapidly because of adverse weather conditions. "In the short term, the delayed harvest in the UK has contributed with recent global commodity volatility to price increases for the remaining supplies from last year's harvest. More critically, it is the global prospects of the upcoming harvests which will dictate poultry feed costs for the 2012/13 harvest year," it said. "Hot and dry conditions have hit the yield potential of feed grains in parts of Europe, the US and the Black Seas region."
At the latest council meeting it was discussed that BFREPA would investigate with other farming organisations the possibility of direct action being taken against supermarkets who are paying less than the cost of production.
The letter said, "Spot prices for wheat have now reached £226/t and new crop positions are also at historical highs. With the wheat futures market showing a March 2013 contract high price of £197/t, tight supplies of feed grains will force high production costs for the next twelve months. It will be only after the 2013 harvest that markets could anticipate a reduction in wheat prices.
Whilst soy meal is at £440/t, the premium for non-GM soya is expecting to continue rising and it has already risen from £35 to £65 per tonne in the last two months. As you will be aware there is no cost effective replacement for soya in monogastric diets. It is also worth noting that energy, labour and other inputs costs have also increased over the last two years."
The letter said that the poultry industry had made great efforts to invest in new capital infrastructure to grow in line with rising demand. "To maintain this vital investment producers need a sustainable margin over variable costs of production.
The year ahead will constitute a continued challenge to our supply-side costs and the poultry supply chain has worked hard to manage the unprecedented levels of volatility that have characterised agricultural markets since 2007. It is in all our interests to maintain long-term sustainable chains.
We ask that you reflect the fundamental change in commodity prices that will impact poultry industry costs when in pricing considerations and promotional schedules for the year ahead. Working together, we can ensure that production cost inflation does not cause lasting damage to the poultry meat and egg supply chains."
Roger Gent said that BFREPA fully supported the letter sent by the NFU, BEIC and BPC. He said that in the longer term BFREPA was looking at the possibility of feed clause contracts that took account of fluctuations in the price of feed. The association was also looking at benchmarking to gain a better insight into the detailed cost of production. However, he said that these initiatives would take time. The immediate need was for support from supermarkets to cover the increasing cost of feed.
At the latest council meeting it was discussed that BFREPA would investigate with other farming organisations the possibility of campaigning for a better price for producers.
Council expressed concern that producer prices were unsustainable and that balance needs to be brought back into the supply chain. Either packers or the supermarkets need to reduce their margins or consumers need to pay more for their eggs.
BFREPA costings show that producers have moved from break even to losing over £1 a bird in less than two months.
Download

02-08-2012 20:08 PM | Posted by: graham lloyd
as a beef and sheep farmer i have seen a number of farmers in this area alone who have gone into egg production over the last three years.this has meant there are to many eggs.
they have only them selves to blame for their greed.
05-08-2012 14:55 PM | Posted by: Alan Bird
We are one of those small beef and sheep farmers, whose upland farm (300 acres) is not viable without subsidy. We invested in a free range egg business which is capable of standing alone in this severely disadvantaged area not through greed, but to try and ensure a future for this farm. What will happen to most beef and sheep farms if the E.U. and out government further reduce or even stop the subsidies and we have sat back and not invested in something else. Do your farm (beef and sheep) profits allow you to invest your entire subsidy? If not you are losing money like us.
Display name

Please enter your name

Email
(optional)
Comment

Please enter your comment

Post Comment


Your comment submitted successfully.Please wait for admin approval.

Some error on your process.Please try one more time.
Trending Now
Viewed
Discussed