Bacon launches with double award success
Bacon launches with double award success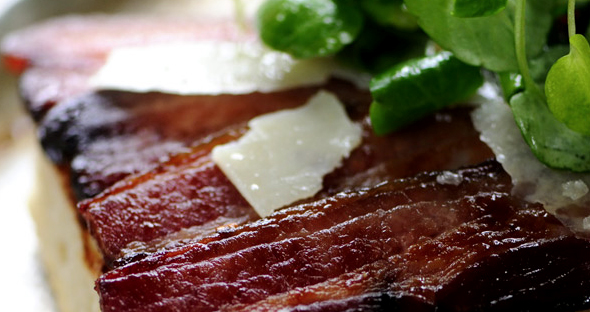 A brand new Cornish bacon is launched this week having secured two food industry awards.

The 'Cornish Sweetheart' streaky bacon, developed by the Kernow Sausage Company, has picked up a British Pig Executive (BPEX) Silver Award and a Gold Great Taste Award before its official launch.

"We gave it the name Cornish Sweetheart on the grounds that it is very Cornish in its provenance and it has a sweet flavour" said Gavin Roberts of the Kernow Sausage Company.

"The bacon is made using traditional methods and it is the addition of the marinade that makes a big difference. It gives it a sweet edge and a really interesting depth of flavour. The combination of sweet and hot is a winner in my book."

Described as the 'Oscars' of the food world, the Great Taste Awards are organised by the Guild of Fine Food and are the acknowledged benchmark for speciality food and drink across the UK.

Winning products are awarded either single, double or triple gold, with triple gold being considered as "Wow, you must taste this".

The Cornish Sweetheart streaky bacon was awarded gold, classed as "close to perfect".

Gavin said: "As well as the flavour, I think the judges were quite interested in the appearance. It is a pink bacon with a dark edge around it, so it is unique to look at."

"Continuous innovation and product development is very important to us, so we are thrilled that the Cornish Sweetheart bacon has won these awards."

BPEX holds its awards each year in order to recognise pork manufacturers who meet specific quality criteria in various areas of the product including taste, innovation and visual appearance.

The Kernow Sausage Company's Cornish Bratwurst, Trelawney Traditional Sausage and Proper Hogs Pudding were also awarded with BPEX awards.

Run by Gavin Roberts and his family, The Kernow Sausage Company supplies restaurants, hotels, delis and farm shops all over Cornwall with their multi-award winning range.

Kernow Sausage Company have a herd of 100 pigs on the farm, which are hand-reared and given plenty of space to roam around. They also source top quality meat from a number of carefully selected Cornish farms. The welfare of the animals is very important to the Roberts family, which Gavin believes also improves the quality and taste of the meat.

Download


No comments posted yet. Be the first to post a comment