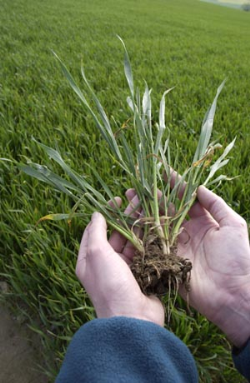 DON'T get caught out by heightened cereal lodging risks with the return to rapid crop growth brought on by warmer weather, urges Syngenta technical expert Rod Burke.
Up until now, relatively little plant growth regulator (PGR) has been applied to cereals this season, he says, so some high-risk crops are still largely unprotected.
Therefore, growers will need to monitor crop growth regularly over the coming weeks, he advises - to ensure that important spray timings for the next PGR application aren't missed.
"Despite the cold winter, crops still have high populations and are well tillered," explains Mr Burke, "so stem lodging risks are generally high.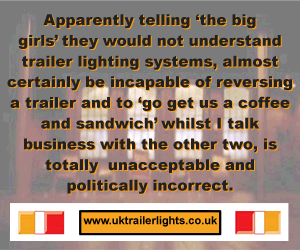 "In addition, nitrogen fertiliser has now been applied in many cases, but won't have been taken up because of the cold conditions.
"With the return to warmer weather, the stage is therefore set for an explosion of growth in winter wheat and barley the over coming weeks. This is likely to result in rapid elongation of lower internodes during stem extension - and so create taller, thinner and weaker stems which will add to the already high stem lodging risk."
In answer, Mr Burke says PGR sprays will need to be accurately timed for the important forthcoming T1 stage, and dose rates may need to be increased. The PGR Moddus has been clearly shown to improve stem strength by increasing stem wall thickness when applied during stem extension between growth stages 31 and 32, he stresses. It also reduces crop height.
"Given the seasonal risks that we have, pretty much all winter wheat varieties should be considered for a growth stage 31-32 application of a Moddus based treatment. Similarly, with crops of winter barley.
"However seven years of variety profiling research has indicated that certain winter wheat varieties are already more prone to stem base lodging when lodging pressure is high. So these will need particular attention. A follow up treatment of an ethephon-based PGR may also be needed where crops are likely to grow particularly tall," he points out.
Mr Burke says a combined Moddus plus chlormequat tank mix is advocated at the growth stage 31-32 timing - partly for cost-effectiveness and partly because the two ingredients provide an additive effect. "Also, Moddus has excellent cold weather performance if it remains cold, and enhances the uptake of chlormequat in colder conditions," he adds.
"Even a variety with high standing power will lodge if pressure is high enough," he notes.
Comments
No comments posted yet. Be the first to post a comment