Celebrity chefs call for milk boycott
Celebrity chefs call for milk boycott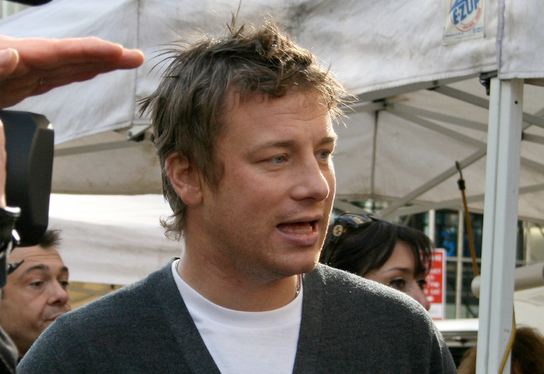 Two celebrity chefs have backed a dairy campaign calling for action on the current milk price crisis.
Hugh Fearnley-Whittingstall and Jamie Oliver issued a joint letter condemning "cynical" retailers who were paying less than production cost for a litre of milk leaving dairy farmers angry over the move.
"It's time supermarkets stopped using milk as a loss leader. And if they won't take that initiative, then perhaps consumers will consider moving their custom from those who offer milk at crazy knockdown prices to those who will commit to giving dairy farmers a fairer deal" the pair said in their statement.
The crisis has seen dairy farmers and industry members attending summits in London with a second meeting of the dairy coalition planned for the Royal Welsh Show on Monday July 23.
"This price slash comes at the expense of the average dairy farmer who is now making a significant loss for every litre they produce", said NFU dairy board chairman Mansel Raymond.
Carmarthenshire NFU Cymru County Chairman Gareth Richards, a dairy farmer from Abergwili, said, "Dairy farming is in a state of crisis and urgent action is required from processors, retailers and government to fix these problems. The savage milk price cuts imposed on dairy farmers by milk buyers since the beginning of June coupled with the recent announcement of further severe cuts to the milk price from 1 August has left dairy farmers in Wales in turmoil."
This will take the debate to Wales amid concerns that additional price cuts coming down the track will make dairy farming in Britain completely "unviable."
In the joint letter Hugh Fearnley-Whittingstall and Jamie Oliver said: "The value of milk is something we have all lost sight of. We pay more for bottled
water
than we do milk – crazy when you think of the work that goes into producing it.
"We enjoy a fresh product because farmers care about the quality of their milk and work hard to look after the cows that produce it.
"People want to support our dairy farmers and we can all start by paying them a fair price at the farm gate for their milk. A fair price that means they - and we - have a future where dairy farming is great in Britain again."
The NFU, Royal Association of British Dairy Farmers and the Tenant Farmers Association have called for price cuts intended for August 1 to be scrapped.
The coalition has also voiced their support for demonstrations which have seen hundreds of farmers demonstrating outside supermarkets and dairy processors this week.
Concerns over the plight of dairy farmers were also echoed by the Country, Land and Business Association President Harry Cotterell.
"The price paid for milk by certain retailers and processors is below the cost of production. It is anti-competitive and insulting to the farmers who work hard to feed the nation" he said.
"The planned price cut on milk will force some farmers out of business so the CLA is united with the NFU in demanding a reversal of the price cuts from 1 August."
He added: "Farmers who supply milk to retailers and processors that do not pay them a price reflecting the cost of production deserve better. Retailers and processors have a corporate and social responsibility to producers and must ensure those providing milk receive a fair price.
Download
Display name

Please enter your name

Email
(optional)
Comment

Please enter your comment

Post Comment


Your comment submitted successfully.Please wait for admin approval.

Some error on your process.Please try one more time.