Dairy industry urged to unite over working strategy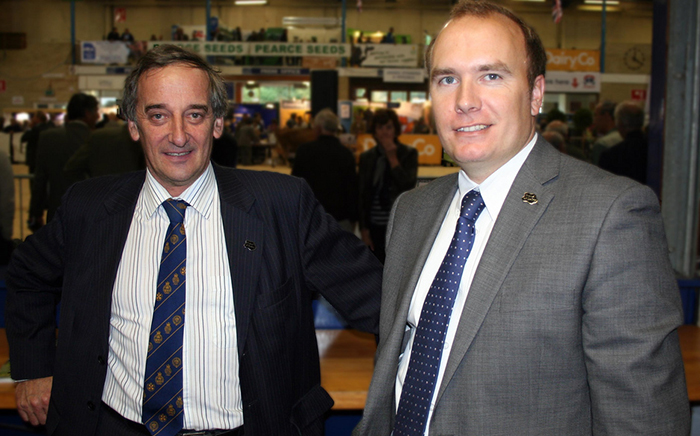 The UK's dairy industry will fall behind in terms of scale and efficiency if it fails to keep up with global growth according to the NFU who are urging the industry to unite over a consultation.The discussion document, 'A Strategy for the British Dairy Industry' will be launched today and aims to bring together the whole industry to come up with a working strategy that will be launched at the Livestock Event at the NEC in July."We're starting a conversation with farmers, processors, retailers and everyone with an interest in the dairy industry about a robust, ambitious strategy for its future development" said Mansel Raymond, NFU dairy board chairman."Since the Dairy Coalition committed to agree a strategy last year, the NFU dairy board has kicked off the process. Our focused working group, which has drawn on the expertise of NFU board members, DairyCo and Dairy UK has developed a set of key assumptions, which we intend to discuss in the coming months.""We believe this strategy must be based on growth in output of milk in Britain. Our starting point is growth that at least keeps pace with the growing global market place. If we fail to do this, then relatively speaking we are falling behind in terms of scale and potentially efficiency."The Farmers' Union of Wales said recent plans to close a Carmarthenshire dairy plant will force downward pressure on farmgate milk prices.They said dairy farmers, in one of the UK's most prolific milk producing sectors, would feel the affect of downward pressure on farmgate milk prices.

But Muller Wiseman has signalled its intention to be the UK's largest presence in the industry by launching a drive to increase the direct supply of milk to the company from new suppliers as well as from existing members."I am delighted by Muller Wiseman's latest announcement of a 1ppl bonus for new and increased milk supply" said Raymond."This is clear evidence that British milk is in demand, strong market signals and price stimulus are what producers are looking for right now."New suppliers to the company are to be offered a 1ppl recruitment incentive over and above the MWMG standard litre price (currently 30.5ppl) for all volume produced in the first year from commencement of supply. This incentive will be paid at the end of the first 12 months of supply, after which new suppliers will revert to 'existing member' status.Existing MWMG members who are not currently aligned to one of the company's major supermarket customers will benefit from an expansion incentive of up to 1 pence per litre (ppl) above the MWMG standard litre price starting from April 2013. The incentive is structured as follows:Existing members are entitled to claim 1 pence per litre on their whole year's production if they produce at least an additional 2% or more milk than in the previous year – on average worth £14,000 pa.Members can gain 0.5 pence per litre on their whole year's production if they produce equal to or up to 2% more milk than in the previous year – on average worth £7,000 pa.Last November, representatives of the UK farming groups met in Cardiff to discuss the future of the dairy industry.Rob Harrison, NFU dairy board vice chairman, said: "It is clear to me that now is the time for dairy farmers to capitalise on market opportunities. Supplies are tight, demand is high. With the Voluntary Code of Best Practice for Dairy Contracts being implemented farmers should expect the market to deliver on a sustainable price for their milk; one that they so desperately need."Gary Mitchell, NFU Scotland dairy committee chairman, said: "Now is the time for farmers to collaborate and pull together." "Collaboration can take many forms, from working with producer representatives, exploring the opportunities of membership of a producer organisation or joining a co-op. The bottom line is that there is strength in numbers and now is the time to work together to optimise returns from the market."Ulster Farmers' Union dairy committee vice chairman Jonathan Moore said: "While our routes to market may differ, the fundamentals are the same. Our milk is in demand and it must be valued accordingly if farmers are to have the confidence to invest in their businesses." "Costs are increasing at an alarming rate and farmers cannot absorb them."NFU Deputy President Stephen James said the dairy sector 'has been a source of tension' in the last decade."The key problem over many years is that dairy farmers have routinely failed to see prices rise as fast and as high as the dairy commodity markets.""Yet, when these same markets fall, the milk price paid to farmers drops like a stone. This is a clear result of the exploitative nature of milk contracts and lack of negotiating power that currently exists."

Download

Trending Now
Viewed
Discussed