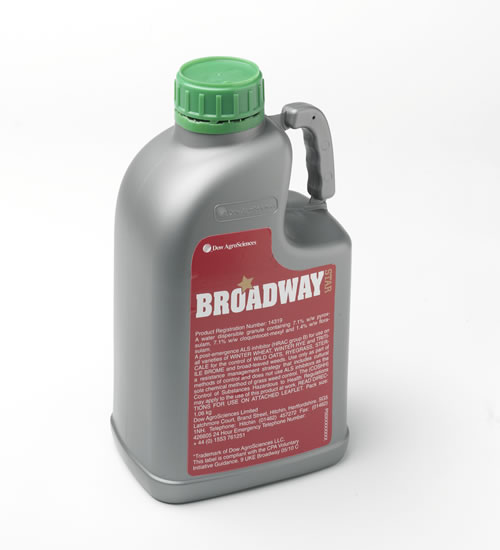 New packaging from Dow AgroSciences that uses recycled plastic, is lighter, does away with foil seals and offers simpler disposal will be used in the UK for the company's pyroxsulam-based herbicide Broadway Star.
The new design results from a pan-European project run by Dow AgroSciences' Packaging Specialist Laurent Dionet. His challenge was a design that improved environmental credentials, reduced cost, maintained security and helped address counterfeiting. The new design achieves all these and improves on-farm handling of products in granular or powder form.
Pack design reduces the amount of plastic used by some 30%, cutting out surplus volume and reducing external packaging material. The material for both cap and bottle are the same plastic, thus removing need for sprayer operators to segregate materials for disposal.
The new design also removes the need for a foil cap, or induction seal, which simplifies pack opening for users. And again simplifies sprayer filling. The cap has an anti-tamper design for security.
Rounded shoulders and a more central opening means easier pouring of contents and rinsing out of empty containers.
The grey plastic with green cap is a unique combination for Dow AgroSciences. In addition, there are other devices within the design to guard against counterfeiting of the products. Only genuine Dow AgroSciences material will use the new packaging in these colours, giving reassurance to users looking to comply with quality assurance.
Initial user response shows that the new packaging represents a significant advance. Sprayer operator Chris Bullen of PX Farms near Cambridge, was delighted not to have to cut off any foil seal and found Broadway Star poured far easier from the new design.
"The design has met many of the challenges that the project set out to address," says Mr Dionet. "We will be using the new packaging, which is available in three sizes, for a range of Dow AgroSciences products across Europe.
Comments
No comments posted yet. Be the first to post a comment