EU-US trade deal 'will dismantle GM health protections'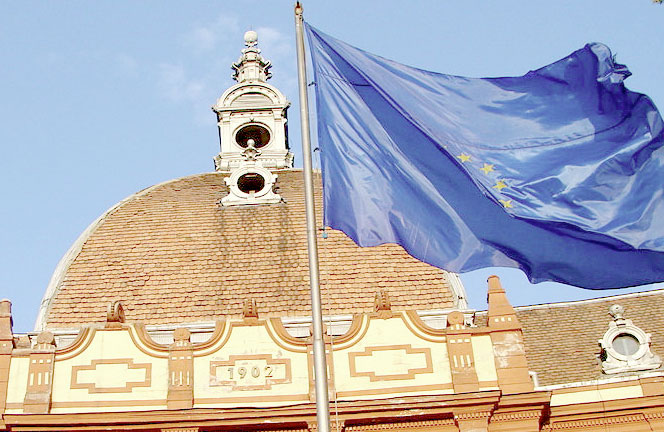 Earth Open Source has warned an EU-US free trade deal would weaken safeguards on genetically modified (GM) crops.
The proposed deal wants to tie health issues related to genetically modified organisms (GMOs) to 'accepted, science-based standards' and 'harmonize regulations and standards that can hinder transatlantic trade and investment'.
"This is doublespeak for watering down the EU's already weak GM regulatory system to the level of the almost non-existent regulation in the US" said Claire Robinson, research director at Earth Open Source.
"The US system assumes that GM foods are no different from non-GM foods and so do not require special regulatory oversight or safety tests."
"If the new trade agreement goes through, it will be illegal under World Trade Organisation rules for the EU to have a stronger regulatory system for GMOs than the US system. It will be a race to the bottom in which public health will be the loser."
"The proposed agreement fits neatly with ongoing attempts by the European Food Safety Authority (EFSA) and the Commission to
water
down the EU's GMO regulatory system to the US level."
EU laws on GMOs aim at a high level of protection for human and animal health and the environment.
But they have been undermined by weak guidelines for risk assessment of GMOs developed by the GM industry-funded International Life Sciences Institute (ILSI) and adopted by the European Food Safety Authority (EFSA).
In September last year Earth Open Source warned that the EU's GMO risk assessment methods would be further weakened by a draft Regulation currently passing through the Commission's opaque comitology process.
The draft Regulation is scheduled for a possible vote in a meeting of the Commission's standing committee on the food chain and animal health on 25 February.
The draft Regulation does not require long-term animal feeding trials on GMOs, such as that carried out by Prof GE Séralini's team at the University of Caen, which found serious health effects in rats fed GM maize over a long-term 2-year period.
Currently, industry often carries out a short 90-day animal feeding study on a GMO it hopes to commercialise.
But the draft Regulation fails to make even this type of study mandatory and enables it to be waived in the future.
It also allows the GM food to escape a full risk assessment and safety testing if it is deemed equivalent to a non-GM food in a process that is based on assumptions, rather than scientific testing.
Robinson said: "The system laid down in the draft Regulation is not based on science but on a US-inspired 'don't look, don't find' attitude among industry and regulators. It's now clear that the draft Regulation and the proposed free trade agreement are working in tandem to dismantle the EU's public health protections on GMOs."
The draft Regulation has reportedly been frozen in its progress through the Commission's comitology process, pending agreements on proposals to allow EU member states to place national bans on growing GMOs.
Download

18-02-2013 22:14 PM | Posted by: NoMonsantoWTO

""This is doublespeak for watering down the EU's already weak GM regulatory system to the level of the almost non-existent regulation in the US" said Claire Robinson, research director at Earth Open Source."

Right on, Claire Robinson. There is little or no regulatory oversight in the US on GMOs. Due to Monsanto and the chemical/"agricultural" mafia, the American people are being force fed GMOs. Even as I write this, GMOs and its "inputs" appear to be destroying everything they touch in America: the soil, the water, the air, crops, the science, the portions of the academic community beholden to GE research, and the political structures which should oversee the regulation of this high school science fair technology.

And like Monsanto, the WTO has to be one of the most evil organizations on the planet. BTW, the regulatory agencies of the EU should be massively investigated.

19-02-2013 11:32 AM | Posted by: trey sea
We have an obesity and mental health crisis on our hands people are STARVING FOR NUTRITION !!!
We can not feed the populations on poisoned dead soil with genetically modified foods!
Tons upon tons of nutritional gold is sitting in landfills all over the globe.
WE MUST FEED OUR LAND !
We can not keep taking and taking and not give back. we must collect food waste to feed our lands so the food we take into our bodies contain the vital essential nutrients our bodies need. Our bodies were not designed to deal with chemical fertilizers, pesticides and chemically made vitamins and minerals ! We have already established what pesticides have done to the bees brains , what about our brains and that of our children's. Cancer is rife and to let this *what i feel is tantamount to genocide*carry on is a crime against the whole of humanity.......Monsanto and their ilk are nutritionally starving and poisoning your countries people and lands WAKE UP !! it is not all about the profits , hang on or is it? There are swathes of money to be saved on medical bills of your country if your people are getting the proper nutrition. There is gold in landfills Just screaming to be collected. Once food is collected and rotted down our lands get fed the soil becomes health vibrant and filled with NATURAL NUTRIENTS that our bodies were designed to take full benefit ergo: HEALTH OF A NATION . Once the soils are well mulched they will retain much more moisture needing less water in times of drought. when the food is rotting down the gasses that it produces can be turned into energy. I am just an ordinary bipolar woman with virtually zip education, if I can figure this simple equation out what the hell are we paying the European union for or our over educated pompous politicians for ??? STOP THE MADNESS !
19-02-2013 13:47 PM | Posted by: Jack R
Calling Europe's regulatory system for GM crops is laughable. It's the most strictly regulated system in the world. And as for the public health risks proposed, there has not been a single case of human illness or death due to GM foods reported since their introduction almost 20 years ago.

Refusing to accept technology and change is going to leave you stranded in out of date, inefficient farming processes and destroy the environment you claim to be trying so hard to save.
19-02-2013 15:11 PM | Posted by: Paul E
The evidence is growing that GM technology is inefficient. The most efficient and balanced system is nature itself. Humankind's failure to understand and work with nature has led to 'band-aid' technologies - temporary quick fixes that often promise much and deliver little. And that is how the evidence is now stacking with GMOs. As for illnesses, relevant data would include generational statistics. As a parent I would not feed my kids stuff that has not been completely tested. Although I am not directly equating the two, my generation saw too many thalidomide cases to ignore the risks. I do not refuse to accept change but supporters of GMO are now being asked to accept change based on the emerging results.
19-02-2013 17:59 PM | Posted by: DC
Jack R., who do you work for?! You are a complete and utter dolt if you believe that. Why don't you educate yourself! The film Genetic Roulette by Dr. Jeffrey M. Smith might change your mind, unless you have been bought, that is!
19-02-2013 20:01 PM | Posted by: P H Ellson
The evidence is growing that GM is an inefficient farming process. The US Farmers Weekly says that one of the biggest problems U.S. farmers have experienced with GM seed is resistance. When GM seeds were first introduced, biotech engineers said it would be 40 years before resistance would develop; but pests such as corn rootworm have instead developed a resistance to GM crops in as few as 14 years.

Learn more: http://www.naturalnews.com/039158_farmers_GMOs_crop_yields.html#ixzz2LNRIUcUt

20-02-2013 09:52 AM | Posted by: Murikami
Jack R. When are you going to wake up to the fact that it is actually industrial high-input fossil-fuel dependent agriculture that is out of date, being totally out of sync with what's happening with natural resource depletion and climate change, and massively inefficient when it takes 10 units of non-renewable energy to produce 1 unit of food energy? The future of agricultural technology change is going to be about innovation in ecological agriculture, like this: http://m.guardiannews.com/global-development/2013/feb/16/india-rice-farmers-revolution

And have you noticed that Really Big Business is getting fed up with the GMO industry creating more problems than it solves, and failing to keep consumers onside? Time to sell those shares, or get a proper job.
21-02-2013 00:21 AM | Posted by: Bono and Monsanto
Please join us on facebook at the Bono and Monsanto Forum for Conscious Debate and Discovery to AT LEAST TRY to organize Bono fans to do an intervention and pull him back from the dark side.
25-02-2013 22:42 PM | Posted by: Kev C
This is a dangerous and utterly suicidal turn of events. If this deregulation takes place we may as well put a gun to our heads. This is not a democratically reached decision. The people have not been consulted. The democratic will of the people must be adhered to ootherwise we are living in a dictatorship of the fascist sort. Until the people have decided what they want there can not be any further integration of trade standards and deals.
The WTO is a criminal organisation and they should be charged with crimes against humanity for the harm they have brought to bear upon the innocent people in developing nations via pernicious and exploitation based legislation which only favours he rich fat cats.
Display name

Please enter your name

Email
(optional)
Comment

Please enter your comment

Post Comment


Your comment submitted successfully.Please wait for admin approval.

Some error on your process.Please try one more time.
Trending Now
Viewed
Discussed