EU chose weakest labelling rules before meat scandal
EU chose 'weakest' labelling rules before meat scandal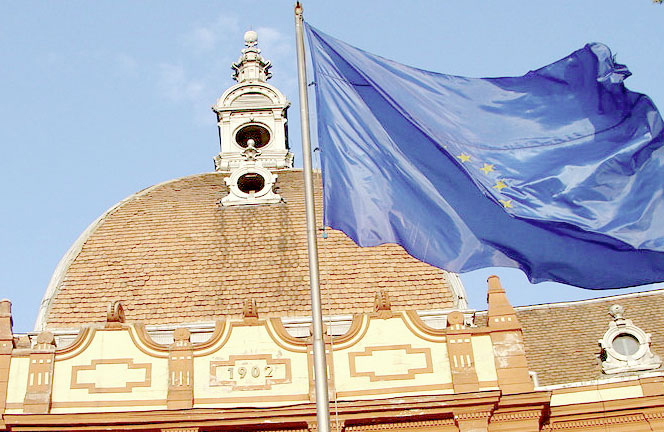 The European Union discussed meat labelling before the horse scandal broke but member states chose the weakest rules available, according to Public Health Committee chair Matthias Groote.
"In the past we have discussed legislation on whether or not meat of different forms should be labelled, and member states have chosen the weakest option. We need to see how we can guarantee traceability and improve deterrence" he said.
In a public health debate, MEPs said member states failed to enforce EU food chain laws and highlighted a lack of 'dissuasive sanctions' against fraud.
"What we have now is a crisis of confidence" said Groote.
"We are getting more and more news about the impact and the scope of this labelling issue. We need to see how we can guarantee traceability and improve deterrence."
Health and Consumer Policy Commissioner Tonio Borg said member states are responsible for enforcing EU rules and reported that food in all EU countries was now being tested for horse DNA and traces of the painkiller phenylbutazone, or 'bute.'
Ikea was one of the latest retailers to withdraw products for sale after tests by the Czech state veterinary administration revealed traces of horsemeat.
The batch of meatballs, manufactured in Sweden, had been sold across many countries including the UK, Netherlands and Portugal.
"We need to keep things in perspective" said Borg. "We have one of the best food safety systems in the world. But this does not mean that problems do not arise".
Sustainable food and farming organisation LEAF said people were removed from the origins of their food and the people that grow it.
"The recent horsemeat scandal has exposed just how little traceability there is in critical parts of our food chain" a spokesman said.
Keith Taylor MEP has called for a change to EU law to allow consumers to see exactly where their meat comes from.
"The horsemeat scandal exposes major questions over EU rules on food safety and quality, transparency and food labelling, and as regards cross-border fraud and crime" he said.
"Concerns about the regulatory system, product labelling and how this alleged fraud could have been allowed to happen in the EU's internal market, must be addressed without delay.
"Public confidence has been badly shaken", said Borg.
"To help restore it, he announced a forthcoming proposal to require every member state to introduce financial sanctions against food fraud, so that "crime does not pay".
Asked whether "country of origin" labelling rules should be extended to processed meat products, Borg replied that an impact assessment study was on its way, and could be published at the end of the summer.
However, "this is completely unrelated to the current incident. This fraud is about the animal species in the meat product itself", he said.
"You said that the problem was picked up by a random inspection in Ireland, and that not much change is needed. But do we know how many random inspections there are in the EU? Do we collect reports on them?" asked Linda McAvan MEP.
"It seems to me that we don't know for how long this mislabelling has been taking place. And how do we know that it will not happen again?" she asked.
Kendall used his opening address at Conference 2013 to argue for a major shift in the way food is delivered.
The call comes as Tesco chief Philip Clarke pledged to sell meat from sources 'closer to home'.
Clarke said Tesco had introduced new testing processes in
light
of recent concerns from farming groups and consumers.
From July, he said, all chicken sold in its stores would be from British farms.
Sainsbury's said it was committed to doubling the amount of British food sold in its stores by 2020, chief executive Justin King said.
New research shows customers want to see more British food on supermarket shelves with 82% of shoppers more likely to buy traceable food produced on British farms.
"We cannot tell citizens that 'nothing is wrong' in the system. The best legislation in the world is worthless if there are no checks. What we have is a 'virtual' law, but consumers want real law" said Corinne Lepage MEP.
Bart Staes MEP noted that the scandal also had policy implications. "Member states are responsible for inspections, but the current funding cuts and staff cuts inevitably restrict the quality of checks" he said.
"The ethical and consumer trust problem is clear" said Ana Rosbach MEP. As meat moves between different countries,
"It is becoming very difficult to trace, and we need a solution at a higher level. How can the European Commission guarantee that all member states actually check slaughter houses?" she asked.
Alda Sousa MEP proposed setting up national animal health registers, "so that there is no slaughtering of animal treated with drugs, for instance."
Download
05-03-2013 12:43 PM | Posted by: TerryW
And what does the EU propose to do about horse meat originating from the USA? Hard not to be aware that our horses routinely receive drugs on the EU's banned list. Especially bute. So what's the point if the EU keeps allowing drugged US horse meat into the EU food supply?
14-05-2013 03:51 AM | Posted by: Tommy Lee
There is only one sure way to reduce or possibly eliminate horse meat mixing and that is to abolish horse slaughter from Canada and Mexico.. While there are large amounts of plants killing horses there is more of a chance for meat mixing. Its going to happen again its just a matter of time. Next time it may be the death of a family consumption of drug tainted meat.
Display name

Please enter your name

Email
(optional)
Comment

Please enter your comment

Post Comment


Your comment submitted successfully.Please wait for admin approval.

Some error on your process.Please try one more time.