Egg producers call on major retailers to abandon Non-GM rule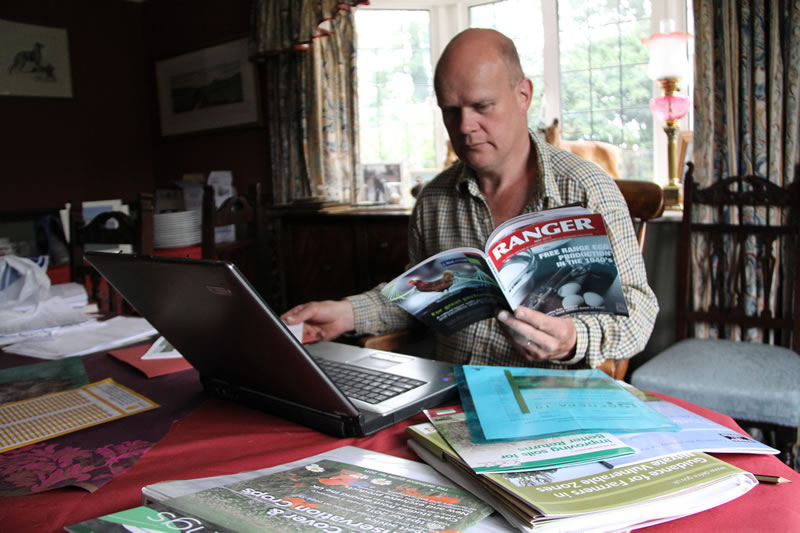 Roger Gent, chairman of the largest association of free range egg producers, the British Free Range Egg Producers' Association (BFREPA), is calling on major retailers to abandon the requirement for egg producers to use only Non GM feed.
The premium that egg producers are having to pay for Non GM soya is selling at a £100 per tonne premium over GM soya - adding unnecessary costs at a time when free range egg producers are facing a severe financial squeeze. Some soya importers are warning that they may soon not be able to obtain the supplies of Non GM soya they need because growers in north and south America are planting predominantly GM crops. Although Asda and Morrisons have now dropped their insistence on Non GM feed, other retailers have yet to follow. Roger Gent is now appealing for them to act before it is too late.
"This is not a requirement that is placed on other livestock sectors; it is only the poultry sector that is required to use Non GM," said Roger. "Why? Is it something that consumers are demanding from the poultry sector? That is hard to believe when the same requirement is not demanded from other livestock sectors. The premium that we are having to pay for Non GM soya has grown from £40 per tonne to £100 per tonne.. Brazilian soya growers are moving to GM soya and there will soon about 10% Non GM – insufficient to meet all UK supermarkets' demand for us to use Non GM feed. They really do need to drop this requirement now."
The National Farmers' Union (NFU), the British Egg Industry Council (BEIC) and the British Poultry Council (BPC) recently wrote to the British Retail Consortium (BRC) to warn of the potential problems faced by the industry in using Non GM feed. In a letter signed by NFU president Peter Kendall, BEIC chief executive Mark Williams and BPC chairman John Reed, they said GM accounted for 89 per cent of the soya bean areas for 2012/13. "Importers of Non GM soya have not been able to offer any forward contracts for Non GM soya since September and do not have the confidence in the supply chain to offer any forward contracts for new crop soya from May 2013," they said. "In addition, anecdotal industry reports suggest that shippers are not accepting any new customers for Non GM soya from Brazil because they are not convinced they will be able to source enough supplies."
They said the Brazilian soya crop was expected to be 82 million tonnes, an increase of 25 per cent over last year. However, most of the extra 17 million tonnes would be GM. Aside from problems over the availability of Non GM soya, the increasing move to GM crops also increases the likelihood of cross contamination, they said. "The tonnage of GM now swamps Non GM so that the likelihood of accidental GM presence is much greater and the export facilities for segregating product have not increased in proportion to the crop."
They said that positive contamination of GM soya protein above 0.9 per cent was being found more regularly. "In world market terms, the UK's Non GM requirement is a niche market shared with some other EU countries. Segregation blocks compromise the optimum running capacities of crushing plants and ship-loading facilities and add significantly to the costs. The loading and waiting times in Brazil from spring 2013 is expected to be months, with demurrage costs equating to millions of dollars.
"We acknowledge that there may be issues with consumer perception over a change of policy. However, both Asda and, more recently, Morrisons have allowed the use of GM soya within their poultry rations with no detriment to their sales. The industry supported this pragmatic and proactive approach," they said.
"GM crops are highly regulated in terms of health and environmental safety. They have been used in the UK to feed other livestock destined for the retail supply chain and have been used to feed pigs, poultry, cattle and other livestock around the world for the last 15 years, during which no ill effects have been reported or robustly reflected in peer reviewed research."
They said, "The independent European Food Safety Authority (EFSA) established in 2007 that recombinant DNA from GM plants used in feed does not end up in the final meat, milk or eggs. Importantly, just like DNA and proteins that all animals ingest whenever they eat, it is rapidly broken down in the gut.
"It is our view the future supply of Non GM soya will be limited and that a change of policy in regard to the requirement for Non GM soya to be used in poultry rations is urgently needed so the change can be managed proactively and transparently."
Whilst the poultry sector is pressing for the Non GM requirement to be dropped, research sponsored by the Food Standards Agency (FSA) suggests consumers would want to see GM content declared on any labeling for meat, milk,
eggs
and fish reared on GM feed.
The research, which was carried out between June and September 2012, found that those who took part in the study were generally unaware of the use of GM animal feed by farmers. Once they were told of its use, they typically felt that products from animals fed GM feed should be labeled. The FSA said these findings were consistent with the results of previous FSA research.
The findings were welcomed by the pressure group GM Freeze, which describes GM in animal feed as "hidden GM" because it does not appear in food labeling. The group's spokesman, Pete Riley, said, "The FSA, Government and supermarkets have kept people in the dark about where GM is and how much is used in the UK food chain, so it is not surprising that people are confused.
"Neverthless, people are still asking for clear labels indicating the presence or absence of GM in the production of their food. So far the UK Government and FSA have ignored demands for labeling of products from GM-fed animals. Supermarkets and food manufacturers have also failed to respond to their customers' wishes.
"We want to see evidence that these positions are changing and that businesses who choose to not use GM are supported in establishing transparent labeling schemes for GM-free products."
However, for supporters of GM there was a notable convert to their cause recently when environmental campaigner Mark Lynas said in a speech to the Oxford Farming Conference that he had been wrong to campaign against GM. "I apologise for having spent several years ripping up GM crops," he said in his speech. "I am also sorry that I helped to start the anti-GM movement back in the mid 1990s, and that I thereby assisted in demonising an important technological option which can be used to benefit the environment. As an environmentalist, and someone who believes that everyone in this world has a right to a healthy and nutritious diet of their choosing, I could not have chosen a more counter-productive path. I now regret it completely.
"So I guess you'll be wondering – what happened between 1995 and now that made me not only change my mind but come here and admit it? Well, the answer is fairly simple: I discovered science, and in the process I hope I became a better environmentalist."
He said that in over a decade and a half, with three trillion GM meals eaten, there had never been a single substantiated case of harm. "You are more likely to get hit by an asteroid than to get hurt by GM food. More to the point, people have died from choosing organic, but no-one has died from eating GM," he said.
"Just as I did 10 years ago, Greenpeace and the Soil Association claim to be guided by consensus science, as on climate change." He said that on GM there was a "rock-solid" scientific consensus, backed by the American Association for the Advancement of Science, the Royal Society, health institutes and national science academies around the world. Yet this inconvenient truth was ignored because it conflicted with their ideology.
Download

01-02-2013 17:33 PM | Posted by: James Taylor
The next supermarket scandal. Selling Poultry and eggs as if they were Non-GM whilst all the time they contain GM.

Can anyone tell me the difference between this and horsemeat?
01-02-2013 17:37 PM | Posted by: Sue
There is no difference. Egg producers are struggling as a result of having to buy Non-GM feed at the supermarkets request. The only livestock sector having to do this. Whilst all the time the supermarkets are conning the public when anyone who feeds birds know that the makeup of feed contains GM Soya.

Either the public or the trading standards must have a case against these supermarkets for mis-leading the public and selling products that are not as described.
01-02-2013 17:51 PM | Posted by: David
Have Tesco and the other supermarkets learned nothing from the recent horsemeat scandal.

Some people do like the taste of horsement. Personally I would not eat it. But the main point is that you eat what is described to you and you make that choice.

The supermarkets are telling us that the poultry and eggs we eat are produced from feed that contains Non-GM soya when they clearly are not. They have known this for years but have done nothing about it. Clear labeling is important so we have trust in the supermarkets. The horsemeat scandal and now this Non-GM Scandal just underlines to me that the supermarkets have learnt nothing and they simply cannot be trusted.


02-02-2013 07:25 AM | Posted by: Peter Brooke
The difference between the horsemeat scandal and the Non-GM scandal is that the media understand it but they do not understand the Non-GM scandal.

Unless the media understand and report on the fact that the supermarkets are telling consumers that poultry meat and eggs are produced from feed that is NON-GM when it is CLEARLY NOT then they will continue to do it.
02-02-2013 18:06 PM | Posted by: Mick
Now would be the time to act on this one. Producers should set a date when they will change to GM feeds. July the 4th sounds like a good date to me. All change at that date as the producers have decided to do so in the interest of their welfare and the welfare of their families and not forgeting the poultry industry as a whole.
03-02-2013 16:21 PM | Posted by: Catherine
Tesco don't care about either the farmer or the consumer. It's about pound notes to them.

If farmers said to the supermarkets the only poultry and eggs you can buy is those produced by GM feed. What choice do they have?
18-02-2013 06:23 AM | Posted by: kelly
GM (Genetically Modified) food is the ultimate food scandal. Not only is it 'fake' lab created food - it is also irreversible as it spoils the soil, and kills birds and bees that are part of nature. It is a BAD IDEA. The GM groups are lobbying HARD to get farmers and the government to pass inch by inch through - to ensure a lifetime supply (for them) of orders. This is SHORT TERM thinking at its worst. Please read about GM foods, and avoid GM products (ie processed foods and certain vegetables and meat). Vote with your buying pounds. Ask your local retailers or order online and ask ask ask about it. Buy natural, real, local foods for you and your family. It is cheaper and easier than you think and you will be pleased you did so. PS - farmers, please do not be so easily swayed to the 'dark side' for cheap thrills from the GM crews.
Display name

Please enter your name

Email
(optional)
Comment

Please enter your comment

Post Comment


Your comment submitted successfully.Please wait for admin approval.

Some error on your process.Please try one more time.
Trending Now
Viewed
Discussed