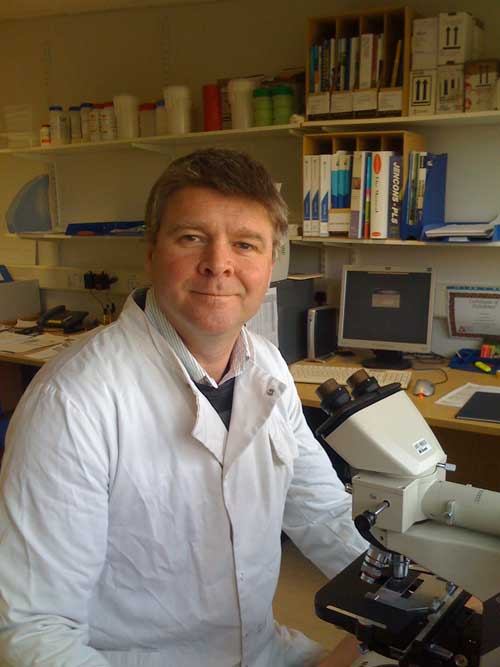 Tim Wallis
Bacterial infections can cause major economic and welfare issues in farmed animals and are often controlled through the use of antibiotics. A significant proportion of the antibiotics used in the treatment of animals enter the environment through excretion in faeces and urine and also through spillages during use.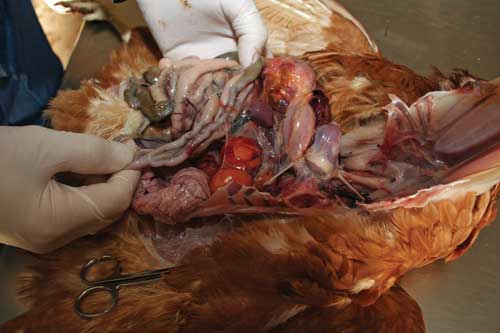 The bacterial strains need to be isolated from diseased birds
The application of animal wastes in agriculture allows the widespread dissemination of these antibiotics into the wider environment. Over-usage of antibiotics is undesirable as bacteria may become resistant and antibiotics therefore can become ineffective.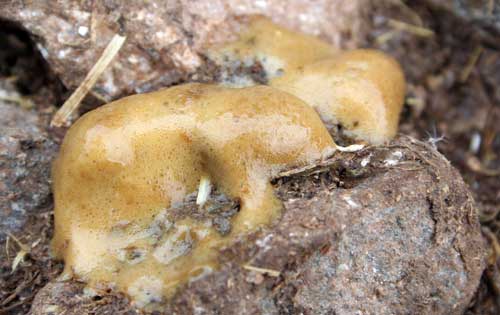 Autogenous vaccines for Brachyspira infections, which can be characterised by yellow frothy droppings
Furthermore genes mediating antibiotic resistance can spread between bacteria leading to antibiotic resistant indigenous soil bacteria and consequential spread through the wider bacterial population. These observations clearly indicate that prevention of disease is better than cure.
The widespread use of mass-produced vaccines has led to dramatic improvements in animal health and welfare and should minimize the requirements for antibiotic usage. However mass-produced vaccines are not always effective at preventing outbreaks of infection. This is often due to the variation seen within strains of a bacterial species. In addition changes in animal husbandry and or legislation can lead to the emergence of new bacterial infections that have not previously threatened animal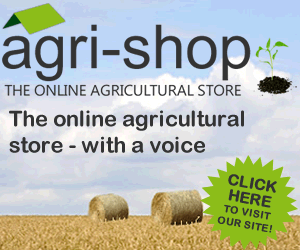 species.
Emergency vaccines (also termed autogenous vaccines) are farm specific vaccines derived from the actual disease causing bacteria isolated from sick animals either on farm or in rear. These bacteria are isolated, processed and formulated into a vaccine to prevent subsequent outbreaks of disease. They are exclusive vaccines that typically perform well because they can produce a potent immune response to the specific pathogens the animals are likely to be challenged by.
Emergency vaccines can provide a cost-effective prophylactic measure for controlling infectious diseases that can eliminate the need for or significantly reduce antibiotic usage.
Ridgeway Biologicals Ltd is the UK's leading supplier of emergency vaccines for the control of infectious diseases in animals. We work closely with veterinarians, rearer's and farmers to produce bespoke emergency vaccines for use as part of disease control programs.
Ridgeway Biologicals Ltd has been established in West Berkshire for ten years and has recently moved from premises at the Institute of Animal Health to purpose built laboratory and production facilities. The aim of the business is to provide a rapid and reliable response to clients for controlling outbreaks of infectious disease. Ridgeway Biologicals' Managing Director, Tim Wallis, is one of the world's leading experts on bacterial pathogenesis having done a degree in Microbiology at the University of Leeds and a PhD at the University of Birmingham studying Salmonella pathogenesis. He headed the Mammalian Enteric Pathogens research group at the Institute for Animal Health, Compton from 1992-2005 before leaving the Institute to oversee the expansion of the vaccine business. His research focused on the virulence factors of Salmonella and E.coli that influence colonisation and pathogenesis in food producing animals.
Ridgeway Biologicals Ltd supplies a wide range of vaccines for the UK's poultry and aquaculture industries. For laying birds we can supply vaccines based on E.coli, Pasteurella, Erysipelas, Ornithobacter, Salmonella, Brachyspira, Mycoplasma and other pathogens. Combination (or multivalent) vaccines based on more than one pathogen for example E.coli and Pasteurella or Pasteurella and Erysipelas or even E.coli, Pasteurella and Erysipelas can also be supplied. Multivalent vaccines can enable improvements with managing stress as fewer injections ultimately reduce bird handling and may also simplify often complicated vaccination schedules. There is also the satisfaction of knowing that your bespoke vaccine will aid the prevention of specific infections that are likely to challenge your flock.
Emergency vaccines are inactivated vaccines and are usually administered as one or two doses by injection.
Once the decision has been made to use an emergency vaccine, the bacterial strain(s) needs to be isolated from diseased birds at the problem site(s). The farm's veterinarian will collect samples for analysis in a diagnostic laboratory. Ridgeway Biologicals Ltd can provide rapid bacteriology services for the isolation and characterization of pathogens however we encourage the use of routine diagnostic services for initial bacterial isolations. When samples are submitted we ask clients to forewarn us so we can liaise with the diagnostic laboratory to ensure samples are optimally handled and isolates forwarded with the appropriate documentation. On receipt of the primary isolates some pathogens require further characterization. For E.coli, Salmonella and Pasteurella many different serotypes prevail in the environment but only certain serotypes are pathogenic. Distinguishing the serotypes is important so as only relevant strains are incorporated into the vaccine. For other pathogens there is no established serotyping scheme available. For such pathogens we use Pulse Field Gel Electrophoresis which can generate a genetic fingerprint for each isolate and the genetic relatedness of different isolates can be assessed. This technique is very powerful for detecting the emergence of new strains in a flock. From receipt and identification of suitable isolates Ridgeway Biologicals Ltd normally can supply an emergency vaccine in eight weeks.
Emergency vaccines can be formulated and subsequently modified to control newly emerging strains and pathogens. A recently emerged bacterial genus which has been associated with production problems in free-range layers is Brachyspira. Several species of Brachyspira have been identified and not all are pathogenic. However B.intermedia and B.pilosicoli are considered, by several experts, to be the causative agents of avian intestinal spirochetosis which is typified by yellow frothy droppings and reduced egg production. Bacteriological analysis of such flocks can result in the recovery of either B.intermedia or B.pilosicoli or sometimes both species. However, as these bacteria are sensitive to exposure to oxygen, sampling and the subsequent bacteriology is problematic and sometimes neither species are isolated from symptomatic birds. Also of note is that these species can also be isolated from normal healthy flocks leading some industry experts to question the relevance of these organisms to production problems. Antibiotics have been used successfully to restore egg production to normal levels in affected flocks however repeat dosing is usually required and some flocks have become unresponsive to such treatments. In response to requests for alternative control measures we have started to supply autogenous vaccines based on isolates of B.intermedia and B.pilosicoli and the results of our first trial is looking encouraging.
The key to producing effective emergency vaccines is regular monitoring of the bacteriological status of the flock so as vaccine formulations can be updated accordingly. This requires some forward planning and good communication between the veterinarian, rearer, farmer and us.
Our vaccines are manufactured in purpose built facilities by highly trained personnel using defined production processes and quality systems. The facility is licensed for autogenous vaccine manufacture and audited by the Veterinary Medicines Directorate. All our vaccines have to be supplied by prescription through the veterinarian responsible for the care of the animals in which the vaccine is to be used. We are continuously working with our customers to develop new products and we are always interested in hearing about any new emerging disease issues.
For more information please visit our web site www.ridgewaybiologicalslt
Comments
No comments posted yet. Be the first to post a comment