Expat life: Alpacas in Spain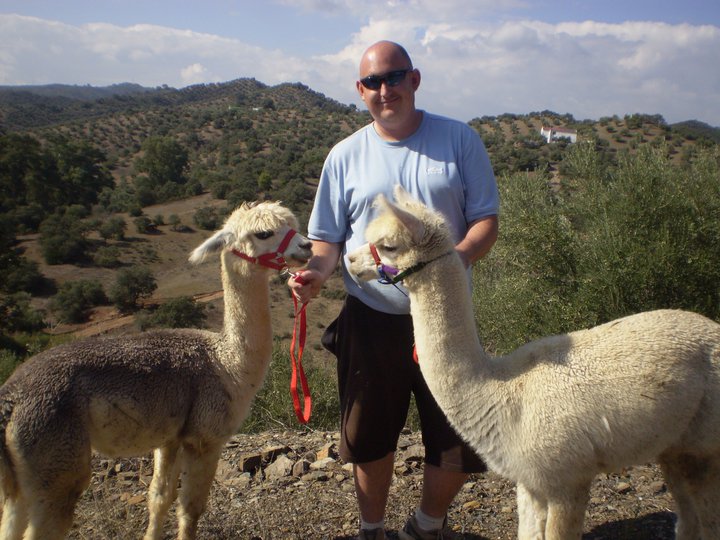 I think when we first moved to Spain, in January 2008, we were full of optimism and hope for our new life, although that quickly evaporated within the first few months. We had moved and finalised buying our Spanish property, an old, renovated Olive Mill, before selling our house in the UK. We had thought it would sell easily, situated in a prominent position on a cliff-top just outside Brighton, but the financial crisis was beginning to take hold and it actually took a whole year to sell, and saw us accept a price well below our original hopes.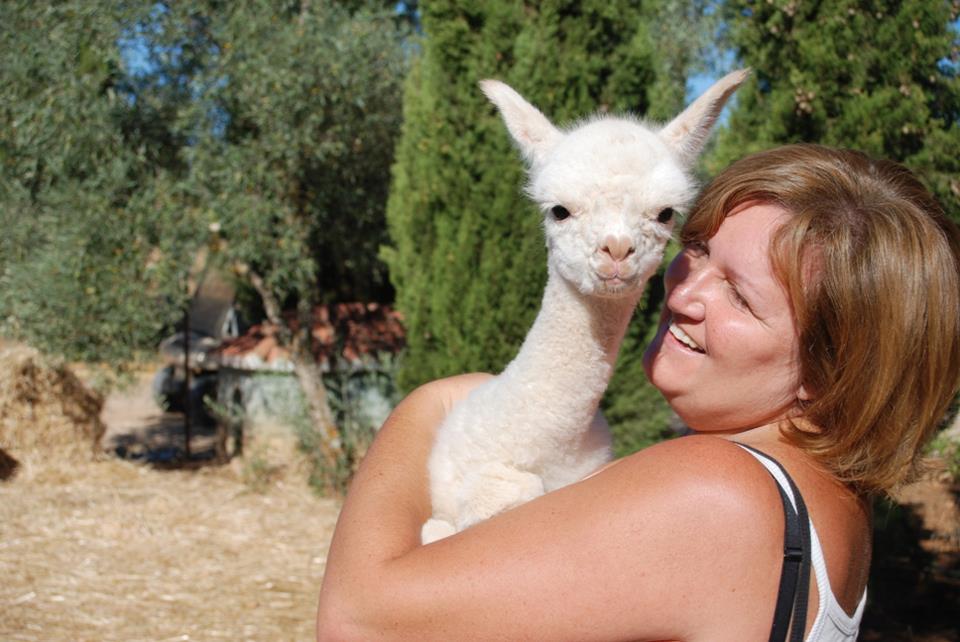 Initially Lorna's daughter Frankie, and her boyfriend Chris came out to start our new life with us, but within three months it became clear that the rural setting of our new home was no place for two 19 year old teenagers. Also, within that first few months, we bought a second hand car from an English guy near the coast, which blew up after a week, needed thousands of Euros repair work, and the guy vanished back to the UK, never to be seen again. We also lost one of our first alpacas, who got ill and died within a couple of months of arriving at our farm, so the start of our new life was difficult to say the least. During our research and talking to people before the move people said "You need to give it 18 months, at least, and don't just give up at the first sign of trouble!" but it would have been ever so easy to give up and go home during that first difficult time, but what would we have done if we had gone back? So we knuckled down and got stuck in to the life we had chosen. Over time we got used to the cold weather in winter (yes, Spain does have a winter, and yes it gets cold, icy cold!), we got used to the isolation of our new home and we eventually got our car back! We have had good days and bad days with the alpacas, the good days being really good, when a new baby (cria) arrives, and gets to his feet strong and healthy, and the bad days have included sick and unwell babies. Now, approaching the 5th anniversary of our arrival, we love our life here in Spain. We have grown to love the remoteness of our country home, rushing to the window if we hear a car approaching to see who it is. We have got used to the weather, in winter wearing many layers, and gloves even inside, and in summer shedding as many clothes as possible and moving very little. We siesta like the natives, and any work that needs doing, if it isn't done by about 10am, then it gets done manana. In the summer the temperature reaches up over 50 degrees, and because we live off grid with no mains electricity, we have no air conditioning, that is tough.Things have happened to us here that would never have happened in the UK, including having to help the vet perform dog castrations, which meant me holding the legs open, and one time being chased by an angry alpaca mother, covering me in green spit when a bucket caught on her babies neck. We have been invited to farmer's houses for strange foods and lethal alcohol, and I have proved myself on many an occasion to be no match for the Spanish farmers in getting stuff done! The first time I was dragged out to help collect firewood, ended up in burnt heads, clothes on fire and a charred olive tree.We have of course picked up a few waifs and strays along the way, namely Carlos, Miliko, Arthur and Blue and that means four less stray dogs on the Spanish streets. If you are planning on moving to a country like Spain be prepared to open your home to some of these creatures!With there being so sign of an end to the financial crisis, sadly our initial plan to make a living from selling the alpacas has been impossible. The influx of expats has dried up, and the ones that are here just do not have the finances of a few years ago. So we have had to re think our ideas. Lorna has started a small, but fun, Zumba class in the little town of Montoro, where she has a regular following of about 15 ladies, and that has helped to improve her Spanish also. We are planning to start alpaca treks in the spring, where either locals, or maybe expats from the coast will be able to come up for the day, spend some time with the alpacas, and take some of them out for a walk, and enjoy a drink and tapas by the lake near to our home. Then, of course is the book I have just written, all about our tough first few years here. It was great fun to write, and having only been on sale for just over a month, I am pretty pleased with the feedback I have been getting. It is quite a big thing to put your life down on paper for everybody to read and make comment on.
Download

Trending Now
Viewed
Discussed