FIAMM puts power where it s needed
FIAMM puts power where it's needed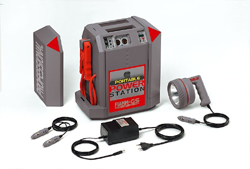 FIAMM Automotive has launched the Portable Power Station, a convenient source of electrical energy – AC and DC - that can be used anywhere, anytime. The unit is built around FIAMMs advanced technology sealed batteries.
It can be used for engine starting, to provide back-up when the mains supply fails or provide power for remote working where no supply is available.
With a 3, 6 and 9 V DC adapter, the PPS provides electricity for power tools and items powered or recharged via cigarette lighter adapters.
Using the 240 Volt AC plug fitting it can be used for everyday electrical items such as lighting, heating, TV/Video equipment, fridges and cooking equipment, lap tops and PCs, leisure applications, professional power tools and much, much more.
The Portable Power Station is aimed at the professional and commercial users as well as the leisure and domestic environments and comes supplied with a robust hand held
light
for emergency situations. The unit can be recharged from a mains supply using the FIAMM intelligent charger which automatically controls the whole process. Alternatively, it can be recharged using the in-car charger kit connected to the cigarette lighter socket.
"The packaging reflects the high-tech image and is designed to be eye catching and illustrative as well as robust", says FIAMM Managing Director Paul Drennan. "It is supported by a new technical sales brochure and some imaginative point-of-sales material. Available now the Portable Power Station really is exceptional – a single source of energy with a million uses."
Download
21-02-2013 17:54 PM | Posted by: Cristo
I have had one of these chargers for years and never really found it to work. The redlight flashes continuely on the mains charging unit without ever charging the main Oower Station. Any idea what is wrong ?
26-02-2013 02:41 AM | Posted by: Steadi
I have just changed the cells in mine, cost £94.

I use CPC in Twickenham, they are battery experts and they tell me that both of the cells inside my Fiamm were damaged by overcharging.

Both cells had burst, it seems the power station should be charged but then disconnected. I dont remember the instructions mentioning this, but then I cant find the manual anywhere online.

leaving it plugged in eventually destroys the batteries, this may be your problem too
08-04-2014 19:33 PM | Posted by: Stan Mengel
I have a friend that just bought a Fiamm GS Portable Power Station model PPS250 HD 12V FGS2x18ah-hr. Where can we get information on this product. There was no manual with it when he bought it used at an auction. It does not hold the charge and he isn't sure if he has it hooked up right. Is the manufacturer still around? Can we get a contact address and maybe a phone number?
Display name

Please enter your name

Email
(optional)
Comment

Please enter your comment

Post Comment


Your comment submitted successfully.Please wait for admin approval.

Some error on your process.Please try one more time.