Foodservice sector could provide stable alternative for free range egg producers
Foodservice sector could provide stable alternative for free range egg producers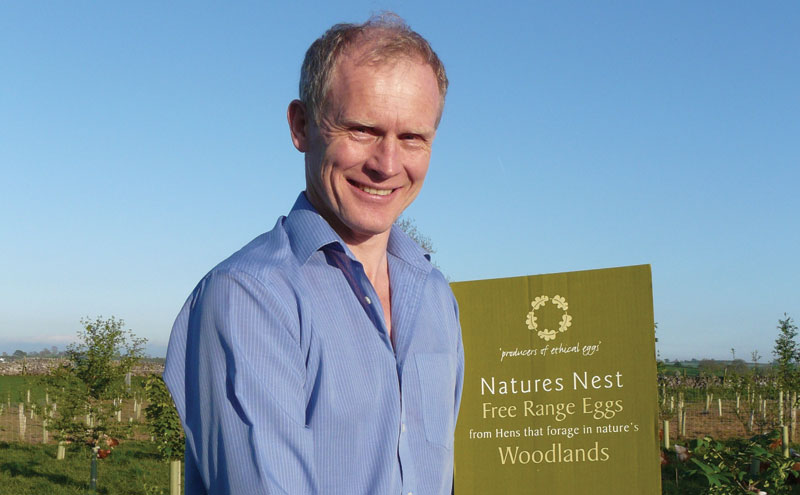 Supplying the foodservice sector could provide a steady, stable alternative for the struggling free range egg sector, says David Brass of the Lakes Free Range Egg Company.
Over the last 18 months free range egg farmers in the United Kingdom have become all too aware of how volatile the egg market can be. An oversupply in the market resulted in falling producer prices at a time when costs were being driven up by rising feed prices. In recent weeks producers have received welcome price rises as a result of a shortage of
eggs
overall - although the shortage has been created by too few cage eggs. Free range, itself, remains in oversupply and there are fears that there could be more pain ahead for Britain's free range producers.
David Brass says foodservice has become very important for the Lakes. "Foodservice is an important part of our business. It is standard, steady week-after-week business," said David during a workshop on supplying the foodservice sector at the British Pig and Poultry Fair at the National Agricultural Centre, Stoneleigh. He said it offered the opportunity to develop long-term working relationships with customers.
David, who established the Lakes together with his wife Helen, said a prime example of such a relationship for him was his contract to supply the fast food chain McDonald's, which he described as the foodservice equivalent of Waitrose and Marks & Spencer combined. "The quality of the product they want and the way they try to achieve that people do not realise," he said. "Because of that we can work with them and develop relationships that are ongoing and long-term."
He said that for McDonald's quality was always the prime driver. They wanted to ensure that there was never anyone in any restaurant in the United Kingdom who could complain about the food. "Because of that we have introduced things, and we work with them constantly, such as the farm traceability. We started printing on the
eggs
the farm of origin in 2002. It didn't become law in the EU until 2006. It didn't start happening in the UK until 2011. So we are ahead of the game. The same with tree planting. All our farms that supply McDonald's are tree planting. We have discussed it with them over the years," said David. "They decided that was what they wanted and we externally audit to give provenance to our product."
David said that research emanating from the McDonald's tree planting programme showed that olanting could have production benefits for egg producers. He said the McDonald's agricultural department now had the largest database on free range production in the UK and possibly in Europe, and the research indicated that tree planting reduced both stress and mortality and increased production amongst free range birds. Tree planting reduced seconds by two per cent. On a standard free range farm with 16,000 birds that reduction produced £3,000 per year more income. That equated to £3 million a year over the whole of the free range flock in the UK.
David, who said that the Lakes had recently completed the development of a new, world-leading packing centre, said that contracts such as the one with McDonald's enabled free range producers to build long-term relationships that were not reliant on the next e-tender that was due in six months' time. And such relationships were not confined to large companies like McDonald's. An egg producer could just as easily establish long-term relationships with local chefs, with hotels and restaurants.
Earlier in the day, during a headline debate on the foodservice sector, National Farmers' Union chairman Peter Kendall had pointed out that some 43 per cent of all money spent on food in the UK was now spent outside the home. The agricultural industry had had some success in persuading the foodservice sector to buy British - notably foodservice companies involved in catering at the forthcoming London Olympics. What was frustrating, however, was the difficulty involved in persuading the House of Commons to source British products.
Those who took part in the headline debate included Mark Staton of Prime Meats, which is part of Brakes and one of the top three meat distribution businesses in the UK. He said that 70 per cent of all the products handled by the company came from UK producers or processors.
Andrew Saunders of Tulip UK Ltd said that the biggest challenge for producers was the cost competitiveness of British produce against imports, but Karen McQuade, the founder of UK Foodhall, which is the biggest supplier in the UK schools market, said it was possible to persuade customers to buy British food at a premium if they were approached in the right way. Some 64 per cent of the food going into British schools was now British. Before she set up UK Foodhall in 2007 70 per cent of the food going into British schools was foreign, she said.
"You can't compete on price with imports, but you can innovate all the time." She said that if you explained to schools the significance of the Red Tractor or Freedom Food logos you could persuade them to buy into those standards. She said that 74 local authorities now bought from UK Foodhall and the business was growing at the rate of 30 per cent each year supplying British food.
Download

No comments posted yet. Be the first to post a comment
Display name

Please enter your name

Email
(optional)
Comment

Please enter your comment

Post Comment


Your comment submitted successfully.Please wait for admin approval.

Some error on your process.Please try one more time.