Greater transparency on grain quality needed says NFU
Greater transparency on grain quality needed, says NFU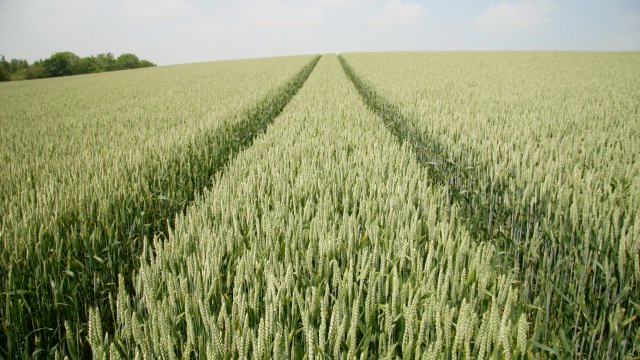 Arable farmers face a challenging year ahead because of forward sales prices and poor quality production of the 2012 crop, despite strong wheat prices.
NFU has advised members to work on a detailed understanding of the quality of their grain, to combine sampling and analysis with segregation in stores and to take action to improve quality before final movement.
"Farmers need to know what the quality of wheat is and, if in doubt, to discuss before loading," the farming union said.
Global
grain
production is expected to reach a record high of 2.4 billion tons in 2012, an increase of 1 percent from 2011 levels.
According to the United Nations Food and Agriculture Organization (FAO), the production of
grain
for animal feed is growing the fastest - a 2.1 percent increase from 2011. Grain for direct human consumption grew 1.1 percent from 2011, write report authors Danielle Nierenberg and Katie Spoden.
The world relies heavily on wheat, maize (corn), and rice for daily sustenance: of the 50,000 edible plants in the world, these three grains account for two-thirds of global food energy intake.
With the right information, and without the element of surprise, better transparency of the evidence for claims in the wheat sector will help to maintain improving relationships within supply chains.
Dealing with the aftermath of one of the most difficult harvests for many years will require the whole chain from farm to feed mill and retail outlet to work together, is the consensus emerging from the latest meetings of the Agricultural Industries Confederation's national Arable Marketing Committee.
Merchant and cooperative representatives alike pointed to end users striving to be as flexible as possible with intake requirements, within the boundaries of maintaining consistency of product to their customers, including livestock farmers. In addition, merchants and cooperatives alike have to fulfil a large amount of contracts, many transacted well before harvest at minimum specifications that are now not readily available.
At the same time merchants and coops are working hard with farmer suppliers to determine available quality and secure the best possible destination. In practice this collaborative approach means that almost all
grain
must be analysed before collection. The process will take time to achieve but should deliver a better net result for farmers and indeed for every part of the
grain
chain.
"Harvest 2012, and its quality issues, will add costs to every part of the
grain
chain," comments Paul Rooke, AIC's head of arable marketing. "This will include apportionment of claims on contracts where goods do not meet the contracted quality specification. That is a simple unavoidable fact.
"For farmers and the trade this means working together, as closely as possible, to both understand what quality exists and then to find the most appropriate destinations at home or abroad. Extending contract periods may be just one example of the flexibility needed to secure destinations for crops which might otherwise struggle to find a buyer based on their specification."
Trade companies continue to work overtime to both develop a better overall picture of the quality available and its location. This knowledge will develop an understanding of where end users are able to extend the range of crop they can take.
Rook said only through whole chain collaboration will the best outcome be achieved from the 2012 crop.
"Farmers generally recognise the facts about this year's harvest and that it will need to be managed" said Andrew Watts, NFU combinable crops chairman.
"We are challenging merchants and processors to help them by being much more transparent about the way in which claims are calculated. A difficult season will demonstrate where a farmer's interests are best served within the trade."
However, the NFU says there needs to be greater transparency of individual intakes explaining how fallbacks are applied to specific weights, on a scale that multiplies the penalty as weight reduces.
"We do not expect a penny by penny list for each claim, but we have not seen anyone publicly explain or query why claims on quality seem to be at odds with HGCA's work on specific weight and pig and poultry feed.
"In particular the trade needs to be clear that any claims are consistent with those from a mill or compounder. In
light
of the difficult season we have asked AHDB to look at this work to help ensure future contract specifications are more relevant to end-use.
"There have been a number of disruptions that have shaken the
grain
industry in the past few years but progress has been made in recent seasons to build better
grain
trade relationships. We do not wish to spend a whole season in conflict and with high tensions that will undermine the progress that has been made."
Download

No comments posted yet. Be the first to post a comment
Display name

Please enter your name

Email
(optional)
Comment

Please enter your comment

Post Comment


Your comment submitted successfully.Please wait for admin approval.

Some error on your process.Please try one more time.