HMRC tax returns highlight missing eggs
HMRC tax returns highlight missing eggs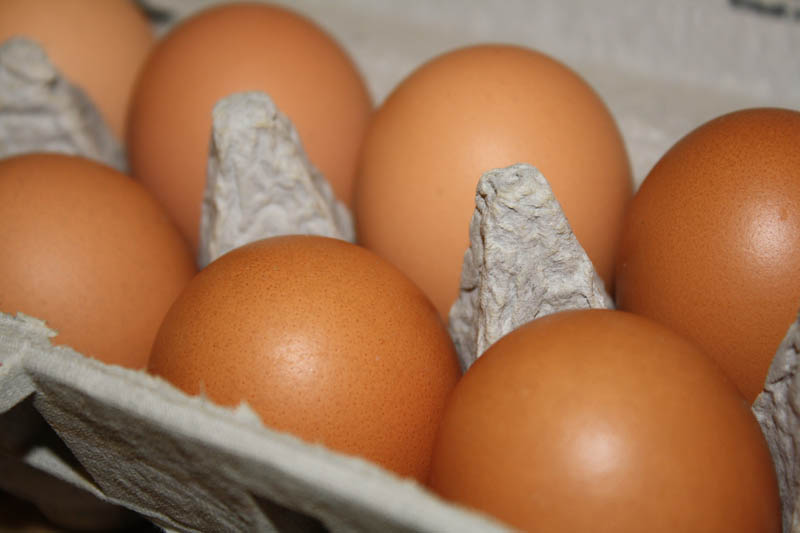 Imports of shell
eggs
have increased by nearly 70 per cent over the first five months of the year, according to the latest statistics released by the Department for Environment, Food and Rural Affairs (Defra).
From January to May this year the United Kingdom imported 2.2 million cases of shell
eggs
- an increase of 69 per cent over the same period last year. Shell egg imports have increased each and every month - up by 43 per cent year-on-year in January, 63 per cent in February, a smaller 26 per cent in March before a huge 136 per cent increase in April. Imports in May were up 79 per cent on May 2011.
Leigh Riley, who is responsible for compiling the Defra statistics, thinks the increase in imports may be filling a shortage of egg that has arisen in the UK market since the introduction of the European Union's conventional cage ban in January. Andrew Joret, chairman of the British Egg Industry Council (BEIC), also believes that the increase in imports may have been driven by the egg shortage in the UK, although he said he was surprised, to some extent, at the size of the increase in April.
"We know that the UK is just over 80 per cent self-sufficient in eggs, so we do always rely on some imports to some extent, but given that the shortage of
eggs
in the UK has been driven largely by what has been happening on the continent it is surprising to see such a large increase in imports," he said. "We will obviously keep a watch on what is happening. There should be more colony production coming on stream this year and that could replace some of these imports."
Leigh Riley said the statistics for imports came from Her Majesty's Revenue and Customs (HMRC) trade data. Figures were based on tax returns. He said that companies had to declare goods imported for the purposes of tax. One caution that Leigh did express was that the current import figures were still preliminary and it was always possible that they could be revised at a later date. Leigh said that what the statistics did not show was where the imported shell
eggs
had gone.
It is this mystery that causes some people in the industry to view the figures with incredulity. Barry Jackson of Eggsell said, "I just can't understand where all that egg has gone." The Defra statistics show that the number of cases of
eggs
bought by UK processors in the second quarter of 2012, including imports, was down by 9.1 per cent on the same period last year at 1.2 million cases. Leigh Riley said that Defra did not currently publish the split of domestic and imported
eggs
bought by processors. He said the agreement of processors would be needed in order to do so. However, he said he did have some figures on the split from a one-off exercise at the beginning of this year. "The percentage of imports was surprisingly low. Certainly less than 50 per cent," said Leigh. "It is an intriguing question - where is the imported egg going? We could ask ourselves whether we had missed a big processor from our figures, but I don't think that is the case. We obtain statistics from 11 different processors. Another possible black hole is manufacturing."
Barry Jackson said, "If the
eggs
didn't go into processing, where did they go? There is a great big gaping hole somewhere because we don't have a wholesale market that big." The Defra figures show that 635,000 cases of shell
eggs
were imported in April this year. "That's 160,000 cases a week, 22,500 cases a day," said Barry. "That is a huge amount of eggs. One transcontinental lorry load is just 900 cases. You can't hide that volume of eggs. Somebody must know where it is. Only certain operators could handle that volume of egg, so it should not be difficult to trace it."
Barry said that operations existed in the UK that imported
eggs
legitimately and well. "But they do it 52 weeks a year. They may have got a bit busier earlier in the year but the quantities still don't add up."
Barry also questioned why, if so much egg had been imported into the UK this year there had been no resulting surge in egg prices on the continent. "If that volume of egg had come here from the continent there would have been a pricing spike over there, but we didn't see that. So that begs the question, where did the
eggs
come from?"
Andrew Joret was another one who said it was important to find out where the
eggs
were going. He said that the difficulty in interpreting the statistics was trying to understand the destination of the imported shell egg once it arrived in the UK.
Defra's figures show that imports of egg product from January to May were up by just six per cent on the same period last year, but Andrew said that some of the imported shell egg would probably end up as egg product. Other shell
eggs
would end up in corner shops. "This will not be free range egg, this will be cage. The question is whether it is all legal."
Andrew said that the UK consumed
eggs
from some 43 million hens and that remained fairly constant. If we produced more
eggs
at home, we imported fewer from abroad. He said that when the UK layer flock increased to 36 million birds at the beginning of 2011 imports were noticeably lower. UK bird numbers had fallen to about 32 million, although the number was probably about to increase again. That would probably result in imports falling back.
The Defra statistics show that throughput of UK produced
eggs
through the country's packing stations has been falling over recent months. The figure for the second quarter of 2012 was 6.3 million cases - down by 8.2 per cent on the same period last year. The first quarter figure was down by 5.1 per cent year-on-year, the fourth quarter of 2011 showed a 5.9 per cent fall and the third quarter of 2011 a 4.2 per cent fall. Up to that point packing station throughput had been increasing. Eggs have been in short supply overall, although there are distinct differences in the state of the market for cage and free range. Whilst there is currently a shortfall in cage production, there are still too many free range
eggs
on the market. Andrew Joret says that the trend for free range is worrying.
"In terms of free range we need to be self-sufficient and nothing more," said Andrew. "Free range is a continuing concern for us because demand is shrinking - and that is something that none of us expected to happen. The latest stats are not good news. Demand is slipping back. We need to produce just enough free range and nothing more."
The second quarter statistics released by Defra show that whilst UK egg throughput fell by eight per cent year-on-year, free range throughput experienced the smallest fall of all production categories. Organic was down 32 per cent year-on-year,
barn
was down 21 per cent, cage fell by 7.4 per cent and free range by six per cent. The second quarter statistics showed that cage
eggs
accounted for 48 per cent of throughput, free range 45 per cent and organic and
barn
together accounted for just six per cent.
The latest Defra statistics indicated a significant increase in prices paid to producers between the second quarter of 2011 and the second quarter this year. The average packer to producer price for all
eggs
packed during quarter two 2012 was 88.5 pence per dozen, compared with 69.1 pence per dozen in the same period last year - an increase of 28.1 per cent. The price paid for free range
eggs
increased by 21 per cent, from 82.2 pence in the second quarter of last year to 99.7 pence in the second quarter of 2012. Cage egg prices increased from 52.2 pence last year to 74.4 per cent this year - an increase of 42 per cent.
Download
05-09-2012 10:20 AM | Posted by: Ian Chisholm
What this article highlights is the mess that our larger packers have driven our industry into.

The BEIC holds the key and should know the true volume of egg going into, firstly its members packing stations and secondly all other food processors and users of egg.

Be it from UK producers or imports.

The most interesting thing that comes out of this is that there was no real short falls of egg in the rest of Europe and no price hikes.

So the real question is, if this egg, that flooded our market did not come from a EU State, did it come from outside the EU ?
In which case, if it did, it cannot have been legal.

The general feeling in the trade is that it came through Poland, but originated from the Ukraine.

So the only good thing anyone can say if this is the case, that it had a U at the start of its code.

If all this egg came via Polish agents and ended up in UK packing stations what was the BEIC doing to stop it, if anything?

Or was some of the BEIC members or all its members given permission to have non-Lion egg in it's packing stations?

Could this egg have ended up on customers shelves with the Lion on it?
The industry needs to wake up to this fact before the industry and the BEIC implodes on itself.

Over the last few weeks I have published some damming articles about the BEIC and some of its members, the silence from the BEIC is deafening, what is it you have to hide?
06-09-2012 10:52 AM | Posted by: M Allen
I am a consumer of good quality British food and strongly believe in supporting our farming industry. While I am a high earner and pay my taxes I am prepared to pay a little extra for the assurance of a home grown quality product be it eggs beef or pork etc.

I have being following Mr. Chisholm and his campaign for a while now.
I am a high-ranking Police officer nearing retirement.

I believe Chisholm has actually stumbled on a much bigger can of worms than he or BFREPA realize.

During my career I have investigated fraud by major companies and what appears to be the case here is a repeat of what I have seen in other industries.
The core producer of eggs is being sold down the river.

I wish Mr. Chisholm and his colleagues the best of luck.
Try contacting HM Customs & Revenue; you may just be surprised with the welcome you may get.
06-09-2012 15:44 PM | Posted by: Heath Brooks
I have been a packer for 30 years and have never been asked to supply DEFRA with my weekly throughput. There are other packers like me who are not included in DEFRA's figures. Does DEFRA really have any idea what is going on out there or have they cut back staff so much they don't want to know.
Display name

Please enter your name

Email
(optional)
Comment

Please enter your comment

Post Comment


Your comment submitted successfully.Please wait for admin approval.

Some error on your process.Please try one more time.