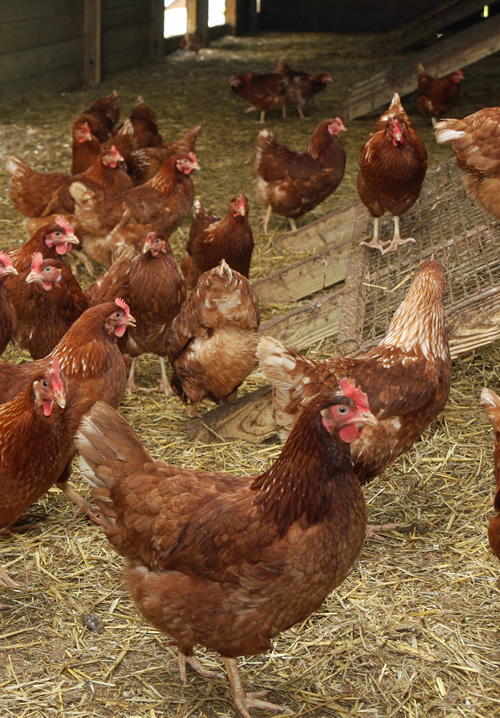 As always, prevention is the best approach. That includes provides a safe and comfortable environment for your birds
This article was written specifically for the Ranger magazine by Crowshall Veterinary Services. The Ranger is the monthly magazine for free range egg producers.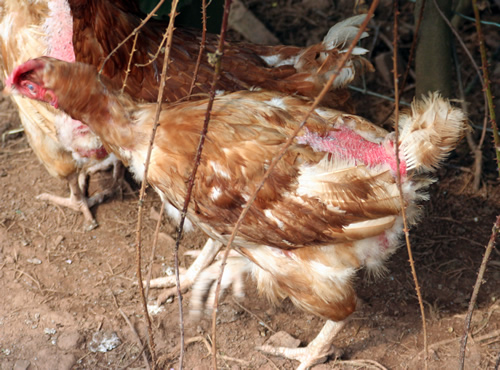 With protective feathers missing, these brambles could lead to scratched skin which could subsequently become infected
Skin problems are generally uncommon in commercial free range flocks but can occur and this month's article aims to give a brief overview of some of the conditions which may be encountered.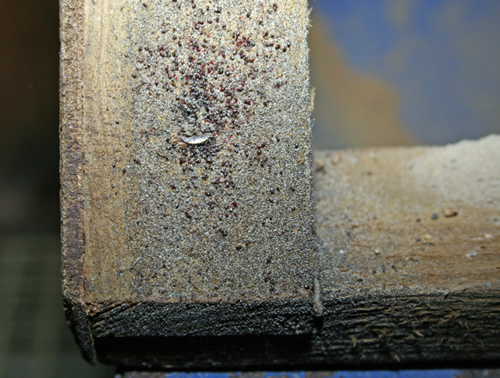 Although spending most of their time off the birds when not feeding, red mite can cause significant irritation to the hens
1. Parasitic skin disease.
Red mite (Dermanyssus gallinae), although spending most of their time off the bird when not feeding, can cause significant irritation to the hen and may be one of the trigger factors for flocks becoming flighty and more prone to feather pecking.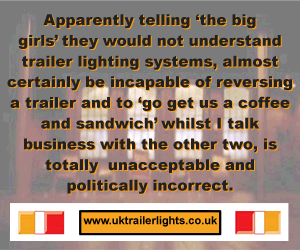 Control of Red mite relies on treatment of the shed prior to housing and then regular monitoring of the environment and treating as soon as any evidence of mite is seen.
Northern fowl mite (Ornithonyssus sylvarum) spends its life cycle on the bird and thus, unlike red mite, control of this parasite relies on treatment of the bird herself rather than the environment.
Lice are rarely seen in commercial flocks but are occasionally found in birds on multi-age sites. The whole life cycle of the louse is spent on the bird so, as with Northern fowl mite, treatment needs to be targeted at the bird herself rather than the environment.
You should seek the advice of your veterinary surgeon as to an appropriate control and treatment strategy for any parasitic skin problems in your flock.
It is important for multi-age sites to keep different ages separate as far as possible to reduce the risk of spread of parasitic or other disease between different age groups.
2. Bacterial skin infection.
Bacterial skin infection in free range layer flocks is usually secondary to some injury to the skin. Birds which are poorly feathered are more at risk of skin damage as they have lost their protective feather covering.
Skin damage can occur commonly as a result of pecking by other birds within the flock. This is most often seen over the lower back/flanks and around the tail or vent.
Skin injury can also occur as a result of scratching damage. This may occur if birds are suddenly frightened and scrabble over each other or pile up.
The scratching damage may be the result of one single occasion where the birds were panicked by, for example, a hot air balloon passing overhead or maybe an ongoing problem as a result of repeated "pile-ups" in a flock which are, for some reason, very flighty and nervous or subject to frequent disturbance which alarms them.
Skin damage may also occur as a result of birds damaging themselves on house furniture. You should always ensure before placing flocks, and continue to check while flocks are housed that there is nothing within the house on which birds might injure themselves.
In many cases, the wounds resulting from pecking or scratching damage heal without incident but, in some cases, particularly in flocks which are "stressed" or suffering from other concurrent disease problems, these wounds may become infected with bacteria and this can result in an extensive area of inflammation and infection extending under the skin. In severe cases, this can result in death of the bird due to overwhelming bacterial infection (septicaemia), sometimes with yolk peritonitis also.
Sometimes the external appearance of the bird with just a small scab over the wound may look quite minor but below the scab there may be a very extensive area of infection running under the skin creating a serious disease problem. Unfortunately, because there is often little to see externally, particularly in birds which are quite well feathered where it is difficult to see the scabs or skin wounds without parting feathers, the problem may not be recognised straightaway and only picked up when a detailed post mortem examination is carried out.
As discussed in previous Ranger articles, when dead birds are picked up, it is always useful to note whether there is any evidence of skin damage- if there is a high level of skin wounds/scabs on the back or flanks of the birds you are picking up, this may be an indication that there is a skin infection/cellulitis problem within the flock which may require antibiotic treatment.
On some farms, such skin infections can be associated with more pathogenic strains of E.coli bacteria and if you experience significant mortality in a flock associated with E.coli skin infection/cellulitis or other E.coli infection, then the use of an autogenous or commercially licensed E coli vaccine may be of benefit for subsequent flocks.
Control and treatment of bacterial skin infection is based on identifying the stresses or factors which may be triggering the problem and trying to address these.
Some of these factors involved may include low bodyweights, high light intensity, or staff moving too quickly within the house.
Depending on the severity of the problem, antibiotic treatment may be required to reduce the level of bacterial infection in the flock. In some cases management changes such as reducing light intensity or altering feed timings may be all that is needed to "de-stress" the flock.
You should seek advice from your poultry veterinarian as to the best approach for your flock.
3. Other skin problems.
Fungal skin infections are rare in free range flocks but may occasionally be seen, most usually affecting the comb and wattles.
Viral skin infection is rare in UK flocks but occasionally pox virus may cause crusty scabby lesions on the face, comb and wattles
As with all the problems we discuss in the Ranger – prevention is the best approach.
• Make sure you provide a safe and comfortable environment for your birds.
• Have a robust programme in place to control and monitor red mite
• Walk your birds regularly and slowly to avoid disturbing them and allow you to observe their behaviour.
• If your flock seem stressy and flighty, or is underweight, take steps to try and identify what the problem is and remedy it as these flocks are more at risk of scratching/skin damage.
• Check any birds that you handle for signs of skin damage.
• If you have any concerns about flock health consult your vet.
C.I.F.Knott, BVM & S, MRCVS
S.A.Lister, BSc, B.Vet.Med, CertPMP, Dipl ECPVS MRCVS
Philip Hammond, BVetMed, MRCVS
Comments
No comments posted yet. Be the first to post a comment