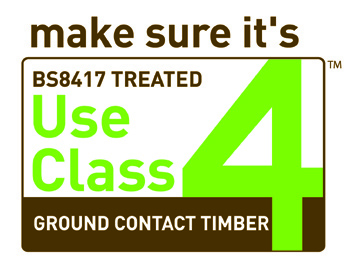 UC4 class timber
McVeigh Parker UC4 products are manufactured using only redwoods treated at a moisture content of 28% or less. The solution strength of the preservative is significantly higher than on standard pressure treatments and the vacuum/pressure process is longer and more thorough than standard treatment cycles, allowing for much deeper penetration of the preservative into the timber. Standard non dried pressure treated products have a shorter expected service life, whereas McVeigh Parker UC4 products that are treated against fungal decay and wood destroying insects have a desired service life of 15 years. The entire treatment process is quality assured in accordance with ISO 9001 criteria, and regular sampling and analysis ensures treatment standards are maintained at all times.
McVeigh Parker products can also be treated to the National Highways Sector Scheme 4 requirements of a 30 year desired service life.
Four Main Benefits Of Choosing McVeigh Parker UC4 Products
1. Longer life products - McVeigh Parker UC4 products are pressure treated to prevent fungal decay and wood destroying insects to give a desired service life of 15 years.
2. Peace of mind - When purchasing timber that is to be used in ground contact, why leave it to chance?
3. Value - The majority of cost when installing timber products is usually labour costs. If timber has to be replaced earlier than expected this can be time consuming and costly. Therefore, McVeigh Parker products represent great value for money when considering the whole-life cost of your products.
4. Sustainable - Where possible McVeigh Parker UC4 products are from FSC Certified sources, meaning they come from well managed sustainable forests.
For important information on handling and disposal of treated timber please visit www.osmose-europe.com
UC4 Stakes
*15 years desired service life
*Specially selected redwood timber. Scots pine (Pinus Sylvestris) or species with an equal or better permeability
*Timber dried to 28% moisture content or less. To maximise chemical uptake levels during the pressure treatment cycle
*Branded for traceability. Each piece individually end stamped
*Quality control process. Correct species selection/Strict pretreatment moisture content analysis/Regulated and professional pressure impregnation/ Regular product testing
*Pressure treated to BS 8417. Treated to User Class 4 (UC4) in compliance with BS requirements for all ground contact materials
Comments
No comments posted yet. Be the first to post a comment