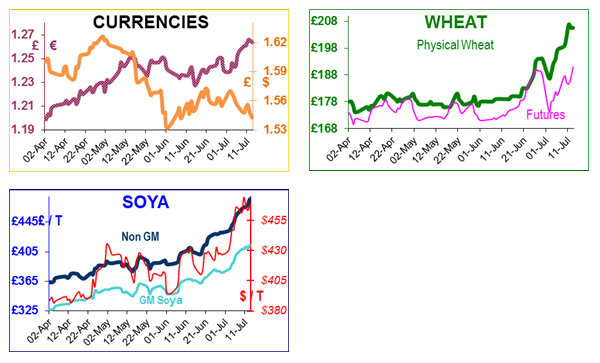 Originally billed as the largest US maize crop since WWII, severe heat has stressed the crop. The top maize-growing states are: Iowa (14m acres), Illinois (13m acres), Nebraska (9.9m acres), Minnesota (8.7m acres), Indiana (6.2m acres) and South Dakota (6m acres), which in total represent 60% of the planted maize acreage (96.4m acres).
Of these states, Illinois has been hit the hardest, but it is still too early to predict how much damage is irreversible; there are reports that some farmers in Illinois and Indiana have ploughed up their maize crop and claimed on insurance, or are preparing to replant with soya. Minnesota, South Dakota and western Iowa appear to have avoided drought conditions, and rain is forecast over the mid-West this week. The crop condition report this week showed poorer conditions in Iowa and Nebraska, and overall the crop is rated at 40% good/excellent, and 30% poor/very poor – the second worst condition report for 26 years – and fuelling the accelarating climb in market prices.
After a hot weekend (in the US!) the heat moved from the mid-west into the stock exchanges. On Monday, maize went limit up at one point with UK wheat in tow. The USDA had been working with a yield figure of 166b/a, the trade estimated 148b/a, and on Wednesday the USDA surprisingly predicted 146b/a.
An electric shock hit all the markets, and French and UK wheat hit contract highs and US cereals shot up, then the trade realised that the USDA had not told them anything new and the market/prices relaxed again. Old crop maize at $7.6/b looks like it may be on target to the hit historic highs ($8/b) of June 2011. The Times headline (July 12th) was 'Only 48 hours to save the corn crop', ie rain is needed now. Prices are so high that bioethanol usage is being curtailed, and export sales of maize have fallen.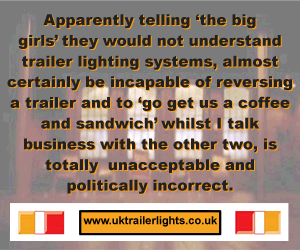 Traders worry about the EPA reducing the bioethanol mandate. A US speaker at a recent conference suggested that the decision to subsidise the conversion of maize into bioethanol was political – not to reduce the dependence of the US on Middle Eastern oil – but to replace the US farm subsidies that were lost after GATT.
UK wheat prices have continued to follow maize, July wheat is now £220 delivered to the mill. UK and EU milling wheat producers continue to worry that all the rain has affected quality (this can be witnessed by the fact that French milling wheat futures are rising faster than UK feed wheat futures).
The USDA reduced the Russian harvest to 41mt (so exports may be only 4mt?), and rumours of a potential Russian embargo (again?) continue to circulate the trade. Although the last embargo trashed their reputation as reliable suppliers, Russians have learned capitalistic ways very quickly, and would no doubt want to honour existing contracts this time. The 'sprinkle' of rain forecast in the Black Sea area last week turned out to be 11 inches – and devastating floods affected the port of Novorossiysk, Russia's main grain port on the Black Sea, which handles about 600,000 tons of grain every month. Authorities reported that the grain handling infrastructure remained intact and it was business as usual.
US soya beans hit an all-time high price of $16.79/b on Wednesday as the USDA also reduced soya yields, exceeding the previous high of $16.63/b of 3rd July 2008. The poor soya yields in South America have led to a greater than usual dependence for the world to buy US soya. It is worth remembering that although there are many substitutes for maize (wheat, barley, rice, sorghum, etc), that there is no direct substitute for soya.
Since China became a major buyer of soya, there has never been a simultaneous crop failure in South and North America, well not until now? Brazilian soya prices are at record highs, mainly due to the weakness of their currency (and 25% inflation), so it is likely that farmers will plant a record soya crop and hopefully save the day! Only a few weeks ago we reported that Non-GM soya had broken through £400/t, it is now over £450/t, and GM soya broke through £400/t this week! In conclusion, we have near-record high prices both for wheat and soya. Self-flagellation time for all buyers.44 
This Commodity Report is distributed by Humphrey Feeds Ltd and is provided for information purposes only. While all reasonable care has been taken to ensure that the information contained is true and not misleading at the time of publication, we make no representation as to its accuracy or completeness and it should not be relied upon as such. 
This report is prepared for the information of BFREPA members who are expected to make their purchasing decisions from a variety of sources without reliance on this report. Neither Humphrey Feeds Ltd nor its officers accepts any liability whatsoever for any direct and consequential profit or loss arising from use of this report or its contents.
This report may not be reproduced, distributed or published by any recipient for any purpose without the prior express consent of Humphrey Feeds.
Comments
No comments posted yet. Be the first to post a comment