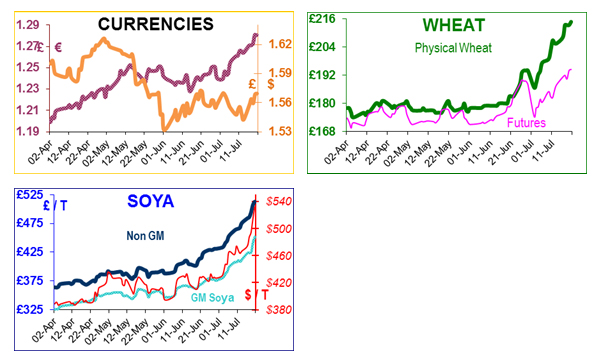 The US National Climatic Data Center said this week that 61% of the US is in a moderate to extreme drought. The area is similar to the Dec 1956 drought which covered 58% of the USA. Some farmers have combined their maize crop to feed their cattle.
The USDA has now declared 1297 counties in 29 states as disaster areas, so farmers are eligible for emergency low interest (2.25%) loans [there are 3033 counties in the USA].
Drought or the Olympics? This week soya beans and maize have flexed their muscles and broken their all-time record highs. Only US wheat is lagging behind, its 2008 record intact at $13.34/b and this year's best only $9.21. We are in yet another price spike for maize, wheat and soya. In 1993 UK wheat hit a peak of £147, in 2008 £190, in 2011 £222, and now wheat has shot up like an express train, broken the 2008 high and no-one has any idea where the top will be. There appears to be some consensus that all the bad news has been factored in, and that sufficient price risk has already been added.
But has it? It is not just about the US heat wave; reduced yields have been announced in Russia, the Ukraine and Kazakhstan. Russia believes it will harvest 85mt of grain (94mt last year), of which 46-49mt is wheat, and that it will export 18mt of grain. The Kazakhstan 2012 grain harvest is estimated to be 14mt (27mt last year), so exports (12mt last year) will be lower. The European harvest is delayed.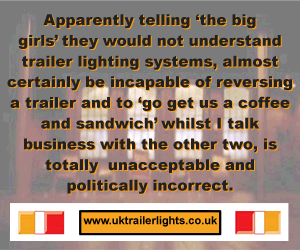 By July 9th only 3% of the French wheat crop had been harvested (47% last year). The FAO said that world wheat supplies are in balance with demand, unless more wheat is used to substitute non-existent or expensive maize. Brazil's massive winter maize crop (sold at upto $30/t cheaper than US) is being exported to southern USA and is easing a very tight supply. Similarly cheaper Indian maize ($300/t C&F) is being shipped to Vietnam and Indonesia, which is sparing Australian wheat ($350/t C&F).  In fact world weather seems to be peculiar and extreme.
The technical people believe that £210 is the next 'target' for UK wheat, which is only £15 from the current November futures. Spot wheat is trading at £225 (a month ago it was £178, a staggering move of £47/t). 
UK futures are reacting more slowly, and lagging behind the French Matif, and there appears to be several reasons. Most of the UK participants have already positioned themselves and there are few new entrants into the market; farmers are not selling until the wheat is in the barn, and buyers have missed their opportunity and are waiting for a break in the market.
The Matif is a more liquid market. There is also a suspicion that because Liffe is a feed wheat contract, and the Matif a milling wheat contract, that the growing differential is all due to rain which skews the ratio of milling to feed ratio towards feed wheat. The trade are worried that consumers are avoiding the decision to buy, so most of the current activity is trade-to-trade and trade-to-futures, rather than trade-to-millers.
If Washington reduced the bioethanol mandate to release more maize for feed, then DDGs production would also fall, and it is estimated that 180mb of soya would be needed to replace it. Oops! The US probably will not have enough soya to do that!
The permutations of politically squeezing bioethanol, maize or soya are so complex that it will be interesting to see which way the USA jumps to solve this particular Sudoku. South American soya bean plantings are said to be at record highs – 28mha. With 'normal' weather (whatever that is) this acreage could yield a record crop of 83-87mt with an exportable surplus of 40mt.
Comments
No comments posted yet. Be the first to post a comment