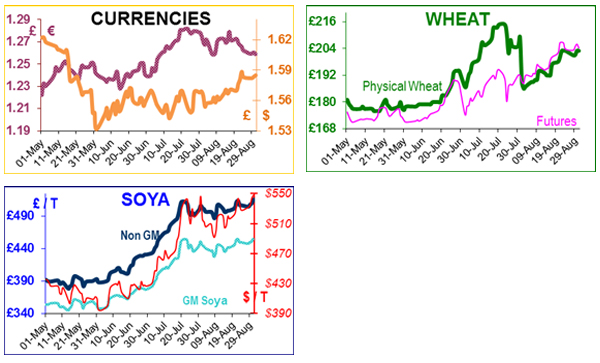 An interesting week, in which the trade turned its focus slightly away from world coarse grains to the problem(s) of the UK wheat quality. Harvest has been sporadically under way for several weeks, and it is estimated that it is little more than 40% complete.
Much of the milling wheat is in, but if it is still in the field in some areas of the country after this weekend, then it is going to be downgraded to `feed' quality. The trouble is the quality of feed wheat is poor, well actually it is worse than `poor', and in the south and west it is the worst seen for 25 years.
The strange growing season; initially drought, followed by excessive rain combined with poor sunshine (30% of normal levels for May to July) has produced a sorry excuse for wheat. Farmers report yields between 10 and 25% down, but the quality is the key, with many grains being pinched and nutritionally poor. The trouble is merchants are telling us that they cannot access anything of good quality from the samples they have seen so far.
The trouble is that once they have assessed all samples from all farms they will start blending anything of any quality with the limited availability of milling wheat, so the chances are that we will be seeing even worse samples. We have already rejected a number of loads of wheat because the bushel weight (an indicator of quality) is poor, and most mills have had to drop their intake quality samples – just to have some wheat!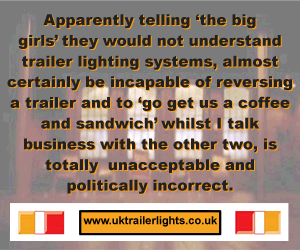 The implication is that compounders will be dropping the nutritional quality of wheat to formulate diets, which unavoidably adds yet more costs to already expensive diets. As if that was not enough of a challenge, a high proportion of wheat is burdened with higher than normal levels of mycotoxins and fusarium, which can be injurious to livestock health.
Compounders are challenged as to how best to address the issue of mycotoxins, but if a mycotoxin binder is used, it adds costs to the feed, and unfortunately it can at best reduce the risk of mycotoxins, it does not eliminate them.
Away from parochial matters, all eyes were on Russia this week dreading their response to their poor wheat harvest, by preventing or limiting exports. However on Friday Russia announced that there would be no restrictions on exports, and the European markets heaved a collective sigh of relief. The Ukraine, which usually follows Russia's lead on such matters looks set to export circa 4mln tonne this year from their reduced crop of 15.3mln tonne.
We need some good news about soya, and whilst there has been some rain in the US, which could be seen as beneficial, some of the rain has come from Hurricane Isaac, which has supported prices, not allowed them to drift back. However good news came from ABIOVE, the Brazilian vegetable association which estimates that next year's crop (which has yet to be planted!) should be 81.3 million tonnes, which is somewhat larger than this year's poor crop of 66.6 mln tonne.
The trade certainly needs to replenish stocks after 2012's harvests, only once there is a good stock can prices come down from these stratospheric levels.
Comments
No comments posted yet. Be the first to post a comment