Humphrey Feeds Commodity Report 5 03 2012
Humphrey Feeds Commodity Report - 5/03/2012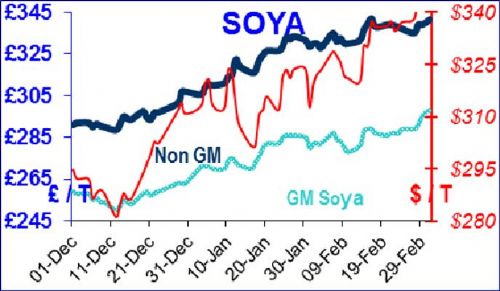 In April 1941 Germany invaded Greece, and subsequently 100,000 Greeks died of starvation because the government and Germans were unable to restore the broken food supply chain. The current economic crisis means that today 2,500 people in Athens now rely on soup kitchens for food.

The Greeks have long memories. So the news that 160 German tax experts have been hand-picked and volunteered 'to parachute' into Athens to combat tax evasion is unlikely to prove popular, the Greek press has already called it 'an assault force of German tax collectors'. The Germans believe that Greece is suffering from the same problems that afflicted East Germany in 1990, and that they know how to sort out the problem. This may be the straw that breaks the camel's back. Or perhaps the Greeks will not get all their bail-out money? The last straw?

May wheat futures opened at £165 and hit £169 on Wednesday, and ended the week at £167.20, the same sort of level maintained for the entire month of February. But soya beans are hogging the limelight at the moment, as they have closed higher in 12 of the past 13 trading sessions and have moved from $12.28 on 10th February to $13.24 on Wednesday. The fact that beans have broken through the $13/b barrier means that traders are now expecting higher numbers. Soya bean meal has moved from $320.9/short ton to $354.2 over the same time frame.

For both beans and meal, these are the highest levels since September. The reasons for the rise appear to be expectations of a smaller than expected South American crop (the weather hangover) and China has decided to buy a chunk of American soya. One of the other factors is the 'battle for acres' – the economic battle where farmers decide whether it is more profitable to grow beans or maize. At the end of December the price ratio favoured maize; the ratio currently favours soya; but the USDA believes that long-term more maize will be planted this year at the expense of other crops.

So old crop maize is expected to be short, new crop maize will be abundant, which almost guarantees a price roller-coaster. The real driver at the moment appears to be fund money: on Monday they bought 1mt soya, Tuesday 1.1mt soya, Wednesday 0.8mt soya. On Tuesday alone they also bought 2.3mt maize. The reason that most traders are confused is because the funds are taking up massive positions and exaggerating the standard supply and demand dynamics. GM soya is currently about £294 delivered to the mill, Non GM is £50/t more.

The USDA released its export figures on Thursday, which stabilised the meteoric rise in soya prices. Maize exports were 9% below last year, wheat 23% below, and soya beans 27% below and soya bean meal 12% below last year. Ethanol stocks increased to a record high of 22mb last week (21.5mb the previous week), so stocks are 15% above last year's levels. At some point in time, storage space has to be a limiting factor, which will mean less maize used to power cars? Now that crude prices have risen, blenders are profitable again, making about $0.09/gallon (almost $1/gallon below petrol prices at $3.55/gallon).

Download

No comments posted yet. Be the first to post a comment
Display name

Please enter your name

Email
(optional)
Comment

Please enter your comment

Post Comment


Your comment submitted successfully.Please wait for admin approval.

Some error on your process.Please try one more time.