Humphrey Feeds commodity report - 20th April 2012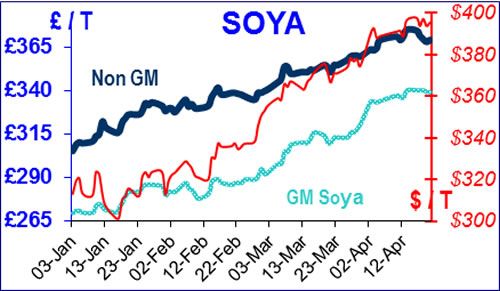 Sterling lifted against $ during the week, but the main currency news related to the IMF begging bowl which was passed around looking for more contributions. Japan made a contribution, but will the UK, and will there be enough funds to address the increasing concern about the state of the Spanish economy? The bank of England admitted that it would cease quantitative easing next month, fearing that it could be adversly affecting inflation.Wheat traded a mildly volatile week, ending less than £1 up on both old and new crop futures, although the physical market showed a distinct divergence with old crop rising £5, whilst new crop dipped mid week, to end unchanged, with the key November position showing wheat at £157 delivered to the mill. Have we had enough rain to avert a drought which would reduce the size of the crop? The HGCA confirmed that the UK is still exporting as over 200,000 T was exported in February, taking the season total to that date of just under 2 mln T. France has recieved some rain, which may help to address the this season's drought, but the crop size is expected to be smaller, as are the crops from Spain (down 25%) and Germany (down 12%), meanwhile there are concerns in some key northern European states about the impact of the late winter frost which have probably reduced the the production. The Ukraine has increased cereal stocks by 70% on the previous season to 17 mln T, and they anticipate, with production for the coming season up to 60 mln T, with exports of up to 10 mln T, however Russia has a late spring which will delay spring planting.US conditions are good for the developing maize crop, which might be harvested early, which is usually as new crop soya arrives in the UK, the price drops, however this year the supply has been slow, and the spot premium position seems to roll forward, so that this may yet be one of those strange years where we do not reach significant discounted summer prices.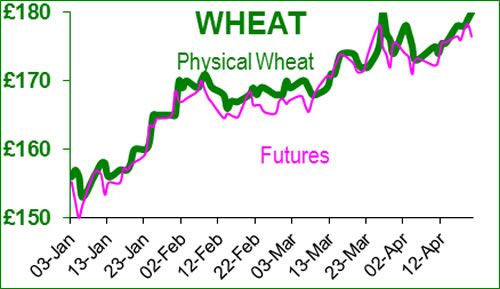 225000 T of US soya was sold to an international mystery buyer, which is probably code for China. China's animal feed production for March is up 18% on the same period last year – can the supply of imported feedstuffs keep up? So far this year China has bought 22mln tonne of US soyabeans, with forward purchases of new crop material of 6mln – a lot more to buy. Last year it used 55 mln tonne, this year….? Brazilian farmers have harvested 90% of the crop, but the harvesting continues to show reduced yields.As the crop potentials in S America reduce, the higher prices rise. In Argentina the lower yields mean that farmers are slow to sell their soya - holding out for a compensating higher price. The funds hold a position that is bigger than the size of the Argentinean crop!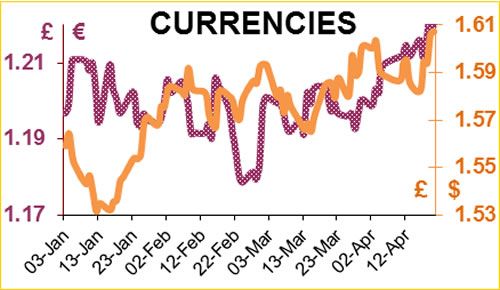 Download

Trending Now
Viewed
Discussed