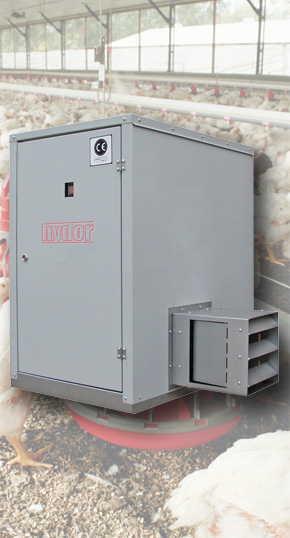 Agricultural ventilation experts Hydor Limited have extended their range of products for the poultry market with the announcement that the company is to become the agent for the market leading Priva Boxer 80kW heater supplied by Winterwarm Agri UK Ltd.
The Priva Boxer 80kW is designed for intensive livestock farming, offering an 80kw output from a state-of-the-art burner which can be fuelled by either natural or propane gas. At a time when the agricultural industry, like so many, has a very definite focus on energy costs, the highly efficient combustion system ensures such costs are kept to a minimum. The option of fitting an air recirculation unit allows air from outside or inside the poultry house, or even a mixture of both, to be utilised to give 100 percent efficiency. The heater's low noise, high output fan ensures an even temperature distribution, with a setting which provides constant air movement, even when heat is not required – a major factor in maintaining a healthy poultry environment to enhance animal welfare, growth and feed conversion.
Housed in a pre-painted, galvanized cabinet for durability and longevity (offering the option to mount it outside if required), the unit is unaffected by dust or humidity levels.
Duncan Burl of Hydor said – "We are always on the look out for new products which can enhance our product offering to the poultry industry. We are delighted to establish this partnership with Winterwarm and to add this new heater to the range. With our own experience of more than 40 years in maintaining the optimum environment for poultry production coupled with Winterwarm's almost 70 years specialising in industrial and commercial heating products, we can bring a lot to the market."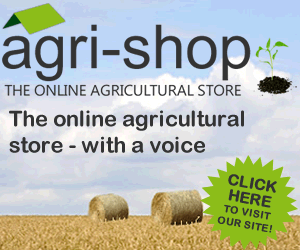 Following several years of providing sales, support and spares for the Priva range, Warrington based Winterwarm Agri UK Ltd purchased Priva UK Ltd in July, 2008, taking on the manufacture of the units. Alex Gillies, National Sales Manager of Winterwarm Agri UK, sees the acquisition of Priva as "…a clear signal of our confidence in the UK poultry industry and we are delighted to be working with Hydor as a leading specialist in the industry"
Hydor offers an extensive range of products for the ventilation of poultry housing including high-efficiency belt-driven fans, plate-mounted fans, roof-mounted fans, ventilation units, winches, air inlets, cooling pads, infra-red heating systems and control systems as well as evaporative cooling systems to cover every aspect of poultry care.
Comments
No comments posted yet. Be the first to post a comment