Ian Philpott and the Wall of Fame in the milk bar in Old Eldon Square, Newcastle.
Ian Philpott's enduring passion for milk shakes has brought him the basis of a successful business and provided a fillip for the North East dairy industry.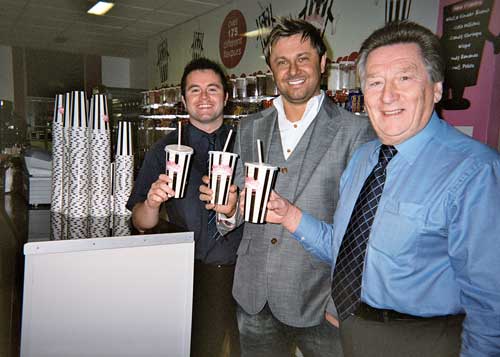 Ian Philpott (centre), with Andy Allen (left) of Bill 'n' Geoff's Ice Cream and Barry Peacock, general manager, Lanchester Dairies
In May, 2007 he opened the North East's first milk shake bar at 88, Clayton Street, Newcastle, Earlier this year, he opened a second in Old Eldon Square in the city centre. And before Christmas he will launch two more, at the MetroCentre in Gateshead and Old Elvet, Durham City. In January, the fifth Shakeaholic milk bar, under a franchise arrangement, will open in High Street West, Sunderland. Ian will also have provided work for about 40 people at the start of the recession.
It is a dizzying rate of progress for a former Peterlee, County Durham, call centre worker, who was made redundant after seven years with Orange, and ploughed his £25,000 pay-off into his new business. Having seen how milk bars had taken off in the south of England and particularly in Bristol where his older brother, Steven, lives, Ian was convinced the North East was ready for the new experience. " Trade his been phenomenal," he said, this week. " People, mainly from 11 or 12 to their mid-twenties, queue round the block to buy the milk shakes which come in 175 different flavours."
And to ensure future supplies in quantity of top quality milk and cream, Ian has signed an exclusive two-year deal with Lanchester Dairies, of County Durham, probably the largest independent milk processor in the North East, which buys its milk from up to 14 dairy farmers in the Tyne and Derwent Valleys. The Lanchester firm also has a separately-run ice cream business, Bill 'n' Geoff's, named after Billy and Geoffrey Austin, the farming brothers who run the £10 million combined turnover business.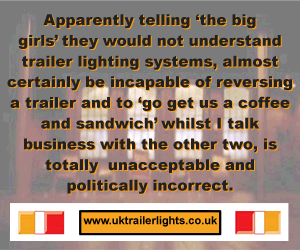 Ian Philpott estimates that when all five of the Shakeaholic milk bars are performing, he could be buying around £400,000 of milk and ice cream a year from Lanchester, which is good news not only for them but their suppliers. Currently around 80,000 litres a day of fresh farm milk is processed by Lanchester Dairies, with the opportunity to raise production to meet the increased demand, according to Barry Peacock, the company's general manager. "We are delighted to have got this order," he said. "Ian wanted a regular local supplier of milk and ice cream who could meet his specific demands for pure, natural produce that would in turn create the highest quality milk shakes."
Ian is not only fussy about the quality of his ingredients, he has also had his milk shake blenders specially modified by the manufacturers to meet his exacting standards. He and his brother Steven know as much about milk shakes as anyone. "Since we were kids we have been mad keen on them and have phoned each other from milk bars around the world to talk about them," said Ian. He has personally sampled 160 of the 175 different flavours of milk shakes to be found in his bars.
Such is the enthusiasm among its young customers for the Shakeaholic credo that they send Ian pictures of themselves with their Shakeaholic cups from around the world and he happily pins them up on the wall of fame in his Old Eldon Square premises.
Even having come such a long way in such a short time as a businessman, helped by a 12-week New Entrepreneur Course at Durham University Business School and also an initial grant from the Prince's Trust, Ian is pressing ahead with plans to take Shakeaholic into franchising. He is working on this with Dickinson Dees and has already licensed his first franchise in Sunderland. He is also close to a franchising arrangement for the French market and active interest is being shown by entrepreneurs in Manchester, Leeds, Stockton and Ireland. Ian is also in talks to take his milk shakes into supermarkets.
"The great thing about this business is how popular milk shakes are with people of all ages really, but mainly kids, and even as they move on to other drinks there's a whole new set of kids taking their place," said Ian, who still prefers milk shakes to any other drink.
Comments
No comments posted yet. Be the first to post a comment