Inspectors deployed at ports for first time in decades
Inspectors deployed at ports for first time in decades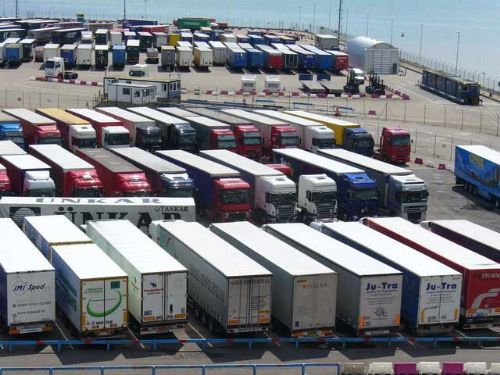 RSPCA inspectors were at a UK port today for the first time in more than a decade to check the welfare of hundreds of calves and sheep being shipped abroad.

Last week the RSPCA's new chief executive, Gavin Grant, met with Thanet Council, which owns the port, to ask for permission for RSPCA inspectors to attend and pledged 'zero tolerance' of any hauliers found breaking animal welfare rules.

Just days later three RSPCA inspectors and a vet were inspecting the conditions onboard lorries as they arrived at the Kent port to board a boat for the channel crossing.


Chief Inspector Dermot Murphy said: 'The RSPCA is against the long-distance transport of live animals for slaughter or further fattening and we were at Ramsgate Port, at the agreement of Thanet District Council and Animal Health, to ensure welfare rules are not being flouted.

'The RSPCA has been making sure that the animals have access to water, that there are non-slip floors or bedding down and that the calves and sheep are in a fit condition to travel.


'We have made it clear that if there are breaches of the rules we will take action.'

Four lorries, carrying about 1,800 sheep and 100 calves, arrived at the port and RSPCA inspectors assessed the welfare of the animals and examined the trucks.

Two hauliers were issued with RSPCA warning notices ' one for having broken ventilation fans and another for mixing sheep, some with horns,from different flocks in the same lorry. Animal Health also issued similar notices.

RSPCA inspectors issued the notices because of concerns for potential suffering but a vet was satisfied the animals were fit to travel.

At the recent meeting in Ramsgate the RSPCA, Thanet Council and Compassion in World Farming formed a joint working party to take the following action:

' An audit of facilities at Ramsgate Port by the RSPCA to establish if there are adequate facilities for animals transport, eg, an unloading area for sick and injured animals

' Ask hauliers and shipping agents to allow RSPCA inspectors on board during the cross channel trips

' To work with the police and Animal Health to ensure animal welfare rules are being properly enforced

Live animal transport was at its height in the 1990s when some 500,000 calves a year were shipped from the UK to mainland Europe but BSE crisis brought a halt to the trade for about a decade and again more recently when the Dutch imposed a ban on calf imports due to bovine TB.

Chief Inspector Murphy added: 'We hoped the days of seeing lorry loads of calves and sheep being shipped to Europe where they can face long journeys and may be reared in conditions which would be illegal here, were long behind us.

'Sadly that is not the case but while this trade continues the RSPCA will be at ports checking the welfare of the animals.'

The RSPCA has serious concerns about the suitability of the slow-moving boat, the Joline, which is being used to ship animals abroad as it can take up to six hours to make the crossing.

Download

No comments posted yet. Be the first to post a comment
Display name

Please enter your name

Email
(optional)
Comment

Please enter your comment

Post Comment


Your comment submitted successfully.Please wait for admin approval.

Some error on your process.Please try one more time.