Is it now time for GM
Is it now time for GM?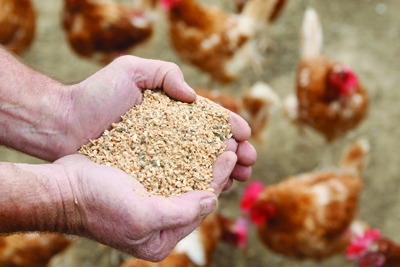 2012 is the 16th year in which commercial GM crops have been grown and incorporated in feedstuffs. Since the introduction of GM crops, retailers have implemented strategies to address their use, revised those strategies, and in some cases reversed them.
A brief re-cap of retailers Non GM feed policy: Removed the main source of GM content in poultry diets – soya, ignored minor GM materials – vegetable oils, amino acids, enzymes and vitamins. Therefore these Non GM diets are not really Non GM!
The main source of Non GM soya is Brazil, which originally did not allow GM to be planted, yet now it is legal and progressively more GM has been planted, to the point where the last crop harvest earlier this year was 85% GM, and next year the figure will be even higher. As the number rises, the risk of contamination increases, and already tests confirm that not all Non GM soya is as Non GM as it should be.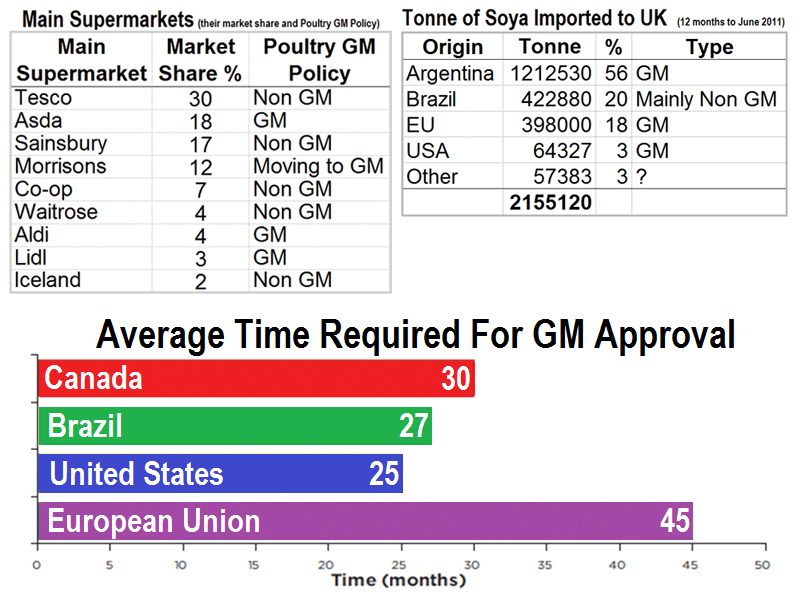 So, we have Non GM layers feeds that contain GM ingredients, and which may also have some GM soya.
Apart from contamination, there are other problems:
1. Asynchronous Authorisations - New varieties of GM soya are increasingly available (there are few new varieties of Non GM, so Non GM is falling behind relatively), and are approved in the US faster than in the EU. Until the new varieties are approved in the EU, they are illegal, and there is no tolerance regarding their inclusion.
As a result importers will not risk importing (potentially) more cost effective soya from origins where these new varieties are planted. (Diag. 1 shows relative delays in authorisation)
2. Price – As the performance of varieties of GM soyabeans has improved their production has become relatively cheaper, or the more outmoded Non GM varieties have become relatively more costly.
Additionally the supply chains are proving ever more expensive to try to avoid contamination, and as a result the premium for Non GM over GM has risen, and projecting into the future, it is only likely to rise further still. (Diag. 2 shows the price of GM and Non GM soya since the beginning of 2006 on the left Y axis, and the rising premium on the right Y axis)
3. Supplies – Whilst there are some supplies of Non GM to a few other EU states, the UK poultry sector is one of the few sectors for which certain retailers persist in using Non GM soya. The UK is a small market in global terms, barely 2mln tonne pa, whereas China used 55mln tonne last year alone!
At a meeting at the beginning of July, which the NFU co-hosted, and attended by oilseed producers from around the globe, it was clear that growers were perplexed about the EU's reluctance to utilise the numerous benefits of GM.
Some of the key producing countries are turning their focus away from the EU to concentrate on the simpler markets of Asia and the Far East, rather than deal with the administrative complexity and cost of exporting to the EU. (Diag 3 shows the main sources of UK soya – whilst no figures are discernable for Non GM a fair estimate would be less than 300,000 tonne from Brazil, which would be less than 15% of all our soya)
4. Retailers – Some retailers have already changed to GM, some are thinking about it, and some want to be the last to change, but most acknowledge that they cannot implement a real Non GM policy, or maintain one in the face of mounting GM planting and contamination. (Diag 4 Shows the market share of the main food retailers, and their policy with regards to GM/Non GM).
5. Sustainability – for some retailers this could replace GM as the primary issue. Some Brazilian farmers have been accused of chopping down the rainforest to grow their soya. Whilst this may have happened at some point, the Brazilians are acutely aware of the arguments and have measures in place to protect crucial regions.
However, retailers are keen to avoid the accusation of promoting rainforest depletion, and may consider sourcing soya sustainably. There are over 400 types of sustainable soya of which RTRS soya has the highest profile. Some of these sustainable soyas are Non GM, many are GM (US soya has never been planted in a rainforest!), but all come with some sort of a premium over GM soya.
It is proving harder for retailers to maintain their insistence for the on-going use of Non GM diets, but what to do next, and when to do it are hard decisions to address. The trade that supplies farmers will already have some cover of the more expensive Non GM soya, and the importers of the soya into the UK, will have `frame' agreements in place for the next harvest early in 2013.
Should supermarkets want to replace Non GM soya, we need to find a solution which satisfies as many people as possible, whilst keeping the costs to UK farmers competitive against the possibility of imports from our international competitors. Sustainable soya, or indeed trying to replace soya in the diet, are more expensive options than accepting the inevitability of using GM soya.
Whilst I am not personally advocating the use of GM soya, the arguments need to move beyond the ill informed and emotional points on the level of `Frankenstein Foods', and consider the savings in costs,
water
usage, and bio-diversity which GM varieties are beginning to offer.
It is no longer a matter of `if', but `when'.
Download
13-07-2012 09:45 AM | Posted by: Pete Riley
Data on soya production in Brazil vary greatly depending on source. The current split (2012/13) according to figures from Ambrange presented at the JRC workshop in Seville in June 2012 is 20% non-GM soya to 80% GM. This split is unlikely to change whilst EU retailers demand non-GM soya in their feed. Farmers would be ill advised to support a race for the bottom by calling for non-GM policies on animal feed to be dropped. Ambrange's figures showed that non-GM production has increased by over 14% in the last there years to 12/13 season. If the UK supermarkets were more proactive and provided Brazilian soya farmers with long –term guaranteed markets for non-GM production and ensured they received a fair share of the price differential then production would rise further. Buying GM soya brings the UK into direct completion with Chinese buyers supplying the huge market there. GM soya production in Argentina, Paraguay, Uruguay and Bolivia is expanding at a huge rate either on land previously farmed by family farmers or into forest and other habitats, such as the Chaco (wet and dry savannas), resulting in massive biodiversity losses and releases of carbon. Attempts by the RTRS to certify unsustainable practices based on an intensive soya production model have received very little support from the massive soya estates and the destruction goes on.

GM soya production in South America in Roundup dependent. Like in the US, RR crops are now being plagued by glyphosate resistant weeds (Johnsongrass being a prime example). Thus the promise of cheap and effective weed control is being replaced by escalating costs and increasing complexity as farmers are forced to juggle different herbicide mixtures to keep control of the naturally evolving resistant weed populations. Evidence of the health and environmental impacts of a massive increase in glyphosate and other herbicide usage is growing as more independent scientists investigate.

The political decisions made two decades ago to lock Europe into importing high protein animal feed has this led us into an entirely unsustainable model of production. It has to change.

Retailers and farmers need to work together to develop new models of production (such as being adopted by the pasture fed dairy sector) which protects planetary systems and farm incomes based on feed sourced close to home. Fair pricing has to be at the heart of any new system and I believe will gain public support if the need for the changes is clearly explained.

13-07-2012 12:03 PM | Posted by: Richard Werran, Cert ID Europe
It would be foolish to ignore the consumer. While the UK government, NFU and biotech companies may strongly support GM, recent research by the consumer organisation Which? shows 70% of consumers still think retailers should have policies which don't allow GM ingredients in animal feed and retailers are of course mindful of this. Doesn't this support the case for the UK government to follow the lead of Germany, France, Luxembourg, Austria to now launch and support our own GM-Free labelling scheme that includes animal derivatives such as meat, milk and eggs? This way consumers concerns are recognised and they can make an informed choice.
13-07-2012 13:57 PM | Posted by: Oliver Dowding
I won't use as much space as the article, but I too could compile a significant list of reasons as to why we shouldn't be going down the GM route.

Just because "we" (humans) can create GM crops doesn't make them a panacea for many ills or problems. Don't forget, they've largely been self certified, either through carefully selected data, or with the assistance of "friendly" staff within the relevant government bodies in America.

For those who wonder if there is anything other than amazing results, I suggest you watch Michael Hart's short film where he found out what was really going on. Here's the link. http://vimeo.com/18994807

Equally, why not watch what Don Huber had to say? An American scientist who is far from happy. I appreciate that the Americans use much higher rates of glyphosate, but the impact on the soils and the level of mineral uptake the plants then can access, and the consequent effect on human and animal fertility and health is not to be underrated. As ever, many of these problems only become evident long after the genie is out of the bottle. Here is the link http://vimeo.com/22997532

Finally, I had the opportunity to write a guest blog for the BBSRC specially set up website for food security debate. You can find a link here. http://bit.ly/nli3pw I raised many other issues not connected to GM, some of which are you often cited as the reasons for allowing it, such as things to do with food security and production.

The end result is, we need a radical rethink of what we're producing, what for, by whom, and who is to consume what. None of us have a right to anything. We all share the same planet. We can do things much better, and it's a shame we have allowed ourselves to become so slovenly. I wish I could see the debate being allowed to go down a wider avenue than it currently is, and also not be so polarised.


13-07-2012 14:06 PM | Posted by: Oliver Dowding
Think I forgot the link to the article of mine!
http://bit.ly/nli3pw
Display name

Please enter your name

Email (optional)
Comment

Please enter your comment

Post Comment


Your comment submitted successfully.Please wait for admin approval.

Some error on your process.Please try one more time.