Joanna Lumley joins campaign to make European cows happy
Joanna Lumley joins campaign to make European cows happy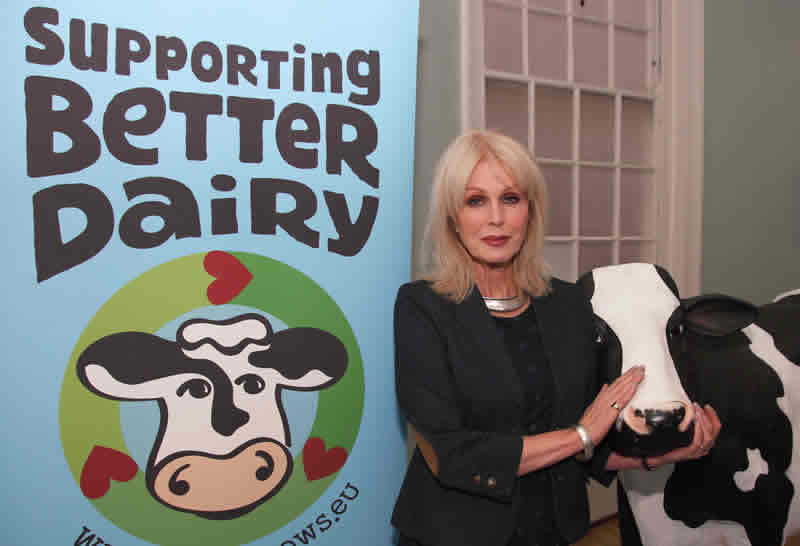 'Supporting Better Dairy', a collaboration between leading animal welfare charities Compassion in World Farming, and the World Society for the Protection of Animals (WSPA), along with ice-cream company Ben & Jerry's, has today launched a campaign to improve standards for dairy cows across Europe.

Actress Joanna Lumley is supporting the launch of this unique partnership which sees NGOs and companies working together with the public to influence European Union (EU) policy to make European cows happy cows.

Specific EU regulations already safeguard other farm animals, but dairy cows have no such protection, meaning that welfare standards vary greatly across the EU, with some suffering from poor health, inadequate housing and lack of access to pasture.


The campaign will run the first-ever animal welfare European Citizens' Initiative (ECI), allowing EU citizens to propose new legislation for improving standards for Europe's 23 million dairy cows.

Supporting Better Dairy hopes to raise the bar by introducing basic standard EU-wide legislation through the ECI, at a time when there is more consumer interest in dairy cow welfare than ever before.


An exclusive EU-wide survey* for Supporting Better Dairy revealed that 89 per cent of consumers feel that cows need legislation to protect them and 81 per cent said they would sign a petition to enforce this.

Jerry Greenfield, co-founder of Ben & Jerry's said: "The reality is that, across the European Union, welfare standards for cows vary greatly. We love cows and believe that only happy cows make great ice-cream but they are one of the only farm animals in Europe that don't have specific regulations to protect them. It's essential to create a level playing field across Europe that secures the health of our herds and the long-term sustainability of our industry."

Compassion in World Farming patron Joanna Lumley added: "This is a fantastic opportunity for people to speak up for our hard-working dairy cows and send a direct message to Brussels that they need our protection. It's our chance to say we don't want to see our cows forced indoors, unable to graze in the summer fields, and to ask the EU to give them the protection they deserve. Other farm animals have specific laws, designed to guarantee a minimum welfare standard for them. Dairy cows don't. If you believe they should, please sign the Citizens' Initiative and help make that happen."

Suzi Morris, UK Director of the World Society for the Protection of Animals explained: "We cannot assume that the needs of dairy cows are being put first, so the EU must take the lead and ensure that cows do not suffer. We need tougher laws to prevent vast numbers of European cows from suffering painful mastitis, debilitating lameness, infertility and drastically reduced lifespans - all tragic consequences of keeping cows in poor conditions."

Download

20-06-2012 10:40 AM | Posted by: J Franklin
I cannot speak for the rest of the EU but I can say that from my own experiences UK dairy cows live decent lives. Our own cows are outside as much as possible, British Weather allowing, housed over winter when our grass isn't growing and the fields are wet. Those of us who choose to house cattle all year do so for their own reasons. I've said it before and I'll say it again , happy cows=healthy cows=productive cows =happy,productive farmer. Look after them and they will look after you.
28-06-2012 15:30 PM | Posted by: Roger Lane-Nott
I am afraid that Joanna Lumley is behind the times. Modern robotic milking systems have already proved that animal health and productivity are improved significantly. Cows queue to be milked and are happy to spend most of their time on their bed eating even when they have other options. perhaps she should find another cause!