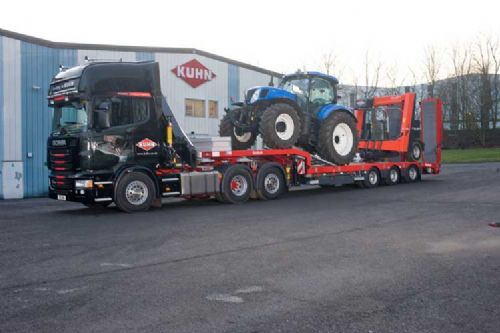 Kuhn Farm Machinery has improved its delivery and demonstration capability for its UK dealer network with investment in a new 480hp articulated lorry.
The Scania R 480 has a carrying capacity of 19 tonnes on its 12.73 metre trailer, with integral lifting crane and 5 metre hydraulic rear ramps combining to provide greater scope and efficiency in loading and unloading. The Palfinger crane has a 33 tonne/metre load rating and a maximum reach of 12.2 metres; it can be operated by remote control.
With its distinctive cab livery, the new lorry ' laden with machines from the company's comprehensive implement range ' will be easy to spot as it covers an estimated 60,000 miles a year to service Kuhn's dealer network.
Comments
No comments posted yet. Be the first to post a comment