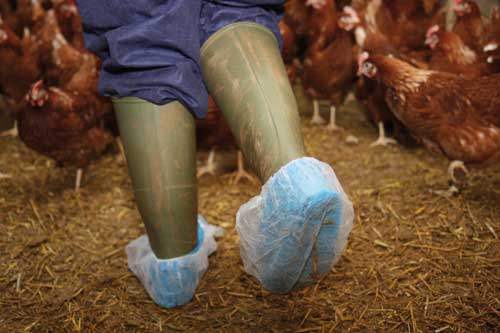 Egg producers could face dire consequences if they are only slightly late with one of their National Control Programme salmonella tests. Some producers have already discovered that being just a day or two late with their 15-week tests results in a fine and, what is far more serious, the designation of their eggs as class B.
Just how stringently the NCP regulations are being enforced was outlined to the Ranger by one free range producer who was a few days late with his regulation test. He said he wanted to alert other producers to the importance of not overstepping the 15-week deadline. "The message I want to get across to everybody is they must understand that 15 weeks means 15 weeks – to the day. The salmonella testing – assuming it is negative – should be viewed almost like a licence that expires. Once it does expire you are technically selling eggs that have not been verified as free from salmonella," he said. The egg producer who spoke to us did not wish to be identified.
The National Control Programme rules require producers to take two pairs of boot swabs (from free range and barn flocks) or two composite faeces samples (from caged flocks) from each adult flock producing eggs for human consumption starting at 22 - 26 weeks of age and then at 15-week intervals. In addition, samples are taken during the rearing phase from day-old chicks and two weeks before movement to the laying accommodation. The samples for day-old chicks are chick box liners or hatcher tray liners and chicks found dead on arrival. The samples taken during rear two weeks before the birds move to the laying accommodation consist of two pairs of boot swabs (or equivalent faeces samples).
In addition to the producer samples, routine annual official samples (two pairs of boot swabs or two composite faeces samples and a dust sample) are required to be collected once each year from one adult flock from each holding with more than 1,000 birds. Also, if a flock is suspected of being infected with salmonella enteritidis or salmonella typhimurium official samples consisting of two pairs of boot swabs or two composite faeces samples and a dust sample per flock on all other flocks on the holding are taken. Following depopulation of a salmonella enteritidis or salmonella typhimurium positive flock, another official (post-restocking) sample is required in the follow-on flock at 22 - 26 weeks of age.
Where salmonella enteritidis or salmonella typhimurium is confirmed, eggs from positive flocks can no longer be sold direct as table eggs for human consumption. They must be heat treated.
The producer who warned us about the way the NCP was being policed said that egg producers had probably been used in the past to a slightly more relaxed approach under the Lion code. "I have got four flock ages on my farm, so I have been in the habit – if there were two different flocks to test within two or three weeks of each other – of bringing one forward and pushing one back. I would do them all together. It's just a matter of convenience, but there is a danger now that you could trip yourself up. The licence may have expired on one of them and technically you are selling eggs that are not covered," he said.
"They should go as class B, according to the Ministry. The Ministry was also telling me that it would immediately try to get all the eggs back it could. Besides the immediate financial cost for the producer, there would also be the cost to the packer of recalling the eggs and the producer could end up paying for that too. All the eggs sold since the expiry of the last salmonella test would have to go as class B. The Ministry would also take tests there and then and we would be responsible for all the associated costs. All eggs would be class B until such a time that they were verified as clear. In addition to that there is a £200 fine, but that is small fry compared to a week's eggs going as class B."
He said he had not previously realised how strict the 15-week deadline was and he suspected that there were other producers who were similarly unaware the deadline was strictly 15 weeks. "You must be on the ball with this and get the testing done. You really need the result before the expiry of your existing 15-week cover, so you really need to be taking the test the week before to ensure continuity."
The Ranger asked Animal Health for a comment. A spokesman issued the following statement: "In order to further encourage best practice in egg production, the Eggs and Chicks Regulations have been implemented to help ensure that only good quality and salmonella free eggs are marketed in Great Britain.
"This commitment to quality will benefit the industry and provide a more level playing field for all producers, but it does mean that producers who do not comply with the National Control Programme testing requirements will face more consistent enforcement, including new financial penalties.
"The NCP requires that producers test all their flocks at least every 15 weeks during their productive life. Producers should, therefore, use the date of their last clear test to calculate accurately the date of their next 15-week test. If producers have sold their eggs as class A or ungraded with a potential to be marketed as class A, they must be able to provide evidence to an inspector that each flock sample has been regularly submitted for testing on time.
"To avoid confusion, Animal Health recommends that producers stick strictly to their testing schedule.
"Further information on the NCP can be found in the guidance leaflet, A guide to the National Control Plan for Salmonella in Laying Flocks. This document is available from the Defra website or from your local Animal Health office. Alternatively, producers can discuss the requirements of the plan with their local egg marketing inspector."
Defra and the European Union recently released figures from the 2008 National Control Programme which showed that the United Kingdom had done much better than other leading European egg producing countries in eradicating salmonella from its laying flocks. The figures showed that just one per cent of flocks in the UK tested positive for salmonella enteriditis and salmonella typhimurium.
Comments
No comments posted yet. Be the first to post a comment