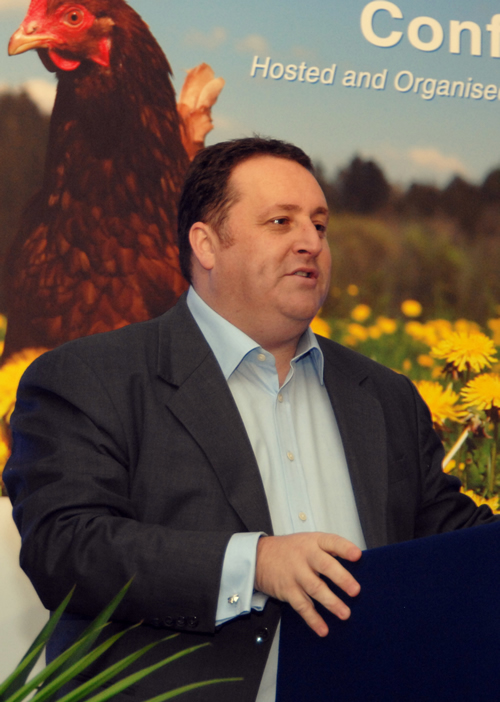 Peter Thornton
Noble Foods has announced that only Lion quality eggs will go into its egg processing facilities from next year.
The announcement was made by the company's chief executive, Peter Thornton, during a speech to members of the British Free Range Egg Producers Association at the association's annual conference at Stoneleigh Park. He said the commitment would come into force at the start of next year and he appealed to other processors to follow suit and commit wholly to the British Lion.
"One of the things that has frustrated me a little is the double standard within the Lion code since I got to understand it in a little bit more detail. Whereas as a subscriber or packer of Lion eggs you have to put 100 per cent Lion eggs through your packing facility, as a processor of Lion eggs – and there is a huge amount, as I am sure you all know, of free range egg going into processing businesses these days – you can pack Lion, UK non-Lion, continental - all in the same facility. It only takes a few consumers to misread the messages of the headlines of the last couple of days on Spanish egg quality, and forget the Spanish bit, and it could cause us one or two problems."
He said the decision to commit wholly to Lion in its processing business was something that Noble had been working on for the last few months. "The forty odd thousands tonnes that we put through our egg processing business a year, supplying liquid egg, boiled, scrambled egg and omelettes, we are moving to 100 per cent Lion quality egg from January 2010. I think it is an important move for the industry – something that other people ought to consider if we are going to strengthen the Lion going forward and give consumers and food manufacturers real confidence in our eggs."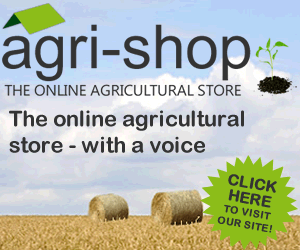 Peter said that growth in the free range sector over the last decade had been phenomenal. Despite this growth, he felt there were still many opportunities for more free range volume growth, but it was very important that this was achieved profitably to benefit the whole supply chain. He said Noble's figures showed that in retail the free range share of the market had grown from 27 per cent to 46 per cent in the last decade. "By scanning data, by volume, it is now the biggest sector of eggs within the retail arena. It would be fair to say, and we have put some estimates on 2015 in retail, that with legislative changes that have been talked about this afternoon, customer agendas, changing consumer preferences there is no reason by 2015 why it might not be close to 60 percent of the market."
He said there were also big opportunities outside the retail sector. Retail accounted for only 48 per cent of the total egg market. Food service accounted for 24 per cent of the market, but only eight per cent of the eggs sold in that sector were free range. Processing accounted for 28 per cent of the market. Only a fifth of all the eggs sold in the processing sector were free range, he said.
"There are big opportunities in the retail arenas, in catering, processing. The key thing is how we can unlock that and make sure we create the most value along the supply chain, because uncontrollably chasing down volume growth may really damage the profitability of the sector over the longer term." He said there was a "huge need" to balance supply and demand. "Too many eggs and prices do inevitably, on the basis of pure supply and demand economics, come under pressure. Too few eggs and customers will find another way to get eggs into their stores. So in a sector that is growing so rapidly, managing that issue is quite a challenge."
He said that managing the switch from conventional cages was a huge job – ensuring that the market did not run out of egg but at the same time it did not have too many surpluses and too many peaks. The increase in external stocking density was a good thing. He said there were fantastic existing producers with room to expand and that was where the industry should look first for expansion. But he warned that speculative expansion was dangerous. "It is down to packers and producers to make sure that when they are signing contracts, getting planning permission and spending money on sheds that they are really comfortable where those eggs are going and they are going to a firm sale rather than going floating into the market."
He said that over the last 12 months there had been a lot of value promotions on free range eggs. He said a significantly higher proportion of free range eggs had been sold on offer than a year ago. That had contributed to volume growth, but he felt it was important that free range did not promote and discount its way to volume growth. There were opportunities to add value. He said there was a "massive opportunity" to grow consumption. Brands also had a big role to play in creating interest and growing the market. He said that consumers loved brands. In difficult times consumers went back to brands. They got pleasure from buying brands they knew and could trust. However, creating a successful brand did not happen overnight. Substantial investment and effort were needed to succeed.
Earlier this year Noble launched its own free range egg brand – the happy egg co brand. It was launched with the backing of a £2 million television advertising budget, and Peter told BFREPA members how the brand had performed during its early months. "So far it is early days. I wouldn't say the brand has taken root yet. There is a lot more for us to do. We have got it in to over 4,000 stores around the UK, sold now more than 12 million packs. We set ourselves a target for this year of about 15 million turnover. We will probably be in excess of 22 million."
He said it had a six per cent share of the free range market and of all the growth in free range since the brand was launched, 75 per cent had come from the new brand. Whilst the company had had to invest heavily – it had been regularly on promotion in stores – it was now selling at 10 per cent premium over standard free range. That was what the company was looking for when it launched the brand. "It took a bit of a while to get there but we are now starting on an ongoing basis, day in day out, to be able to sell that brand and encourage consumers to pay on a commodity somewhere between 10 and 15 per cent premium."
With the brand now nearly a year old Peter hinted at possibly more launches to come from Noble. It came when he was asked what he felt the future held for organic. He said he expected further decline in organic sales. There would be recovery at some point but he did not think sales would rise to the level they had before. "That does not mean we have given up on organic," said Peter, who said that Noble was looking at "one or two initiatives" involving organic.
Despite these initiatives, he said he could not see organic eggs accounting for more than four or five per cent of the total egg market.
Comments
No comments posted yet. Be the first to post a comment