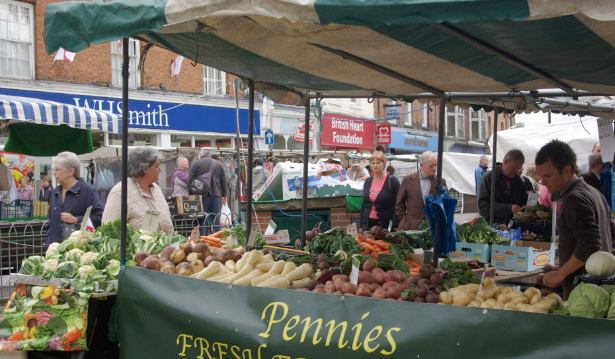 Despite the importance to the high streets and landscapes, local food markets are 'under-recognised' and poorly supported, a new report says.
The report is the culmination of a 5-year research project 'Mapping Local Food Webs,' supported by the Big Lottery Fund.
It demonstrates that local food offers an opportunity to support town centres and countryside, but that its role is undermined by the dominance of superstores and the multiple retailers. The report presents a fundamental challenge to superstores and the damage they are doing to local food webs.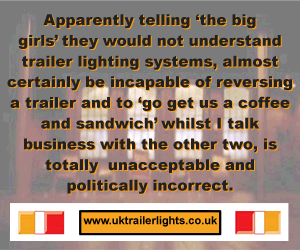 "In setting out to map local food webs we hoped to measure the fantastic contributions these networks make. We achieved just that, finding great examples of local food webs helping to buck national trends of high street decline" said Graeme Willis, Senior Food Campaigner for CPRE.
"But we have also found that the rise of out-of-town supermarkets and insufficient leadership from Government over many years have left many local food webs under siege. Action must be taken to support them, and revitalise our high streets and local economies."
The full report, 'From Field to Fork', is available in the FarmingUK Knowledge Centre via http://www.farminguk.com/KnowledgeCentre/From-Field-to-Fork_180.html.
Key local food facts via http://www.farminguk.com/KnowledgeCentre/Key-local-food-facts_181.html.
Additionally, the local food maps generated by the research can be accessed from http://www.farminguk.com/KnowledgeCentre/Local-Food-Maps_182.html
The report 'From field to fork: The value of England's local food webs', found that across England local food outlets serve an estimated 16.3 million customers a week and that local food sales through independent outlets are worth £2.7 billion a year to the economy.
These food outlets support over 100,000 jobs (FT and PT), of which over 61,000 are attributable directly to local food sales.
CRPE gathered a number of case studies that show the contribution local food can make to local communities" http://www.farminguk.com/KnowledgeCentre/CPRE-Case-Studies_183.html
"Local food webs are essential to the character and attractiveness of towns and countryside across England. With around 50p in every £1 we spend in shops spent on food, it is a tremendous opportunity for businesses, from farms to retailers of all sizes, to engage shoppers in making a difference to the quality of their local area" said Graeme Willis.
The research looked at 19 locations across England and identified over 2,500 local food businesses (800+ outlets and 1700+ producers).
The CPRE report shows how local food webs support diversity, distinctiveness and innovation in the food and farming sectors, broaden choice for shoppers, promote seasonality, reduce food miles and shape the character of towns and countryside.
But these local food webs are under threat. The large weekly supermarket shop has increasingly displaced food from marketplaces and town centres and weakened or closed vital outlets for local food. Notwithstanding the value of local food, CPRE found that national supermarket chains dominated grocery spending, accounting for 77 per cent of all main shopping trips in the locations studied.
As supermarket chains have expanded their share of the market, their stores have grown in size and have moved out of town: from just under 300 superstores and hypermarkets in 1980 to 1,500 by 2007.
The number is still growing. By late 2011, applications had been submitted or permission granted for a reported 44 million square feet of new supermarket development, equivalent to 572 football fields, 80 per cent of it out-of-town.
This growth has weakened town centres and the rich variety of food stores that supported them as shopping destinations.
There has been a collapse in traditional specialist food stores, such as butchers and greengrocers, from around 120,000 in the 1950s to 18,000 in the late 2000s. Town centre vacancy rates now average 14 per cent and can be as high as 30 per cent.
The effect on jobs can be severe: in 1998 the National Retail Planning Forum examined the effects on employment following the opening of 93 edge-of-town supermarkets and found a net average loss of 276 jobs in each area.
CPRE's research found that, more than any other factor, the presence of large food stores, particularly out of town, and the absence of smaller independent outlets, are the decisive factors in the strength of any local food web. The charity will be making a new toolkit available for local campaigners to explore the benefits of and challenges their local food web faces, including the impact of new superstores. The first group to do this has already started in Bishop's Waltham, Hampshire.
"Our research shows that the presence of supermarkets is not an insurmountable obstacle to vibrant local food networks – but their number, scale and location is critical. Moderately sized supermarkets, well- located and well-connected with town centres, can draw shoppers and support a centre's overall vibrancy and attractiveness. However, if local food networks are to thrive, they need sustained support from individuals, the community, business and policy-makers locally and nationally" said Graeme Willis.
Comments
11-06-2012 07:23 AM
| Posted by David
For the first time in a long while I visited Leeds market this weekend. Leeds market has been desimated by the impact of supermarkets. To my amazement I found food to be quite a bit cheaper and a lot more choice. Strawberries were £1.00 a punnet (I bought the same amount from Sainsbury's for £2), Fresh juice (not from Concentrate) Two 750ml for £1.50 (Two cost me £3.00 from Sainsbury's). I have been asking the local supermarket for Snapper for a while. They hadn't any in weeke after week. The fish mongers in the market had it in. AND the fish is by far fresher from the market.

My only problem was that I had parked a fair bit away from the market and carrying it was a bit of a task.

But it goes to show we have got lazy to the detriment of our local suppliers. You automatically think the supermarket is cheaper and it was not.
11-06-2012 07:33 AM
| Posted by Robin
When I look at my high street and see all the businesses that have gone to the wall it is shameful. I now have no greengrocer, no fish monger, no butcher and no flower stall.

Whilst I also shop in supermarkets I did have a tendancy to do a main shop but still visited my local stores.

One thing that does worry me is how the supermarkets are dictating our eating habits based on their profits. If the supplier does not comply with the supermarkets demands to reduce the prices or pay for promotions you don't get the product stocked.
11-06-2012 08:33 AM
| Posted by Rosy
I used to have a box scheme but it has got rather expensive. If local food outlets want to succeed they need to 'think outside the box' (excuse the pun). Provide products or services that the supermarket just cannot provide.

If this report is saying that the government should support local food outlets. I need to ask why? Why do we need the government to get involved in our lives and businesses any more than they are.
11-06-2012 09:58 AM
| Posted by Ben Taylor
The government have sat on their hands and done nothing about helping local food businesses whilst the supermarkets have run rampant. Maybe now someone will listen to this report and help food businesses compete againt the supermarkets.
13-06-2012 08:45 AM
| Posted by PAUL HARLING
As a local food trader, my biggest hurdle is the fact that most consumers PERCEIVE us to be more expensive than the supermarkets. Generally, shoppers have no idea what quantity they will receive for a lb of carrots, for example. For some reason, they feel more comfortable taking a pre-packed bag off a shelf popping it into their trolley and are happy to pay considerably more for an often inferior product, with no second thought about the actual price of what they are getting. The big BOGOF con and other price deals only serve to occasionally trick the public to paying a realistic price for items which they have managed to persuade the producers to sell to them at well below cost. We need to re-educate the grocery buying public to know what things weigh and encourage them to scutinise their food bills more carefully. That way we would have three winners: the traders, the producers and, most importantly the Great British general public. Don't be conned by the likes of T***O or even the C*-*P. Keep your eyes on the purse strings, just like we did in previous days of austerity.
30-06-2012 23:03 PM
| Posted by beldavenport
As a local food retailer, we find that some customers have a supermarket mentality requiring a big display of say meats in order to choose one chop, yet without a large footfall small retailers cannot offer a big display without suffering a large wastage. It is a catch 22 situation. Often some customers will come in clearly forgetting something from their supermarket shop and buy just an onion, or 2 carrots, or moan about tasteless strawberries but not purchase beautiful fresh tasty strawberries from the field.