Maize surges to all time high Obama to visit Iowa
Maize surges to all-time high; Obama to visit Iowa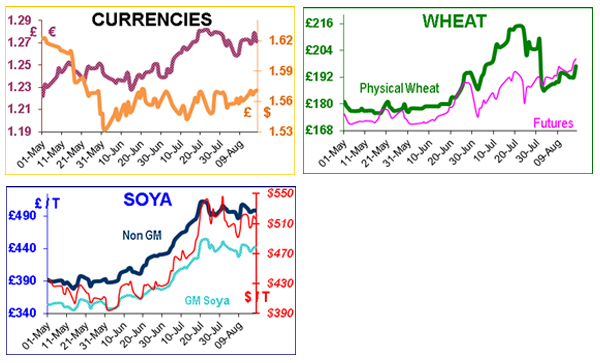 After the most bullish USDA report last Friday, maize prices briefly surged to new all-time highs of $8.4, then fell back to $8/b. The bulls are grumpy - there was nothing new. Traders are bored with drought and USDA reports, better US weather, the global economy and the potential ethanol waiver. But sentiment is changing from supply to demand.
The maize crop is a factual disaster, but speculators and the trade are struggling to quantify the effect of these high prices on 'demand rationing'. Scouring the web for data on bioethanol, DDGS, cereal substitution, sweeteners, feed production, livestock numbers, eggs, plastics and pharmaceuticals and attempting to back-calculate maize demand is frankly impossible; trying to double-guess political export bans and ethanol mandates is pointless.
Is it worth buying more maize at these incredible prices? For the wannabe MBA's out there – they are vainly searching for price-elasticity of demand, whereas in the UK – we are vainly searching for decent wheat. Two
grain
traders rang us this week so say the whole UK wheat crop is 'crap' [apologies for the archaic terminology].
The wheat looks small, pinched with low bushel weights. On Thursday Strategie Grains reduced Russia's wheat exports (2012-13) by 4mt, and raised its estimates of EU wheat exports to a level where the EU carryout would be an uncomfortably low 8.7mt; therefore they believe that rationing must take place [Red Flag 1]. They also reduced the EU maize harvest by 7mt to 58mt. UK November wheat futures hit a contract high of £201 for the first time today.
The US is the world's largest maize exporter, so importers are looking for alternatives. Brazilian maize ($350/t) is still $35/t cheaper than US ($385/t) so Japan and even some US companies are buying it; the latter are even switching from maize to Canadian wheat. South Korea is switching from maize to Indian wheat ($324/t), as India clears out 2mt of old stock.
Malaysia and Indonesia are buying spot maize ($325/t) from Pakistan. Egypt bought Russian and Ukrainian wheat ($314/t) this week.
As we suspected, the G20 are to attempt a political response in September or October (the ironically-named Rapid Response Forum!) to surging food prices because the US has lost an area of maize the size of 'Belgium and Luxembourg'. G20 officials emphasized the RRF meeting was not a sign of panic.. Barack Obama landed in Iowa for a 3-day tour this week, and will no doubt stir the food/fuel debate.
Rising maize prices, the closure of an EU tariff loophole where bioethanol was imported as a chemical rather than a biofuel (exploited by US exporters), and the loss of the US biofuel tax credit ($0.45/gallon), have finally tipped the scales in favour of UK biofuel production. So the £320m Ensus plant will be de-mothballed in the next few weeks; and Vivergo should start in the New Year; which means that about 1.6mt of feed wheat will be lost to petrol (madness?)! Circular argument: that means the EU will need less US biofuel, so maize usage should fall easing prices (and by inference UK wheat prices). But losing 1.6mt to Vivergo and Ensus will lift local wheat prices …. can biofuels use 65 bushel wheat? Flour millers will be looking for better-than-average crap'.
Christina (Argentina's president) rattled everyone's' cage this week. She increased tax on biodiesel exports (mainly soya oil) from 20% to 32% - which is quite a hike on the 2.4mt/annum soya oil exported, of which 900,000t is used by the EU.
The political spin is that the tax will reduce exports and make local biodiesel cheaper. The 35% export tax on soya beans will remain. She will also allow the importation of Paraguayan beans to 'address high levels of idle crusher capacity'. [Last week we reported that Brazilian farmers wanted to import Bolivian soya, so Red Flag 2]. AO soya is £438, NGM £500.
Download

No comments posted yet. Be the first to post a comment
Display name

Please enter your name

Email
(optional)
Comment

Please enter your comment

Post Comment


Your comment submitted successfully.Please wait for admin approval.

Some error on your process.Please try one more time.