Markets sensitive in wake of US and Japan fiscal cliffs
Markets 'sensitive' in wake of US and Japan fiscal cliffs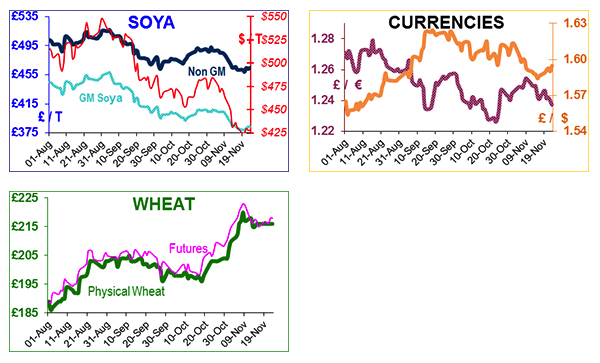 Over the past few weeks, several bearish fears have dominated the
grain
trade:
The fiscal cliffs, the EU budget (CAP reform) and economic outlook, South America weather and massive crops, the new politics in China and potential for new strategies, the potential outbreak of war in the Middle East, rumours of Chinese cancellations of soya imports, imports of milling wheat to the UK may hit 3mt and the old to new crop differential means that all this years' crop (and crap) must be sold.
There are several bullish factors too:
The 3mt of imported milling wheat may drive feed wheat and wheatfeed prices higher, EU
grain
exports may be higher than expected, so smaller carry-out, will the UK run out of
grain
in June/July, will parts of the globe run out of cereals or soya this coming year, if UK prices drop by £10 there will probably be more exports and is DEFRA's estimate of UK wheat yield too high at 13.31mt?
Fiscal cliffs – there are at least two – in the USA and Japan. The USA has yet to come to grips on the so-called Fiscal cliff – a combination of $532bn in automatic tax increases and spending cuts of $136bn that by law commence on January 1st.
The grid-locked Senate and House are virtually unchanged pre- and post- election, so the impetus to smooth down the cliff or extend the date will probably not arrive until the end of December.
If this were not enough, the US also needs to pass new laws allowing the government to borrow more than the legal maximum of $16.4 trillion. Similarly the Japanese government was about to run out of money, but averted disaster by agreeing to an early election in exchange for emergency legislation. Until the global financial issues are addressed the markets will be sensitive.
Uncertainty is becoming a more dominant feature in all markets. In the past periods scared investors have run for gold and cash, so commodity markets can fall. But when the crisis has passed, markets can recover very quickly.
Following the unrest in the Middle East, the US must be thanking GW Bush about the biofuel strategy he started: 'the reason why we've got to diversify away from oil is that we end up with dependency on oil from certain parts of the world where people don't particularly like us'.
The EPA met this week and agreed not to waive the ethanol mandate as it found no evidence of 'economic harm'.
UK May futures are about £222, up slightly from last Friday's close of £220.75 (with apologies to anyone who spotted our error in reporting a close of £218 last week). AO soya is about £375 delivered to the mill, Non-GM is not available, and wheat is about £218 on the same basis for December.
Download

No comments posted yet. Be the first to post a comment
Display name

Please enter your name

Email
(optional)
Comment

Please enter your comment

Post Comment


Your comment submitted successfully.Please wait for admin approval.

Some error on your process.Please try one more time.