28-03-2004 00:00 AM
| News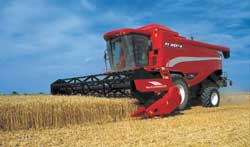 • Caterpillar 'electronic' engines increase power by up to 40hp
• Bigger grain tanks and faster unloading augers
• Self-levelling models with four-wheel drive as standard
• Commodore cab provides improved driver accommodation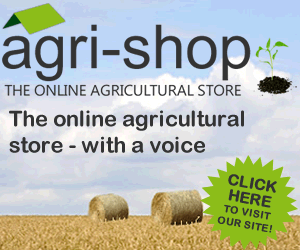 A new range of straw walker combines being introduced by McCormick dealers give farmers and contractors a wider choice of features and specification levels, with increased performance from all-new engines.
"The McCormick M series combines are down-to-earth machines for cost-conscious growers and contractors," says Graham Thompson, McCormick's harvest products specialist. "They offer performance and specifications to suit farmers in Wales or south-west England who need a compact harvester to those with big acreages in the eastern counties."
The main structure – which is made with 80% galvanised steel components – driveline and internal mechanisms of the M series combines are similar to those of the current LXE versions, built by McCormick's sister company, Laverda. But the higher-spec M series combines have more powerful engines and bigger grain tanks (up to 9000 litres) with faster unloading augers rated at 105 litre/second.
A six-cylinder engine from the new Iveco NEF range powers the M303 five-walker model, which has an 8200 litre grain tank and works with cutting tables up to 6m wide. The Caterpillar 3126B engine powers other models, using advanced injector pump electronic fuel injection to give responsive but also economical power and torque delivery.
At 275hp, the McCormick M304 has a 25hp advantage over the equivalent LXE model as well as a 2000 litre bigger grain tank. Two six-walker combines head the range, the McCormick M305 at 275hp and the M306 with 305hp.
The M305 has an 8200 litre grain tank while the M306 gets the full-size 9000 litre version; both combines can work with cutting tables up to 6.6m wide.
For operators faced with hilly ground, the M304 LS and M306 LS will be welcome additions to the McCormick range as they work upright across slopes up to 20% and when working up and down slopes of 8% – or any combination of the two. Four-wheel drive is standard for maximum stability and traction at all times.
"It doesn't take much of a slope to affect the performance of a non-levelling combine," notes Graham Thompson. "The Self Levelling system keeps grain losses to a minimum while allowing the combine to press on at peak output."
New bodywork, featuring large composite panels, provides easier servicing and maintenance access, while the spacious Commodore cab's curved windscreen and large side glass provide clear visibility. There is also a full width window in the back wall of the cab that allows the driver to keep an eye on the contents of the grain tank.
More of the combine's functions are power operated than on the LXE models, with cutterbar controls arranged on the hydrostatic lever mounted on the driver's seat. A settings and performance monitor positioned at driver's eye level on the right-hand cab pillar covers all essential systems.
Operating features include Terra Control, which automatically regulates cutting height, and Ground Self Alignment – an active system that keeps the cutting table parallel to the ground as it passes over undulations.
The combines also have a heavy-duty 600mm diameter threshing drum, which is followed by the Multi Crop Separator, a cylinder that separates grain by centrifugal force and which – uniquely – can be powered out of position when operators want to preserve straw condition for stock bedding, especially when harvest conditions are very dry.
Comments
No comments posted yet. Be the first to post a comment