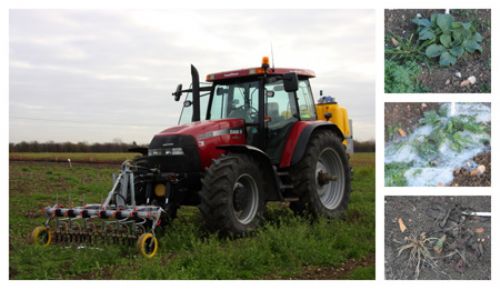 UK farmers are to be the first to benefit from an innovative weeding technology that provides a cost effective, flexible and natural alternative to expensive and time-consuming weeding for high-value crops and offers an alternative to a number of specific synthetic-herbicide applications.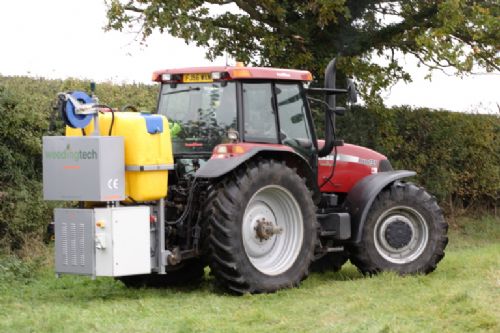 Designed, developed and manufactured in the UK by WeedingTech, the AW Series, powered by Foamstream, has been developed in response to ever-increasing legislation and restrictions in agriculture. The system combines state-of-the-art thermal weeding technology and precision engineering to, for the first time, make thermal weeding a realistic and effective solution for the agricultural industry.
Cost savings for the horticultural grower average 33%, compared to traditional weeding methods and there are significant reductions in carbon dioxide emissions. The National Institute of Agricultural Botany (NIAB) see the AW series, powered by Foamstream, as an exciting and major advance in weed management.
The patented technology at the heart of the machine - Foamstream - employs a unique mix of boiling water, steam and a foaming agent derived from natural ingredients to kill weeds. Simple but highly effective, the system is designed to treat all weed types. The steam ensures that the heat is efficiently transferred to the plant cells and the foam acts as a thermal blanket, preventing heat loss to the atmosphere. The cells of the weed are heated to the point where they rupture and the plant dies. All annuals without extensive root growth are destroyed after just one application. The plant science behind this ground-breaking solution has been validated by Dr David Hanke of the University of Cambridge.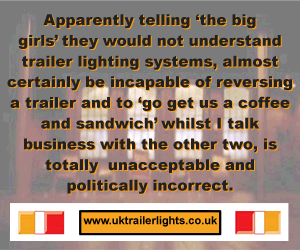 The Foamstream agent is made from a proprietary blend of natural plant oils and sugars derived from oil seed rape, potato, wheat and maize and is applied to weeds using the AW Series tractor-mounted equipment. Created in partnership with and extensively tested by engineering design firm Cambrand, with field trials and tests managed by NIAB, the AW series and Foamstream are available in the UK from January 2012.
Foamstream is applied to weeds via precision nozzles at a rate of up to 10 litres per minute with tractor speed typically around 3km per hour - enabling the treatment of 0.6 hectares per hour. With a capacity of 600 litres, sufficient for an hour's use, the AW series uses three high-powered on-demand heaters run by an 80 kVA PTO generator, with an in-cab touch-screen controller enabling easy management of the whole process.
Field tests undertaken by NIAB have revealed 100% success rate, with Simon Kerr, National Trials Manager at NIAB saying: "From our initial observations, it is clear to see how effective the Foamstream technology is. We are particularly pleased to see the raw ingredients of Foamstream come from farmers' own crops such as oil seed rape, potatoes, wheat and maize and are looking forward to both continuing our relationship with WeedingTech and to the on-going exciting trial and demonstration work here at our Cambridge headquarters."
Richard Pearson of WeedingTech concurs: "The trials and tests we've undertaken with NIAB have delivered amazing results. They have also identified that the precision nature of weeding with the AW series, powered by Foamstream, can increase farmers' yields and deliver better land utilisation – a significant benefit that will make the system even more financially beneficial to farmers in the long term."
The new AW series, powered by Foamstream, will be on display for the first time at LAMMA in January 2012. Visit stand B78 Avenue W. For information on the system or WeedingTech visit www.weedingtech.com
Comments
No comments posted yet. Be the first to post a comment