NFU outline super farm vision
NFU outline 'super farm' vision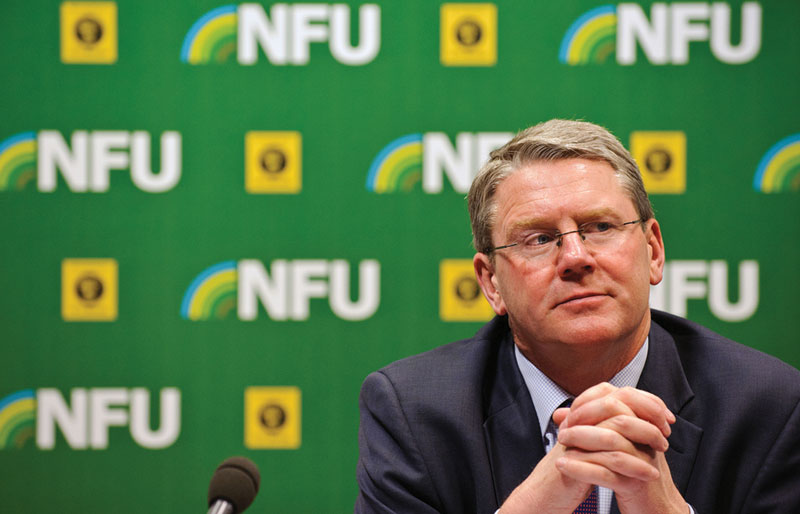 Much bigger livestock units may be necessary in the future to help to feed the United Kingdom's rapidly increasing population, said National Farmers' Union (NFU) president Peter Kendall during a recent interview.
The interview took place on BBC Radio Four, when Peter outlined his vision for so-called super farms.
He said that the country was currently only 60 per cent self-sufficient in food. The Office for National Statistics (ONS) was talking about the UK population increasing by eight million over the next 15 years, he said. "If we do that and stay at our current levels of production we will be less than 50 per cent self-sufficient, so we have to think sympathetically about how we expand our farming businesses," he said on Radio Four's Today programme.
The country had to find ways of producing food more efficiently, he said. "If you put poultry into very efficient, modern
sheds
we can produce food that's affordable for hard pressed families the length and breadth of the United Kingdom. We can do it, importantly, to UK standards and UK welfare standards."
Peter's vision was challenged by Ben Stafford, head of campaigns for the Campaign to Protect Rural England (CPRE), who said on the same programme that his fear was that super farms would put small producers out of business. "We've been looking at local food webs across the country. They're still vibrant in some places. Will they remain so with these sorts of units. There are also significant environmental impacts - the way the landscape looks, the wildlife in the landscape in relation to the way we farm."
He questioned the definition of efficiency and what people wanted from the land. "If you ask people what they want from the countryside they will say they want food production, but they also want wildlife, beautiful landscapes and so on. If we are going to boil it all down to how much food can we get out of this hectare then maybe super farms are the way to go. But we want a whole range of things out of the farmed landscape which won't necessarily be delivered by this idea."
He said the aim of producing more food to feed a growing population was "perfectly understandable" but he said the risk was that smaller farmers could be put out of business. "We need a diverse farming economy that will give us a diverse countryside and we are not sure that this is going to deliver that."
Peter Kendall said that smaller farms would continue to exist. He would be visiting the Suffolk Show, where there would be a great diversity of specialist foods. "But there are many of my members who want to expand their businesses and they want to be producing to UK high welfare standards - here in the UK. We don't want to be importing it from other parts of Europe that don't meet our standards."
His interviewer, Evan Davis, questioned whether "these mega farms" would simply become huge ugly industrial concerns across the countryside and asked why a hectare of land would be more efficient on a super farm than on the kind of medium sized farm that we would normally expect to find in this country. Peter said, "If you can have someone in one area looking after a 1,000 cows rather than 100 cows it means that farm is generating more jobs, more output and trying to make the whole system work much harder, more efficiently. It's not about one size fits all; its about trying to find a way to expand production here in the UK."
Peter expanded on his thoughts during a speech to the World Farmers' Congress in Rome, where he spoke about the idea of sustainable intensification. "Sustainable intensification isn't a new concept and, from speaking to farmers from around the world, we know and understand that this is where our challenge lies," he said. "Put simply, we need to produce more and impact less.
"What is less clear is that governments and global decision-makers have a proper understanding of what is needed, by whom, how and at what cost. However, the World Farmers' Organisation gives a voice to what needs to happen in the next five to ten years if farmers are to start addressing the huge production challenges that lie ahead."
He said, "I see three crucial requirements that will ensure farmers and growers continue to deliver across the board. Firstly, we need to see more investment in science R&D, and essentially more emphasis on this work being transferred into tangible products, technologies and practices that benefit farmers and growers in the field.
"Second, we need to see a better functioning market place, one where all of the players in the supply chain share the risks - and the rewards.
"And thirdly, a thriving agriculture sector needs to have effective regulation and policy frameworks that free up its true potential rather than hinder it with burdensome red tape.
"Now, these challenges are fairly well documented, so let's talk about timescales," he said. "To really hammer home the point, as I see it, we have just 13 harvests before we have 500 million more people needing food in Africa alone.
"These are the challenges; working together is the solution."
He said that the NFU was part of the Global Food Security programme, working towards finding practical ways that would enable farmers and growers to produce food using less land, fewer inputs and fewer natural resources. The UK's Cross-Government Food Research and Innovation Strategy quoted lag periods of 15 to 25 years between research expenditures and widespread implementation at farm level. He said the task ahead should not be underestimated. The time for just talking had run out.
Download
09-07-2012 13:03 PM | Posted by: TractorDan
Kendall says, "We can do it, importantly, to UK standards and UK welfare standards." Uk welfare standards aint exactly that high. When he says more "poultry into very efficient, modern sheds" - its impossible to get high welfare outcomes from factory farmed systems.
This is the wrong way to go. Sustainible farming doesn't mean giving more and more power to less and less farmers in bigger and bigger sheds. What about the rest of us.
09-07-2012 17:00 PM | Posted by: Rosemary Marshall
I agree with TractorDan. Uk welfare standards are not that high. What intensive farmers never seem to learn is that packing hapless animals together in "sheds" has both a larger ongoing demand in resources, in high tech machinery to keep the operation going, increased risk in terms of disease,and antibiotics to keep the creatures "healthy"; all this plus compromising the environment with large amounts of pollution(slurry, manure etc).
Notice I haven't even mentioned the price paid by the animals.

Display name

Please enter your name

Email
(optional)
Comment

Please enter your comment

Post Comment


Your comment submitted successfully.Please wait for admin approval.

Some error on your process.Please try one more time.