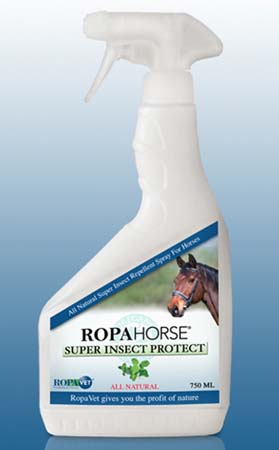 Bringing relief to horses is an all-natural fly and insect repellent spray, RopaHorse Super Insect Protect. New to the UK market, but well-proven on the Continent, it is being marketed by Suffolk-based G E Baker Ltd which trades under the Quality Equipment name.
Containing oregano oil and a special ectoparasite and insect repellent, it protects horses against flies, horseflies, ticks, fleas, lice, mosquitoes and other winged insects likely to be found around horses.
RopaHorse is sprayed over the whole coat of the horse, particularly around the head area, belly and between the hind legs and then rubbed in with a damp cloth in order to achieve an even covering. The ethereal oils also act as a skin-care product giving the horse's coat a silky sheen and insect-free skin.
Being a natural product it is safe to use and is said to be particularly useful for working horses with sensitive skins. It remains effective for more than 24 hours.
Supplied in a 750ml plastic bottle with spray attachment, it costs £17.50 + VAT.
 www.quality-equipment.co.uk
For further information contact:
G E Baker (UK) Ltd
01359 240529
e-mail g.baker@quality-equipment.co.uk
Comments
No comments posted yet. Be the first to post a comment