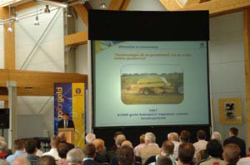 New Holland is celebrating 100 years of harvesting innovation and production excellence at its Zedelgem plant in Belgium with a two-month programme of activities, which will include open days for employees and special presentations for customers and dealers from all over Europe.
The programme began with an International Opening Session, on 21 September, at which New Holland's Management team shared the plant's historic achievements and plans for the future with its guests, including the Mayor of Zedelgem as well as representatives from local industries, suppliers to the plant and universities collaborating with Zedelgem's Research and Development team.
"A centenary is a significant milestone in the life of a company, something to be proud of; but, despite our remarkable age, we still consider ourselves to be very young," stated Luc De Splentere, managing director of the Zedelgem Plant.
Zedelgem's position as New Holland's harvesting centre is testimony to the experience and expertise that has earned the plant a reputation for design excellence and high build quality. Cash crop and contractor customers around the world look to Zedelgem's products for their harvesting needs: 98% of the combines, balers and self-propelled forage harvesters that roll of its production lines are exported. These products are complemented by New Holland's medium to high horsepower tractors made in its UK and North American plants.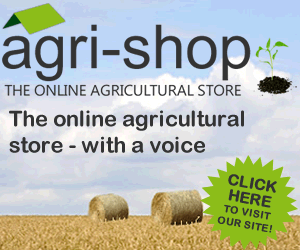 For the Zedelgem community, New Holland is a major economic force, employing more than 2,800 people in Belgium, with almost 2,000 in Zedelgem itself, and indirectly providing work for hundreds more employed by suppliers.
It is a powerful relationship dating back to1906, when Leon Claeys started his company to produce stationary threshers. His mission to find innovative solutions to make the work of farmers easier and their businesses more profitable is true of Zedelgem to this day. Since 1906, Zedelgem has been responsible for host of technical innovations and benchmark machinery, with many new patents to its name. The first European self-propelled combine, the MZ, was launched in 1952 to widespread acclaim. In the 1970's and 1980's, many industry-defining new features were introduced to combining, such as the rotary separator and the self-levelling cleaning shoe, which remain in many manufacturers' product lines to this day. In the 1980's New Holland was the first to introduce a Controller Area Network (CAN) on a combine harvester, and in 1995 it patented a CAN network with the use of fibre optics, and by 2002 achieved full automation on the CX and CR combines. New Holland also introduced to the industry a new focus on the look, fit, finish and quality of the design. The launch of the CX combine in 2002 changed the way combines look today.
Visitors to Zedelgem will be able to see New Holland's dramatic growth and development in an historical display of products and photographs, which includes some of the most famous innovations that have helped to shape the face of modern agriculture.
Although very proud of the past, Luc De Splentere is keen for the celebrations to also look to the future. "Our research and development centre comprises 200 highly skilled engineers, designers and technicians working here in Zedelgem. New Holland is making huge investments with 4% of revenue driven back into research and development."
Simon Thornton, head of New Holland in Europe, added that "New Holland has always been a leader in the agricultural sector and is number one in the marketplace for balers, combines and tractors in Belgium. With a 26% share in the European combine market, and as number one in Europe and the world for big balers, it is clear that Zedelgem, and the people who work there, has an important part to play in the future growth of the brand.
"The passion for innovation and the highest quality, whilst focussing on customers' needs, has accompanied us through 100 years of technological development and leadership, but we are still very young and growing. Zedelgem is a mix of state-of-the-art technology, drive for quality and innovation and a real belief in service. This mix led to 100 years of success and will form the base for the success of the next century," he added.
Comments
No comments posted yet. Be the first to post a comment