New Holland confirms emissions reduction strategy
New Holland confirms emissions reduction strategy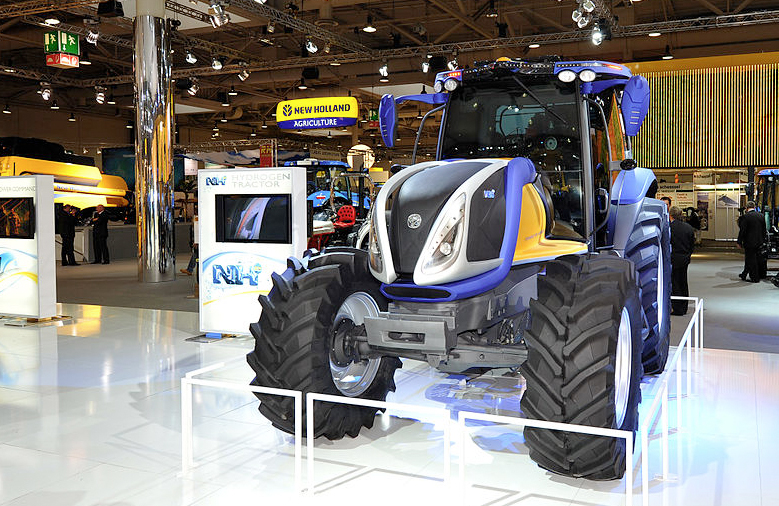 New Holland Agriculture has confirmed its Tier 4B strategy for its entire model line-up, which will provide tailored emissions technology.
This is the concrete realisation of the emissions reduction roadmap, which has had ECOBlue SCR technology at its heart since 2010, and reaffirms that this technology will be the sole solution for high horsepower machines for Tier 4B compliance; this technological consistency between Tier 4A and Tier 4B means users of high horsepower products will experience no change in operation.
"The ECOBlue SCR only technology that will be used for Tier 4B compliance on high horsepower products is protected by numerous patents, and will further enhance the profitability of all agricultural operations; tractors below 120hp will also benefit from this industry-leading solution" said Franco Fusignani, Head of New Holland agriculture.
"This is consistent with our approach to emissions reduction technology, with carryover from Tier 4A to Tier 4B for high horsepower products, whilst maintaining a distinct solution for sub 120hp machines to best suit their packaging requirements."
Productivity and profitability enhancing ECOBlue SCR technology: 10% lower
fuel
consumption and up to 13% improved transient response at Tier 4A
ECOBlue SCR technology has established itself as the productivity and efficiency benchmark in the over 120hp segment. This has been continually validated by independent international tests. The new T6 range features a FPT Industrial ECOBlue SCR Nef engine.
The T6.160 recorded an average 10% lower
fuel
consumption than its Tier 3 predecessor, the T6040 in recent North American Nebraska tests. These results are further confirmation of the Nef engine's outstanding
fuel
efficiency, following the impressive results already achieved by the T7 in 2010. This saving is also replicated on the heavy duty FPT Industrial ECOBlue SCR Cursor engines, with the T8.390 registering an average
fuel
consumption reduction of over 10% in the North American Nebraska tests.
Overall productivity has been significantly enhanced thanks to improved engine transient response. On T6 models, the engine reacts up to 13% quicker when load is applied when compared to the equivalent Tier 3 model.
This means that the engine is better able to respond to increases in load, for example when encountering a hill during road transport, and minimises tractor 'slow down'. Moreover, when combined with higher maximum torque values and increased Engine Power Management bands, ECOBlue SCR technology has significantly enhanced overall machine performance.
Furthermore, the Tier 4A compliant common rail F5C engines with Cooled Exhaust Gas Recirculation technology, introduced on the T5 range, also benefit from significant improvements in performance. Advanced common rail technology enables precision fuelling for an improved transient response when the engine is placed under load when compared to their Tier 3 predecessors.
Internationally proven FPT Industrial SCR solutions
New Holland can draw on the vast experience of its engine development partner, FPT Industrial. To date, over 240,000 SCR engines have been produced for on and off road applications for guaranteed reliability of operation.
Unchanged operation and tailored productivity enhancing efficiency for high horsepower Tier 4B compliant products with consistent SCR only Solution
The entire Tier 4B engine range, which will be used on high horsepower machines, has undergone a rigorous research and development process with over 133,000 hours of demanding testing to date to guarantee industry leading performance and reliability. ECOBlue SCR technology has been further developed and this after-treatment system is protected by numerous patents, which ensure that New Holland products benefit from the best technology in the business. The list of patents includes:
· An enhanced 'closed' control for precise AdBlue dosing to cut the level of NOx emissions entering the SCR catalyst.
· An adaptive AdBlue dosing system with control technology based on the use of NOx and ammonia sensors to provide accurate information on exhaust gas composition.
· Thermally insulated high turbulence mixing, for homogeneous urea hydrolysis and precise distribution within the exhaust gas stream.
· Improved thermal management to speed up SCR light-off in the cold part of emission cycle.
Compact
light
CEGR technology with a small SCR system for sub-120hp machines at Tier 4B
In line with New Holland's long standing roadmap, low horsepower tractors, under 120hp, will benefit from specifically designed technology to suit individual packaging requirements. A highly efficient solution which combines
light
CEGR and a small SCR system has been developed which will further enhance the productivity of these models.
"New Holland is committed to providing every product with the specific Tier 4B solution that it requires, that is why we have adopted a tailored approach." Concluded Franco Fusignani. "Current and future customers will benefit from advanced technological solutions which make their operations even more efficient. Our Tier 4B solution is a key strand of New Holland's overarching Clean Energy Leader strategy to assist farmers in increasing productivity to keep pace with the soaring global demand for agricultural commodities."
Download

No comments posted yet. Be the first to post a comment
Display name

Please enter your name

Email
(optional)
Comment

Please enter your comment

Post Comment


Your comment submitted successfully.Please wait for admin approval.

Some error on your process.Please try one more time.