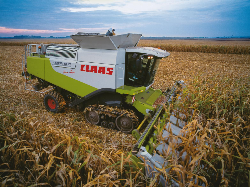 On display for the first time at Cereals 2006 will be the new tracked version of the World's highest capacity combine harvester, the CLAAS LEXION 600. Also on the CLAAS stand will be the new LEXION 570+.
Launched late last autumn, the LEXION 600 has the output to clear around 1,600ha (4,000 acres) a year and a total crop processing capacity of 200 plus tonnes/hour of grain and straw.
CLAAS lead the way in combine track development and the TERRA TRAC (TT) system allows the combine to achieve the same travel speed on the road as its wheeled counterpart as well as benefiting from full suspension. Tracks have the advantage of substantially reducing compaction, which is essential in a minimum tillage system, but also offer enhanced hill climbing ability and road width benefits, at a cost of little more than £1/acre on a combine annually clearing 880ha (2,200 acres) over five years.
Such is the demand, that for the second year running, on CLAAS combines where the TERRA TRAC system is available, sales have exceeded those of tyres, especially with the LEXION 580 where TERRA TRACs have been specified on 62% of units sold.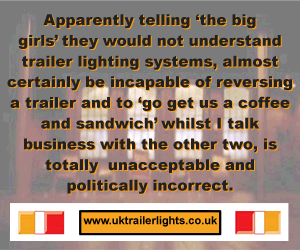 Whilst outwardly the TERRA TRAC system for the LEXION 600TT looks similar to those fitted to smaller LEXIONs, this is not the case as the TERRA TRAC system is built as a one-piece unit in order to provide the strength needed to handle the greater capacity of the combine's 12,000 litre grain tank.
/...
-2-
As combines become even bigger, one of the greatest benefits of tracks is reduced road width. In addition, thanks to the far greater surface area of tracks, ground pressure is reduced to around 10psi, which is less than half that of a similar sized combine fitted with 1050 wide tyres.
LEXION 570+
As its name suggests, the new LEXION 570+ model is designed to provide an additional higher powered model to fit between the existing LEXION 570 and LEXION 580 models.
Compared to the LEXION 570, which has a 427hp engine and is capable of clearing between 560ha and 720ha (1,400 and 1,800 acres) a season, the higher capacity LEXION 570+ has a 454hp engine, giving it the ability to clear between 720ha and 1000ha (1,800 and 2,500 acres) a season, depending on cropping and location.
In addition to its greater power, to help the combine cover this greater area the higher specification of the LEXION 570+ includes CLAAS ROTO-PLUS threshing rotors with VRS, a Grainmeter and the Power Spreader chopping system, plus it is recommended that a wider 9.0m (30ft) cutterbar is used.
Comments
No comments posted yet. Be the first to post a comment