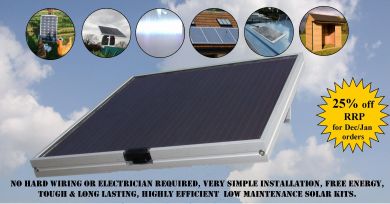 Light up your outbuildings with the new solar light kits available from McVeigh Parker Fencing, Farming and Equestrian Supplies.
We can now light your shed, stables, summer house, farm buildings etc, completely mains FREE.
Simple Solar Kits
* Quick and easy to install.
* No special tools required.
* No expensive excavations.
* Can be operational within five minutes!
* No need for a Part P qualified electrician.
* Can also be used to power electric fence lines.
* Environmentally friendly and very low maintenance.
* The kit simply plugs together eliminating the need for hard wiring.
The kits comprise of a super efficient Monocrystalline solar panel suitable for the UK climate complete with fixing brackets, solar charger regulator which protects the battery from overcharging, a 12v 7amp or 20ah sealed lead acid battery. This powers a very bright 72 LED light tube or tubes and has a 3m cable, also included in the kit is a 5m extension cable. Multiple lighting tube systems and/or power points using inverters can be installed using a higher wattage panel.
Why choose Monocrystalline solar panels over others in the market?
Monocrystalline panels are the most efficient of the silicone photovoltaic cell technologies.
The main advantage of Monocrystalline cells is that they give greater efficiencies, typically around 15% - 18% is achieved. However this does come at a slight premium due to the production costs and the complicated manufacturing process.
The other advantages of Moncrystalline is that they are half the size of Amorphous for equal wattage. Amorphous lose up to 15% in their first year then stabilise. Our Monocrystalline panels have a 2 year panel manufacturers guarantee and a 25 year output warranty (which guarantees 90% of rated output over 20 years, 80% over 25 years)
Simple technology
The solar panel charges the 12V sealed lead acid battery or caravan leisure battery ,this battery then powers a number of applications such as lights or electric fencing. Using an inverter you can power Laptops, Phone chargers, TV's, Kettles, Toasters and other suitable 12V and 240V appliances (Subject to battery and panel size).
What Panel should you purchase?
5w and 10w panels are ideal for trickle feeding your 12v battery which maintains battery performance.
Suitable for electric fencing ,shed lighting, boats and caravans trickle charging and fully charging 8 to 21ah batteries.
20w to 50w panels will charge your 12V battery. Suitable for short boat trips, lighting and electric fences.
60w to 125w panels will fully charge 26 to 100ah 12v batteries, power lighting, long caravan and boat trips, Long electric fence runs. 12v and 240v appliances also suitable for powering electric gate mechanisms.
How long will it take to charge my 12v battery?
Subject to battery and wattage panel, e.g. A 7Amp sealed acid battery using a 10 watt solar panel will take approx 12hours. A 10Amp battery using a 50 watt panel will take approx 3 hours.
25% off RRP for orders placed in Dec/Jan
For more details log on to www.mcveighparker.co.uk
Comments
No comments posted yet. Be the first to post a comment